Eggplant is one of my favorite vegetables to grow in the garden. But to be honest, the first year I grew it we all had to get used to the taste! But now I know how versatile eggplant is in recipes! It's perfect as a meat substitue in vegetarian recipes and it has the ability to soak up any flavor you throw at it.
Below you will find more than 50 amazing eggplant recipes- you'll never be lacking in ideas on how to cook up eggplant during harvest season!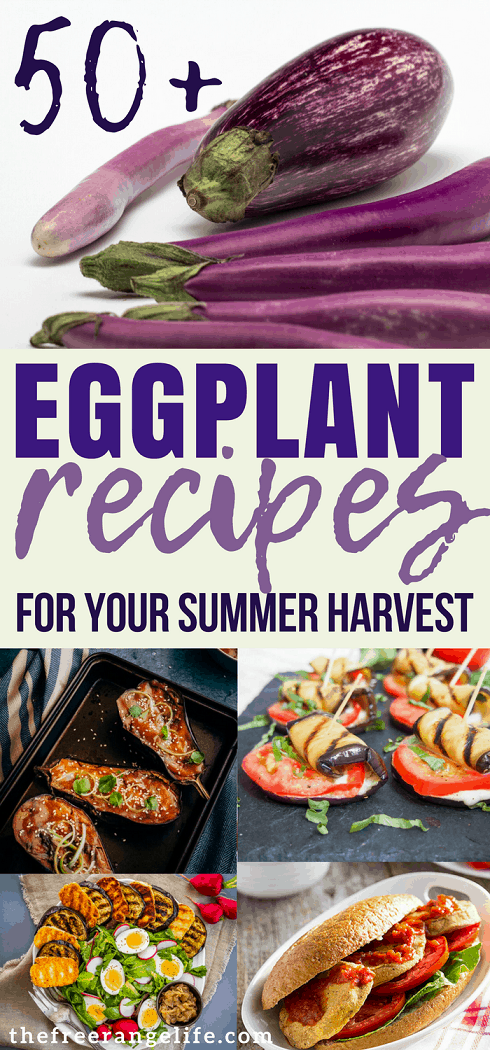 Eggplant Recipes for Every Taste
I've divided up the eggplant recipes below by categories. You'll find over 50 ways to eat eggplant including roasted, sauteed, grilled, and more! Enjoy!
Baked or Roasted Eggplant Recipes
Baked Eggplant Fries with Greek Tzatziki Sauce
Healthy Baked Eggplant Parmesan
Spicy Garlic Oven Roasted Eggplant Slices Recipe
Quinoa Stuffed Eggplant with Tahini Sauce
Greek Moussaka (Eggplant Beef Bake)
Roasted Eggplant & Sun-Dried Tomato Pasta
Eggplant Chips – Mediterranean Style
Related Reading: How to Grow Eggplant in Your Vegetable Garden
Sauteed or Fried Eggplant Recipes
Easy One-Pan Eggplant Chicken Dinner
Moroccan Honey Glazed Eggplant
Healthy Pan Fried Baby Eggplant with Gremolata
Grilled Eggplant Recipes
Jamaican Jerk Grilled Eggplant
Caprese Grilled Eggplant Roll ups
Grilled Eggplant and Spinach Salad
Grilled Eggplant Gyros with Fresh Tzatziki
Grilled Eggplant Salad with Halloumi
Related Reading: How to Preserve Eggplant
Vegetarian Eggplant Recipes
Vegan Chickpea Curry with Eggplant
Grilled Eggplant Tahini Satay Kebabs
Vegan Lentil and Eggplant Patties
Szechuan Eggplant in Garlic Sauce
Oven-Fried Eggplant PoBoy Sandwiches
Vegan Eggplant Pulled Pork Burger
Unique Eggplant Recipes
Eggplant Crisp (for dessert!)
Low Carb Cheesy Pull-Apart Garlic 'Bread' with Eggplant
Glyko Melitzanaki me Grenadini
Cheesy Eggplant Apple Quesadillas
Eggplant Dips, Spreads and Sauces
Spicy Baba Ganoush (Eggplant Dip)
Ajvar (Eggplant and Red Pepper Sauce)
Melitzanosalata (Greek Eggplant Dip)
Roasted Eggplant and White Bean Dip
Which eggplant recipe will become your new favorite?
© 2017 – 2018, Sarah R Toney. All rights reserved.