I grow a lot of tomatoes every year. I don't really even like tomatoes plain, but give me homemade tomato sauce or salsa and I am in heaven.
I am a salsa purist- all I want is tomatoes, peppers, onions, garlic and cilantro and I am good to go.
This site contains affiliate links. If you make a purchase using one of these links, I may earn a commission. Please see my disclosure page for more information about cookies collected and our privacy policy.
But you know, there is a great big salsa world out there from savory corn salsas to sweet fruity salsas.
Here are just 25 homemade salsa recipes to get you started!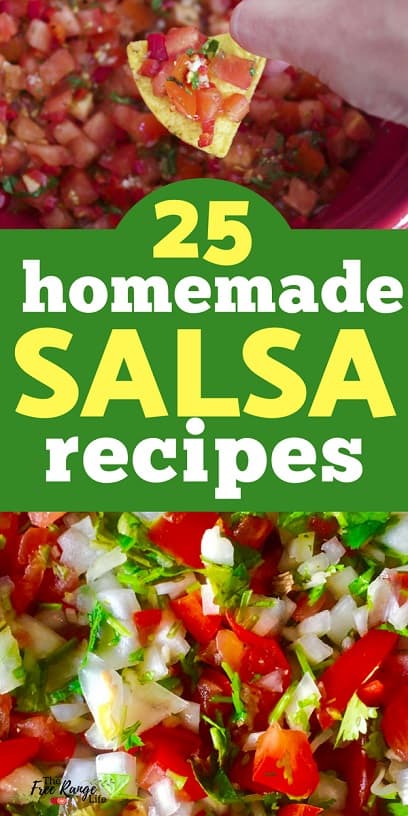 25 Homemade Salsa Recipes
Tomato Based Salsas
These are the favorite standby recipes for tomato salsa- either fresh or canned you can't go wrong.
Before you get started, make sure you're using the right tomatoes! Learn which are the best tomatoes for making salsa.
Pico de Gallo from The Prairie Homestead
Fresh Tomato Salsa from The Free Range Life
Home Canned Salsa from Attainable Sustainable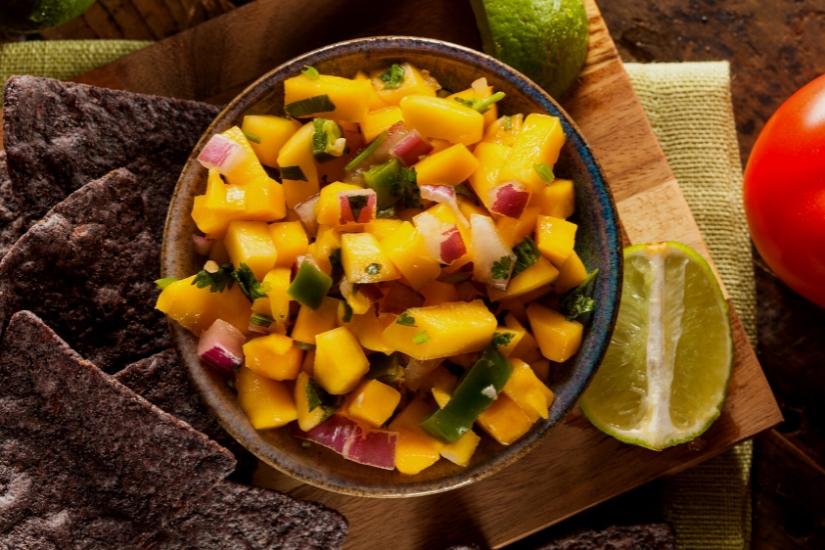 Fruity Salsas
Want a little sweet with your spicy? Here are some colorful fruity salsas that look amazing!
Rhubarb Salsa from Gnowfglins
Blueberry Pineapple Salsa from Carlsbad Cravings
Peach Mango Salsa from Sunshine in My Pocket
Fresh Cantaloupe Salsa from Healthy Delicious
Watermelon Salsa from Reluctant Entertainer
Pear Pomegranate Salsa from Gimme Some Oven
Fresh Raspberry Salsa from Basil Momma
Strawberry Nectarine Salsa from Roti n Rice
Cherry Chipotle Salsa from The Wicked Noodle
Fresh Plum Salsa from Let's Dish
Pineapple Tomato Salsa from Leelalicious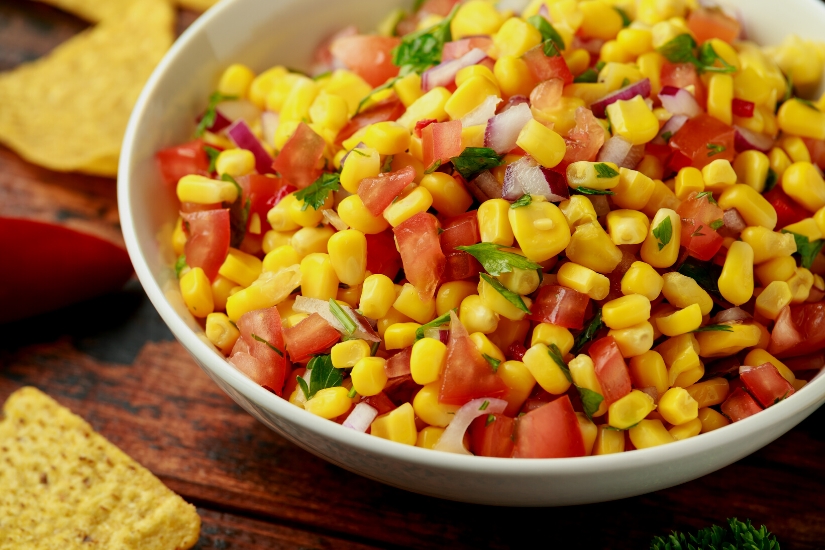 Savory Salsas
These savory salsas put a new spin on an old favorite by combining lots of new veggie flavors.
Spicy Cucumber Salsa from The Cabin Garden
Corn and Avocado Salsa from Sally's Baking Addiction
Blueberry Corn Salsa from Averie Cooks
Cucumber Radish and Onion Salsa from Healing Tomato
Black Bean and Corn Salsa from Yellow Bliss Road
Jalapeno Cilantro Salsa from Laylita's Recipes
Black Eyed Pea Salsa from Intelligent Domestications
Shrimp Avocado Salsa from Natasha's Kitchen
Salsa Verde from Frugal Coupon Living
Greek Salsa from Two Peas and Their Pod
Avocado Feta Salsa from Fake Ginger
Which one will you try first? Let me know if you give these a try and which one was your favorite!
Looking for more recipes? Check these out:
50 Eggplant Recipes for Every Taste
50+ Zucchini Recipes for Your Summer Harvest
13 Simple, Refreshing Frozen Watermelon Desserts
50+ Sweet Potato Recipes for Your Fall Harvest
15 Amazing Stuffed Acorn Squash Recipes