Sweet Potatoes are often considered a fall staple. They are sweet and filling, as well as full of nutrition- containing high levels of Beta Carotene, Vitamin A, and Vitamin C.
These tuberous vegetables store very well- so if you grow them in your garden you can store them well into winter and sometimes even through the following spring.
This site contains affiliate links. If you make a purchase using one of these links, I may earn a commission. Please see my disclosure page for more information about cookies collected and our privacy policy.
–>> Read more about how to Grow, Harvest, and Store Sweet Potatoes!
If you grow your own, or even if you don't, sweet potato season is almost here. In honor of that I have collected more than 50 different recipes- from breads to dinners to desserts- for you to try out this fall and winter. Enjoy!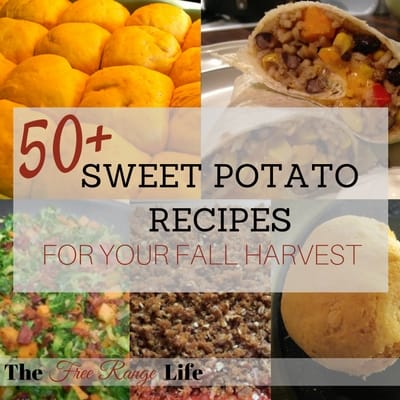 Quit printing out the same recipe over and over or searching online for that favorite you made last week. Check out my new Blank Recipe Journal! The perfect place to write down all those favorite recipes you find online!
50+ Sweet Potato Recipes to Enjoy This Fall
Sweet Potato Breads:
Sweet Potato Biscuits from The Free Range Life
Savory Sweet Potato Bread from KiipFit
Sweet Potato Yeast Rolls from The Free Range Life
Sweet Potato Cornbread from Chew Out Loud
Sweet Potato Flatbread from Vegan Lovlie
Cinnamon Spice Sweet Potato Bread from Averie Cooks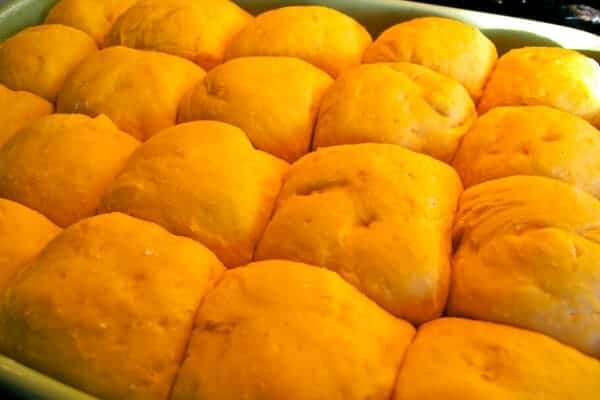 Main Dishes Using Sweet Potatoes:
Sweet Potato Crusted Quiche from Meaningful Eats
White Bean and Sweet Potato Veggie Burger from Cheesy Sweet Potato Crisps
Smoky Barbecue Sweet Potato Chickpea Burgers from The Vegan 8
Barbecue Chicken Stuffed Sweet Potatoes from Living Loving Paleo
Barbecue Chicken Pizza with Sweet Potato Crust from The Soccer Mom Blog
Ground Turkey Sweet Potato Stuffed Peppers from Primavera Kitchen
Sweet Potato Black Bean Enchiladas from Hummusapien
Lentil, Chard and Sweet Potato Curry from Forks Over Knives
Sweet Potato and Brie Mac n' Cheese from Healthy Food for Living
Sweet Potato Spinach Lasagna from Fit Foodie Finds
Sweet Potato and Black Bean Burrito from One Acre Vintage Homestead
Baked Black Bean and Sweet Potato Flautas from Peas and Crayons
Sweet Potato, Kale, and Shrimp Skillet from Primavera Kitchen
Sweet Potato and Turmeric Falafel from Trinity's Kitchen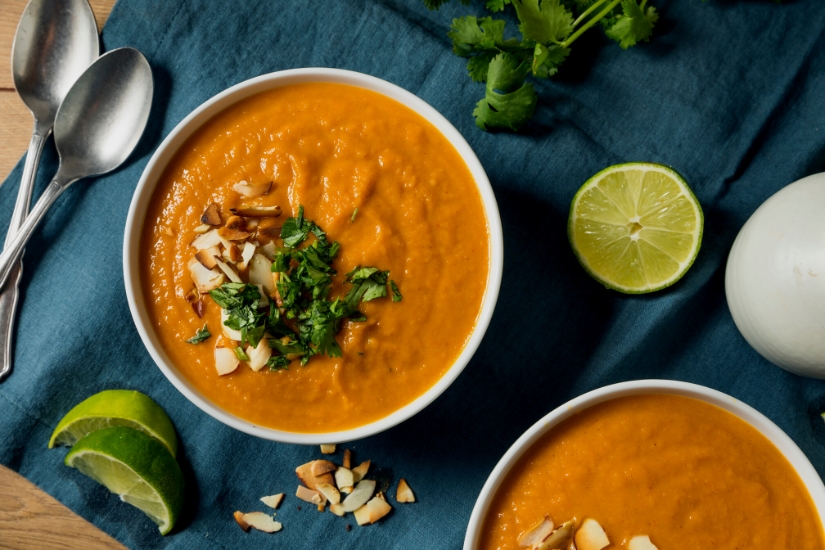 Soups Featuring Sweet Potatoes:
Slow Cooker Sweet Potato and Cauliflower Soup from Peas and Crayons
Thai Sweet Potato Soup from The Hungary Buddha Eats the World
Vegan Quinoa and Sweet Potato Chili from Sas + Rose
Sweet Potato and Coconut Soup from Natasha's Kitchen
Sweet Potato and Beef Stew from Damn Delicious
Sweet Potato Sausage Soup from Better Hens and Gardens
Hearty Sweet Potato Chili from Not So Modern Housewife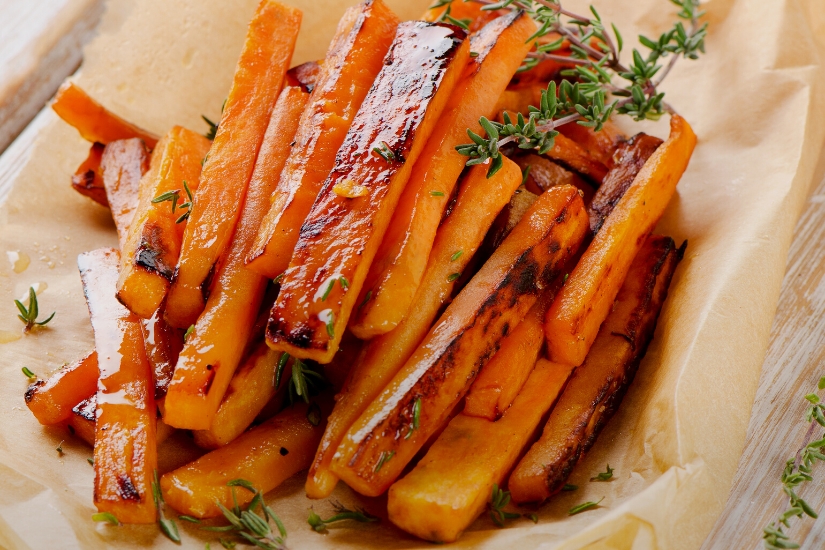 Sweet Potato Sides:
Crispy Sweet Potato Fries from Lazy Cat Kitchen
Brussels Sprout and Sweet Potato Saute from Little Sprouts Learning
Cheesy Sweet Potato Crisps from How Sweet it Is
Sea Salt and Honey Caramelized Sweet Potatoes from Nutritionist in the Kitchen
Smoky Sweet Potato Hummus from Sweet Peas and Saffron
Sweet Potato Bake with Sage Butter Sauce from Rasa Malaysia
Hasselback Sweet Potatoes from Simple Roots Wellness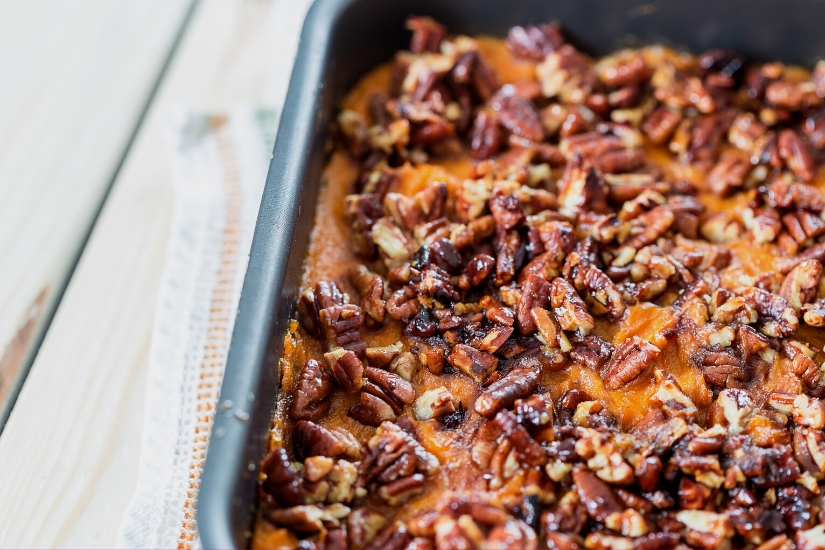 Sweet Potato Casseroles:
Southern Style Sweet Potato Casserole from The Farmer's Lamp
Stuffed Apple and Bacon Sweet Potato Casserole fro Mel's Kitchen
Salted Caramel Sweet Potato Casserole from 3 Yummy Tummies
Aunt Pat's Sweet Potato Casserole from Little Sprouts Learning
Sweet Potato and Black Bean Casserole from Kim's Cravings
Italian Turkey Sweet Potato Casserole from Whitney Bond
Sweet Potato Breakfast Casserole from The Farmer's Lamp
Slow Cooker Sweet Potato Casserole from Five Heart Home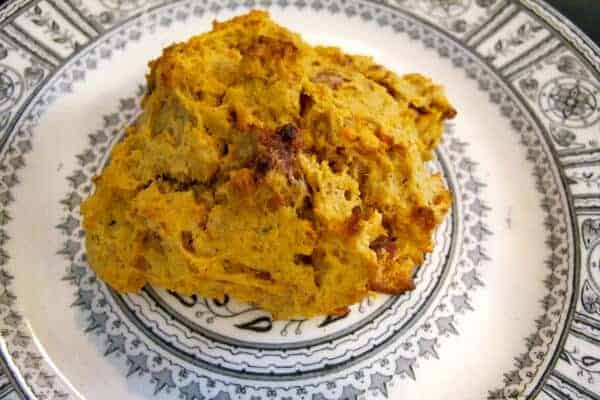 Sweet Potato Desserts:
Sweet Potato Date Scones from The Free Range Life
Spiced Sweet Potato and Apple Fruit Leather from Savory Lotus
Sweet Potato Chocolate Pudding from Healthy Food for Living
Sweet Potato Cheesecake from Cookie Dough and Oven Mitt
Sweet Potato Cobbler from Southern Bite
Best Sweet Potatoes from Better Hens and Gardens
Baked Cinnamon Sugar Sweet Potato Tots from Running with Spoons
Chocolate Sweet Potato Pie from Hankering 4 Healthy
Flourless Sweet Potato Blondies from The Big Man's World
Sweet Potato Grain Free Brownies from Make the Best of Everything
Sweet Potato Cinnamon Roll Cake from Bunny's Warm Oven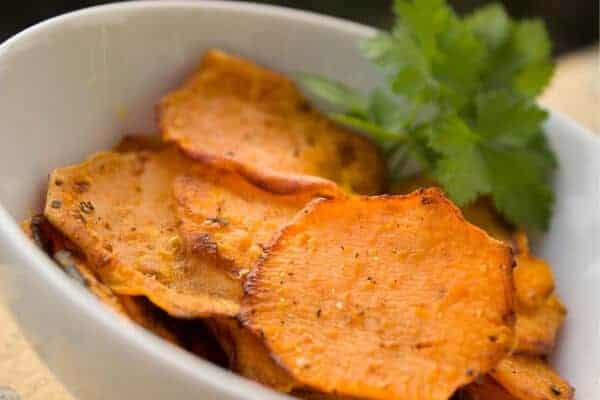 Other:
Sweet Potato Baby Food from Brown Thumb Mama
Sweet Potato Chips from Mariah's Pleasing Plates
Canning Sweet Potatoes from Little House Living
Sweet Potato Butter from Happy Healthy Mama
Looking for more recipes? Check these out:
50 Eggplant Recipes for Every Taste
50+ Zucchini Recipes for Your Summer Harvest
13 Simple, Refreshing Frozen Watermelon Desserts
25 Salsa Recipes You've Got to Try
15 Amazing Stuffed Acorn Squash Recipes