This year we were blessed with an amazing winter squash crop. One of the varieties we grow is this White Acorn Squash. It is a nice compact plant, so it fits well in a smaller garden- unlike many of the other winter squashes whose long vines take over!
Acorn squash is a nice small squash that is the perfect size and shape for stuffing. You can stuff them in one of two ways- either slice them in half, remove the seeds, and stuff the 2 halves, or cut the top portion off, scoop out the seeds and you have one larger bowl to stuff.
This site contains affiliate links. If you make a purchase using one of these links, I may earn a commission. Please click here for more information about cookies collected and our privacy policy.
Most of these recipes call for roasting the squash for about 30 minutes before stuffing- I recommend seasoning well at this point so that your squash has a nice flavor.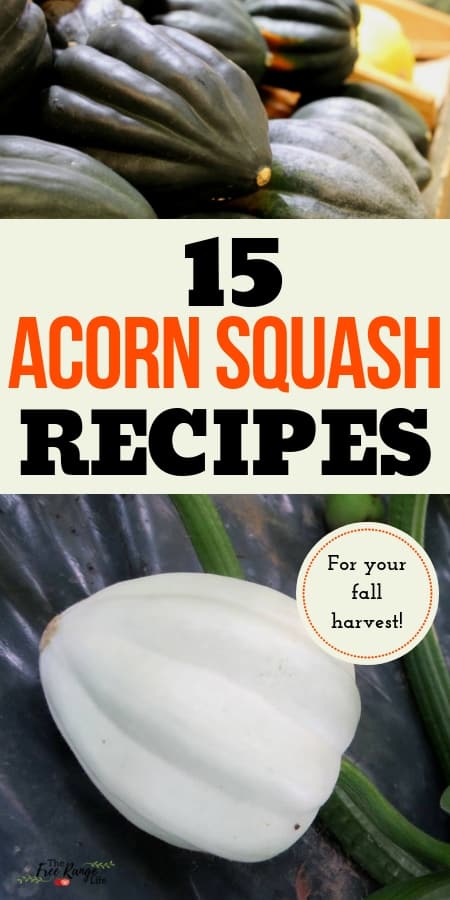 15 Amazing Stuffed Acorn Squash Recipes
Macaroni and Cheese Stuffed Squash
Acorn Squash with Apple, Cranberry & Sausage Stuffing
Acorn Squash Stuffed with Pear and Sausage
Tex Mex Quinoa Stuffed Acorn Squash
Pumpkin Risotto Stuffed Acorn Squash
Chipotle Chicken & Quinoa Stuffed Acorn Squash
Beef + Mushroom Stuffed Acorn Squash
Ground Turkey Stuffed Acorn Squash
Save all your favorite recipes in my Blank Recipe Journal! Now available from Amazon!
Clean Eating Stuffed Acorn Squash
Maple Apple Sausage Acorn Squash
5 Ingredient Breakfast Stuffed Acorn Squash
Baked Acorn Squash with Chestnuts, Apples and Leeks
Acorn Squash with Wild Rice Pilaf and Polska Kielbasa
Jamaican Stuffed Acorn Squash Recipe
Try one of these recipes for your next meal- or even to serve at your family's Thanksgiving dinner. Do you have a favorite stuffed squash recipe?
Save
Save