In this Post: Get the recipe for delicious Sweet Potato Yeast rolls! They make a great addition to any fall or holiday meal!
Pan rolls have always been a holiday staple at our house. I usually make 2 large pans to fill up my bread-loving crew. They are soft, buttery and similar to the restaurant versions we love.
This site contains affiliate links. If you make a purchase using one of these links, I may earn a commission. Please see my disclosure page for more information about cookies collected and our privacy policy.
But in the fall, when the sweet potatoes have been harvested and the pantry is full, I start adding sweet potatoes to almost all of our breads- sweet potato tortillas, sweet potato biscuits, sweet potato pancakes- and of course sweet potato yeast rolls become our pan rolls of choice.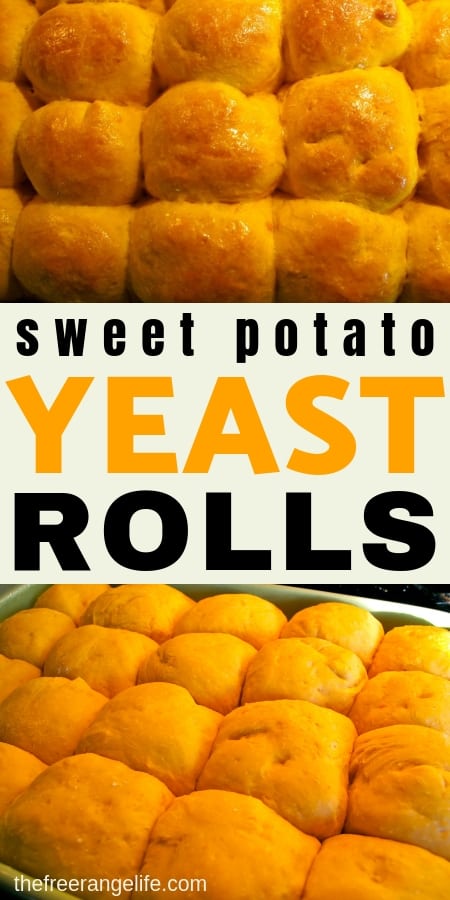 How to Make Sweet Potato Yeast Rolls
For these rolls you will need:
4 T butter
1 cup mashed sweet potato
3/4 cup water
2 T honey
3 eggs
1 T yeast
4-5 cups flour
1 tsp salt
optional spices: cinnamon, nutmeg, cardamom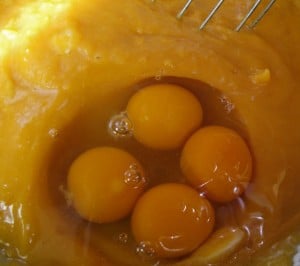 Combine the water, honey, butter in a saucepan and warm until the butter is almost melted. If your sweet potato happens to be cold, throw it in there too.
If it's freshly cooked and mashed you can skip this part completely and let the hot potatoes warm the water and melt the butter. Place in a large mixing bowl and whisk until smooth.
Add in your eggs and whisk until completely incorporated- and in case you are wondering- one of my eggs was a double yolker, which is why there are 4 yolks in the bowl instead of 3.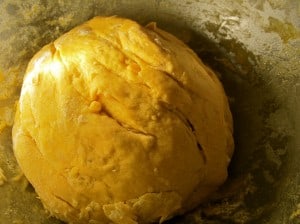 Add 1 cup of flour and the yeast and stir. Switch to using your mixer's dough hook and add in 2 more cups of flour and the salt. Now is also the time to add in the spices if you wish.
If I am using them I usually only throw in a dash of each- no more than 1/4 tsp. Knead, adding flour as needed, until you have a smooth, elastic dough. Place in a lightly greased bowl and allow to rise in a warm place for 1 hour or until doubled.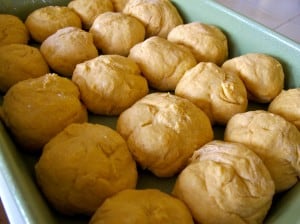 Punch down the dough and divide it into about 20-24 equal pieces.
Roll each into a ball and place in a greased 9×13 baking dish.
Cover the pan and allow them to rise for another 30 minutes, or until the rolls are touching and very puffy. I usually set the pan on the stove where it gets the heat from the preheating oven.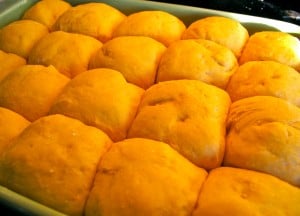 Place in a preheated oven and cook at 350* for 25-30 minutes or until slightly browned on top.
Brush the tops with melted butter and allow them to cool for at least 5-10 minutes before serving. Enjoy!
These rolls are great fresh and as leftovers. We like to use them as buns with leftover ham or turkey the day after Thanksgiving or Christmas, if we have any left that is. Make a complete holiday meal and pair these sweet potato yeast rolls with my apple walnut stuffing and maple brown sugar pumpkin pie!