Are you tired of boxed stuffing on your Thanksgiving table? Wow your family this holiday season with this savory and delicious Apple Walnut Stuffing recipe!
Stuffing is a staple on the Thanksgiving table. I never cared for it growing up and when I was older most of the time all that was to be found on the holiday table was Stovetop- have you looked in the ingredients for Stovetop stuffing?
This site contains affiliate links. If you make a purchase using one of these links, I may earn a commission. Please see my disclosure page for more information about cookies collected and our privacy policy.
For one, it has corn syrup!? Not to mention a few other ingredients I don't wish to eat! But over the years I have come to actually like eating stuffing at Thanksgiving, and this is one of my favorites!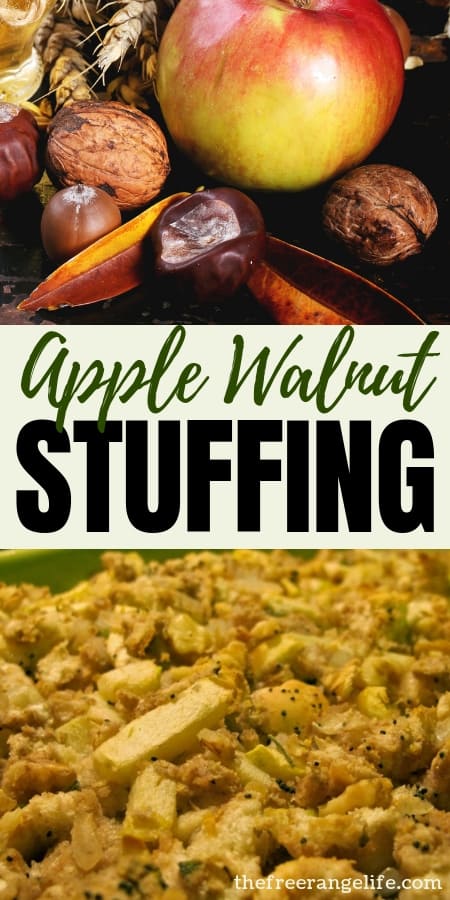 How to Make Apple Walnut Stuffing
3 T Butter
1 onion- chopped
5 cloves garlic- minced
1 cup chopped walnuts
2 large apples
1 large loaf stale bread- such as french or Italian
1 – 1.5 cups stock
1 tsp fresh thyme
1-2 T fresh, chopped sage
dash of cinnamon
salt and pepper to taste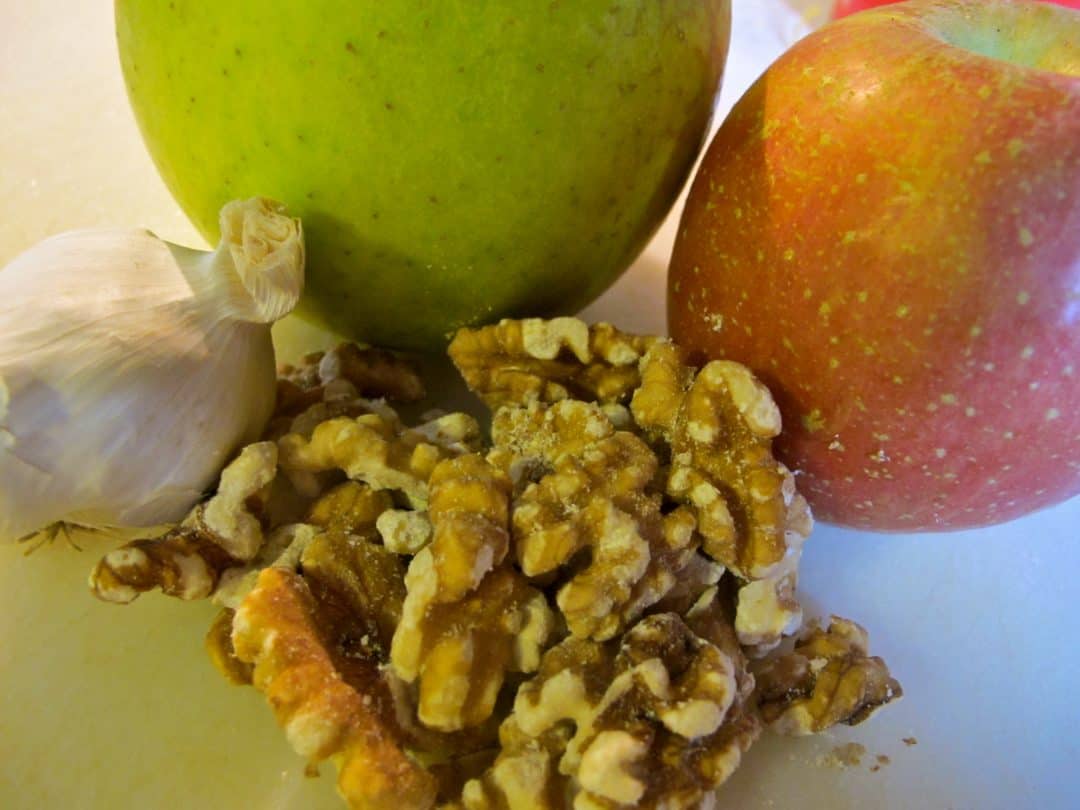 In a large bowl, break your bread into small pieces- about 1 inch cubes. If your bread is fresh you can cut it and stick it in the oven for a few minutes to toast up. Set it aside while you prepare the rest.
Chop the onion, mincing the garlic, and peeling and chopping the apples.
Heat a skillet to medium and add the butter. Once it's melted add the onions, garlic, apples, cinnamon and salt/pepper to taste.
Saute them until the onions are translucent and the apples are softening.
Stir in the thyme, sage, walnuts and 1 cup chicken stock.
Add the contents of the pan to the bread cubes and stir with a fork to combine.
The bread should be pretty wet, you might need the additional 1/2 cup of stock depending on the size of your bread loaf.
Pour into a greased 9×13 pan and bake at 350 for 30 minutes until it is crunchy on top and hot all the way through. Serve warm.
Save