Are you looking for a new go-to roasted tomato sauce recipe? Look no further! This is the easiest homemade tomato sauce recipe you will every try and the most delicious!
Growing tomatoes is a favorite of many home gardeners. There's so many options- cherry, grape, paste, slicers, beefsteak! And tomatoes always reward you with a big harvest!
This site contains affiliate links. If you make a purchase using one of these links, I may earn a commission. Please see my disclosure page for more information about cookies collected and our privacy policy.
When it comes to preserving them though…I am not too fond of the standard process of making tomato sauce.

Most canning guides have you boil them, ice them, skin them and take out the seeds. There are 2 things I don't like about that process. One, it takes way too long and way too many dishes. Two, it's a lot of waste. I want to use all the tomato.

This roasted tomato sauce does just that- no blanching, no skinning, no taking the seeds out. It is ridiculously easy to make and OMG is it delicious! Give it a try- I know you won't be disappointed!
✅ Are you overwhelmed with everything that goes into growing & preserving food at home? Get my Free Gardening & Preservation Cheat Sheets to help you plan and calculate your garden needs! Best of all they're FREE! Get the Homegrown Pathway Cheat Sheets now.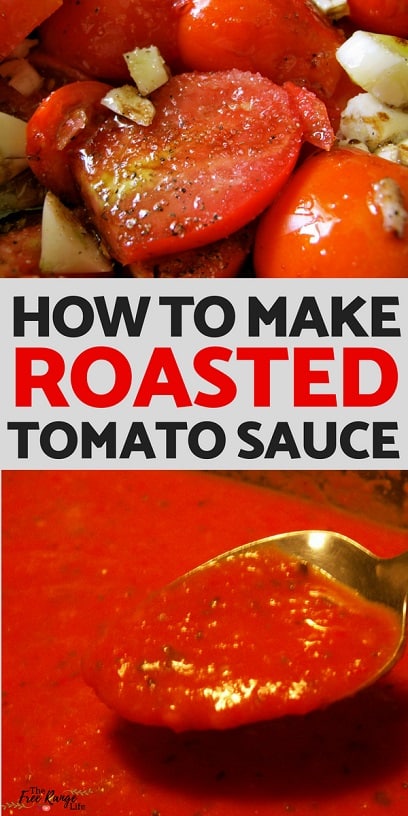 How to Make Roasted Tomato Sauce
First you need to gather all of your supplies. And I will warn you, this in NOT necessarily a recipe, it's more of a process. Many of the additions- onion, garlic, herbs, etc are to taste.
Some people will want more or less than I have indicated below.
Here's what you will need:
tomatoes*
garlic
onion
olive oil
balsamic vinegar
salt and pepper
basil
oregano
**Paste tomatoes will give you the most sauce per tomato, but you can use any kind of tomatoes you want in this sauce. I have even made it with lots of
cherry tomatoes
and it still turns out great!
The amounts aren't super important- lots and lots of tomatoes, at least a whole head of garlic, onions to your taste, a few handfuls of herbs. Make this to your tastes….you can always add more spices in the blending process.
Step 1:
Halve your tomatoes and place them in a large roasting pan- like the one you would roast a Thanksgiving turkey in. I tend to over-fill mine.
I use mostly Roma tomatoes as there is less water in them and more meat. Paste tomatoes are the best tomato type to use, but you can use what you have- even cherry tomatoes!
You can break it up into a couple pans too, it might make the roasting a little quicker.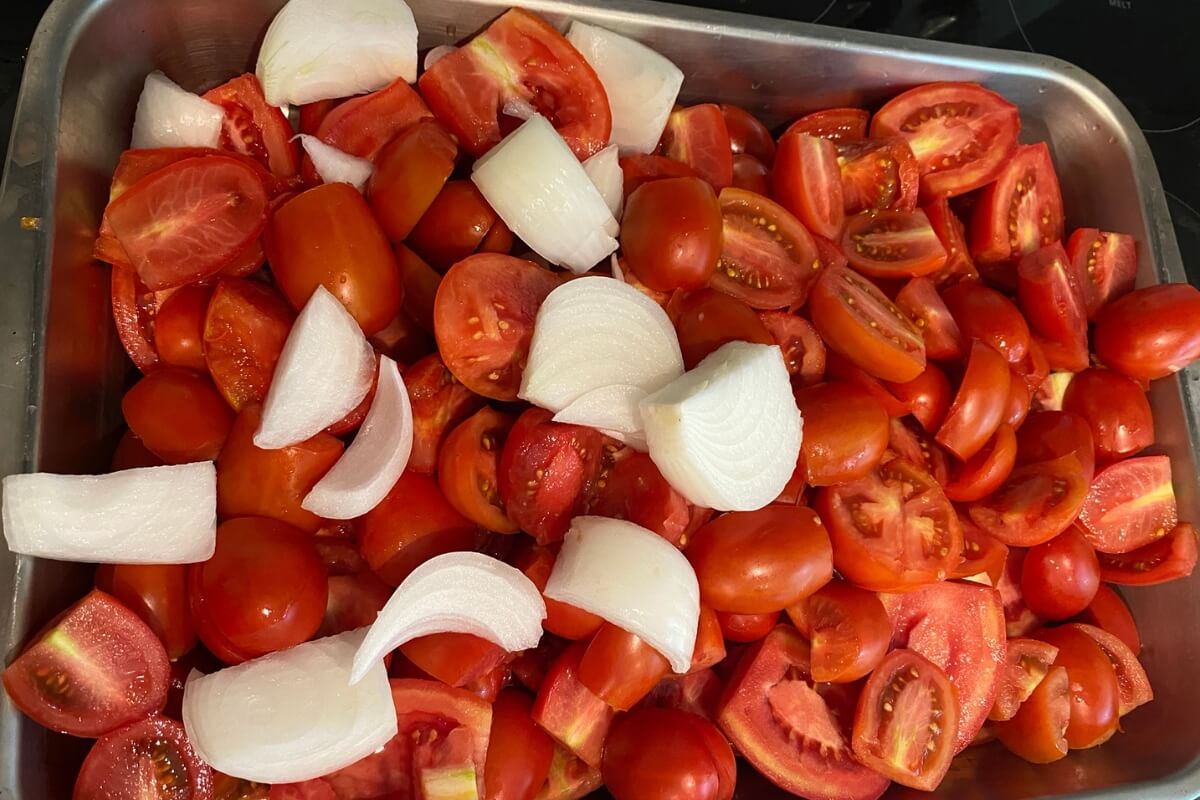 Step 2:
Add garlic. I use a whole head.
Bruise each clove and remove the skins.
Throw the garlic cloves into the roasting pan whole.
Related Reading: 100+ Canning Recipes and Resources!
Step 3:
Add onion.
I use about 1 large onion- cut into quarters.
You can omit it or add more depending on your taste.
Step 4:
Sprinkle liberally with [sea] salt and pepper.
Drizzle with olive oil and balsamic vinegar.
Don't skimp on either of these- the balsamic adds a lot of flavor and makes it taste amazing!
Top with lots of fresh oregano. You can probably use dry oregano instead, but if you choose to do that I'd wait to add it until it's in the blender.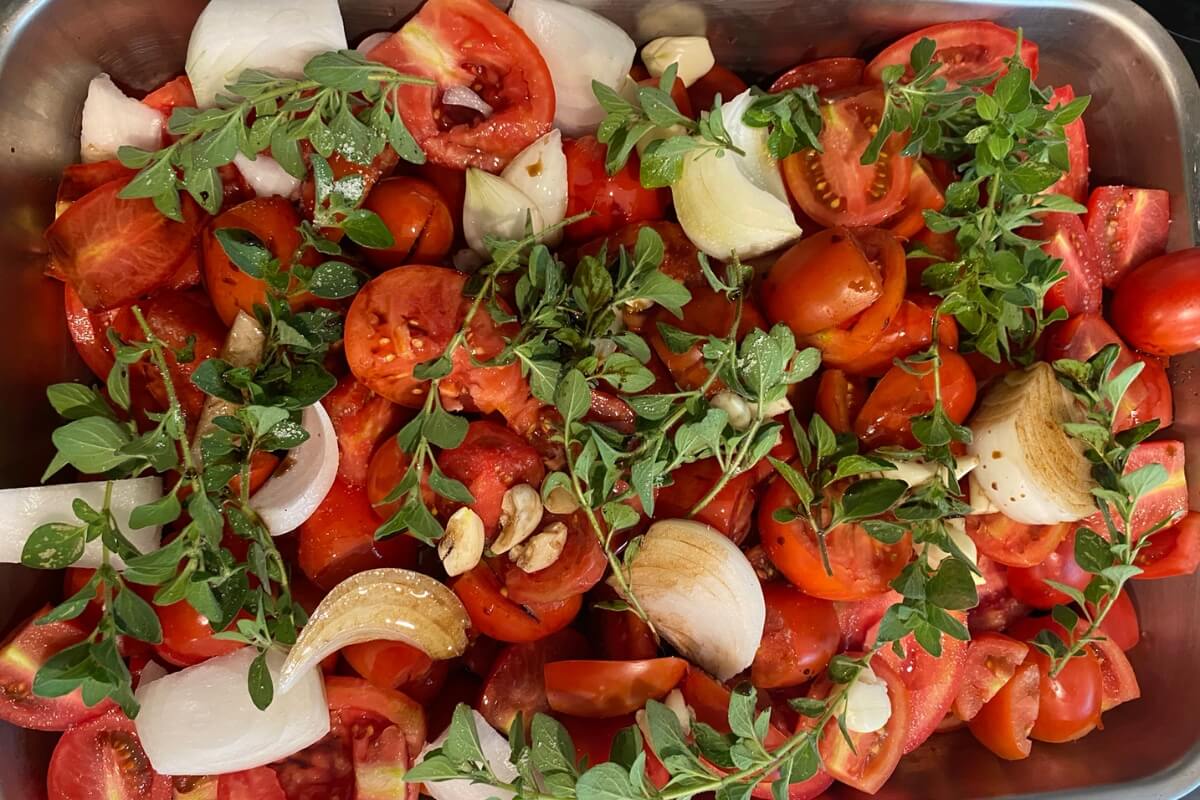 Step 5:
Dig your hands in and toss it all up until everything is nice and coated.
Then stick it in the oven for 45 minutes or so at 400*.
You want the skins shriveled and starting to blacken in a couple places.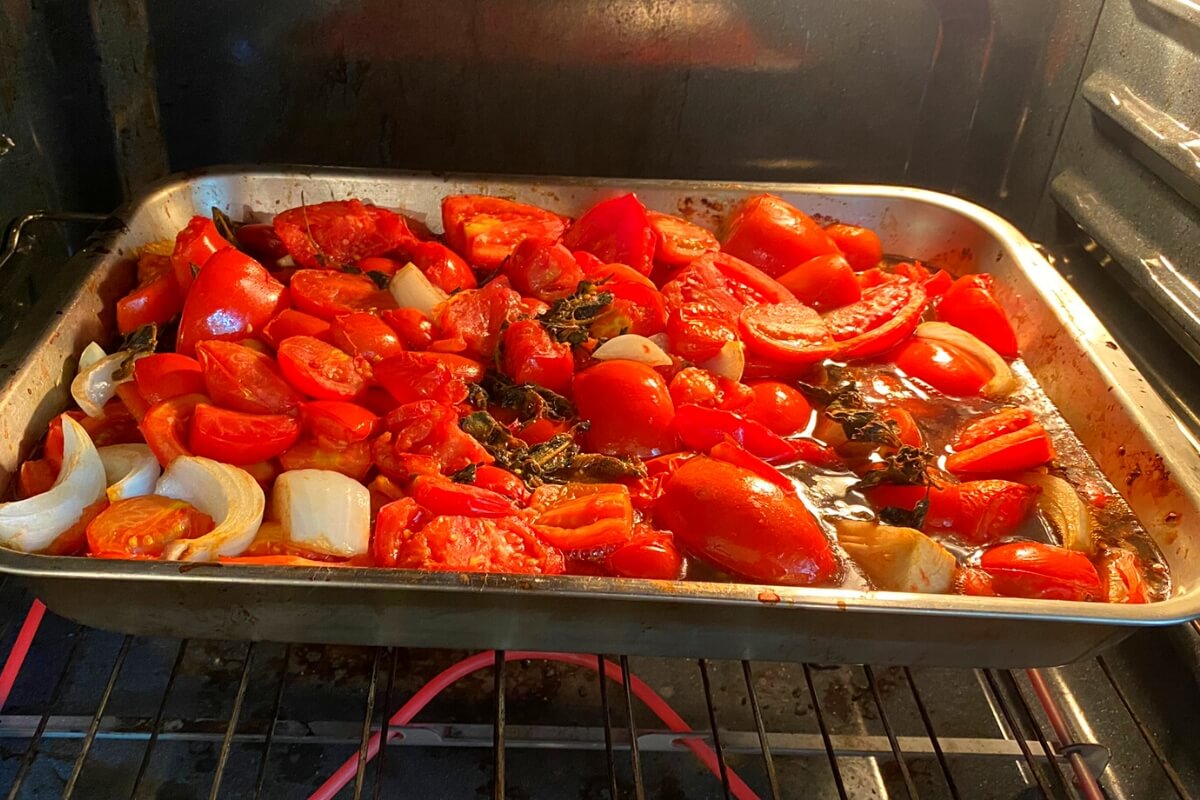 Step 6:
When it's done cooking, transfer the tomatoes to a large bowl using a slotted spoon. I use my crock pot. It's up to you whether or not to get all the juices.
I find the sauce too thin when I add them all. So I just make sure to get all the onion, garlic and tomatoes.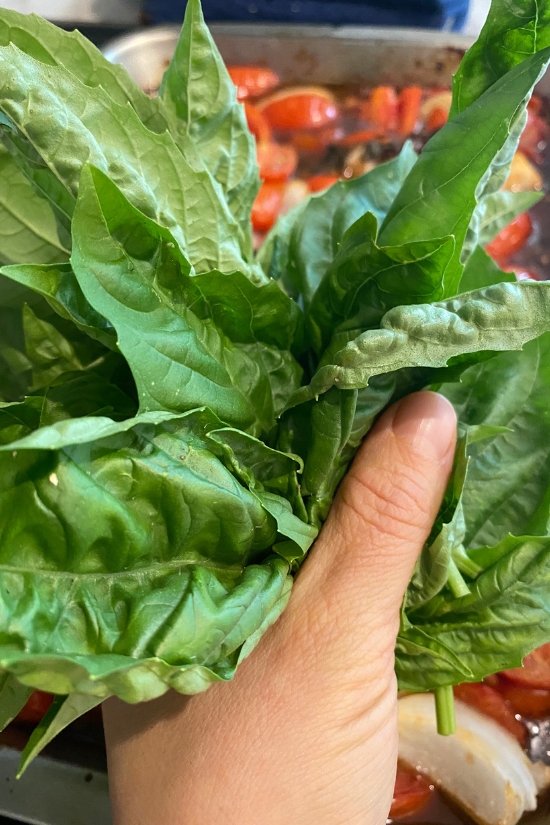 Step 7:
Add a whole lot of fresh basil (I am sure dry basil would work too). Then blend it up.
I used my immersion blender for years. I have used my food processor in batches too. Keep blending until it's very smooth.
Then give it a taste.
Add more salt, pepper, balsamic, olive oil, a drizzle of honey…until it tastes how you want.
NOTE: I recently got a Vitamix, and I highly recommend that. It completely destroys any of the skin and seeds and makes it really smooth. Sometimes when using an immersion blender or food processor, I'd end up with tough little rolls of skin that I really didn't like. The Vitamix completely gets rid of those.

Want to learn more about growing tomatoes? Check out my Complete Guide to Growing Tomatoes from Seed!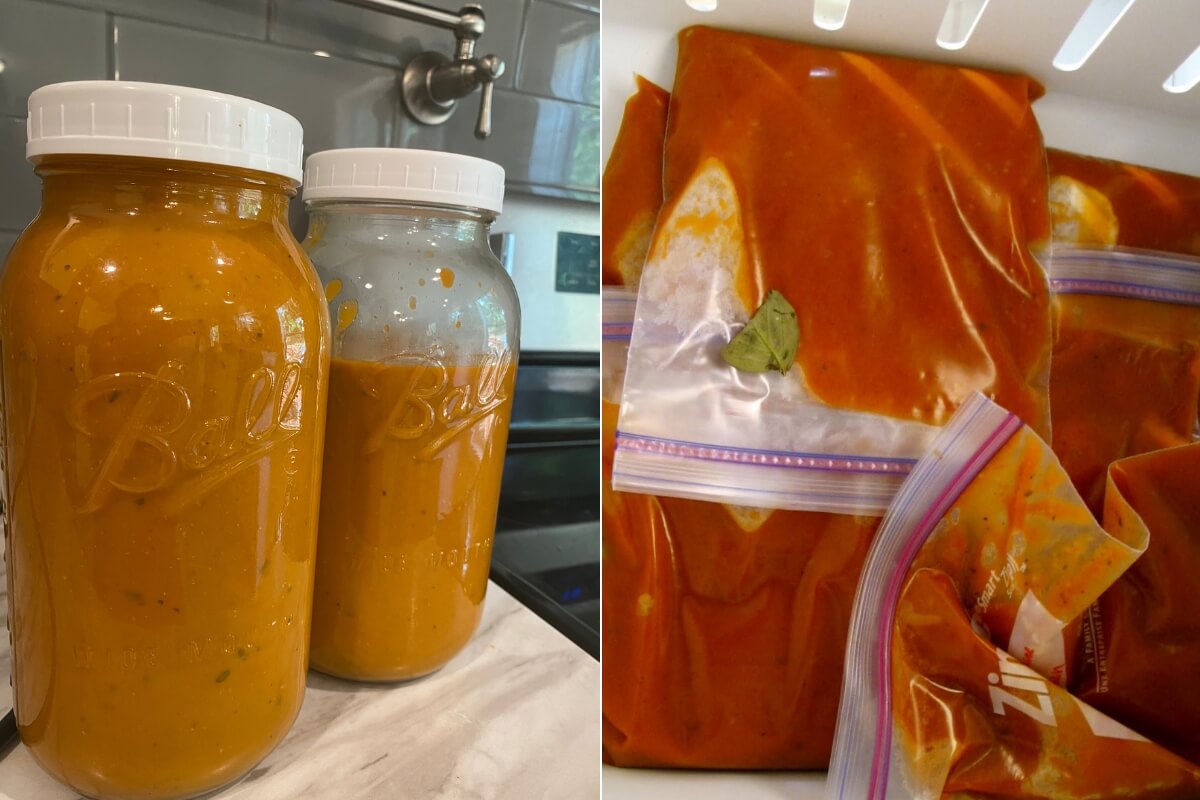 Then you can place the roasted tomato sauce in jars, containers, freezer bags and freeze it for later.
It is possible to can this recipe, but you would have to be more careful about amounts and probably add more Balsamic Vinegar to each jar.
I tend to freeze it in servings of about 4 cups because it is easier on my end and I don't have to worry about ratios and acidity levels.
Have you given this roasted tomato sauce a try? Let me know how it went in the comments!
Not sure what kind of tomatoes to grow? Here's some of my favorite heirloom tomatoes and some fast growing tomato varieties.
How to Make Roasted Tomato Sauce with Frozen Tomatoes
Sometimes I get overwhelmed with how many tomatoes I have on my counter and I freeze tomatoes for later.
This sauce is simple to make using these frozen tomatoes.
The ingredients are the same, there's just one small difference in what you need to do.
First put your frozen tomatoes in the roasting pan and place directly in the oven.
Let them roast and defrost for a 15-30 minutes and then pull them out of the oven and drain as much water/juice as possible.
If your tomatoes are still very frozen you might need to repeat this step a second time.
Once you have drained a lot of water and your tomatoes are mostly defrosted, continue adding the remaining ingredients and roast and process as instructed above.
More Tomato Recipes and Preservation Ideas: