Tomatoes. They are the vegetable of summer. They are a staple in all gardens. You've made tomato sauce and salsa….and now you can make Tomato Jam!
This beautiful dark red jam is sweet and spiced with cinnamon, cloves, and ginger and I know it will become a new favorite in your home canned pantry!
This site contains affiliate links. If you make a purchase using one of these links, I may earn a commission. Please see my disclosure page for more information about cookies collected and our privacy policy.
How to Make Tomato Jam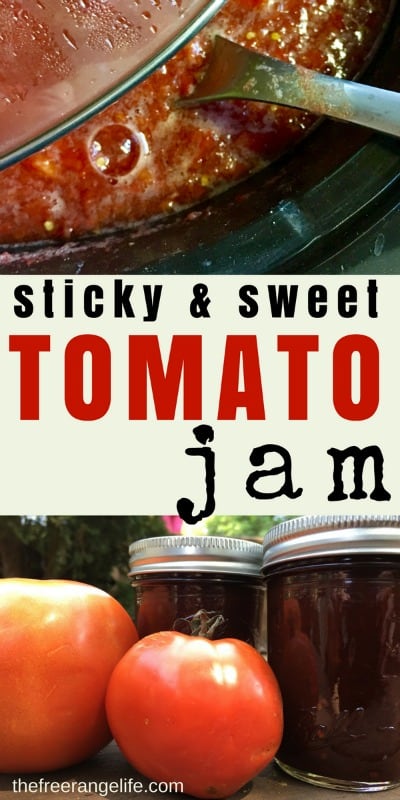 ✅ Ready to take control of your food source and preserve more? Check out my Food Preservation Planner to help you plan and preserve more food this year!
~ 4 lbs of tomatoes
2 1/2 cups brown sugar
1/3 cup lemon juice
1 tsp cinnamon
1/4 tsp cloves
1/2 tsp salt
1/4 tsp ground ginger
optional: 1/2 tsp red pepper flakes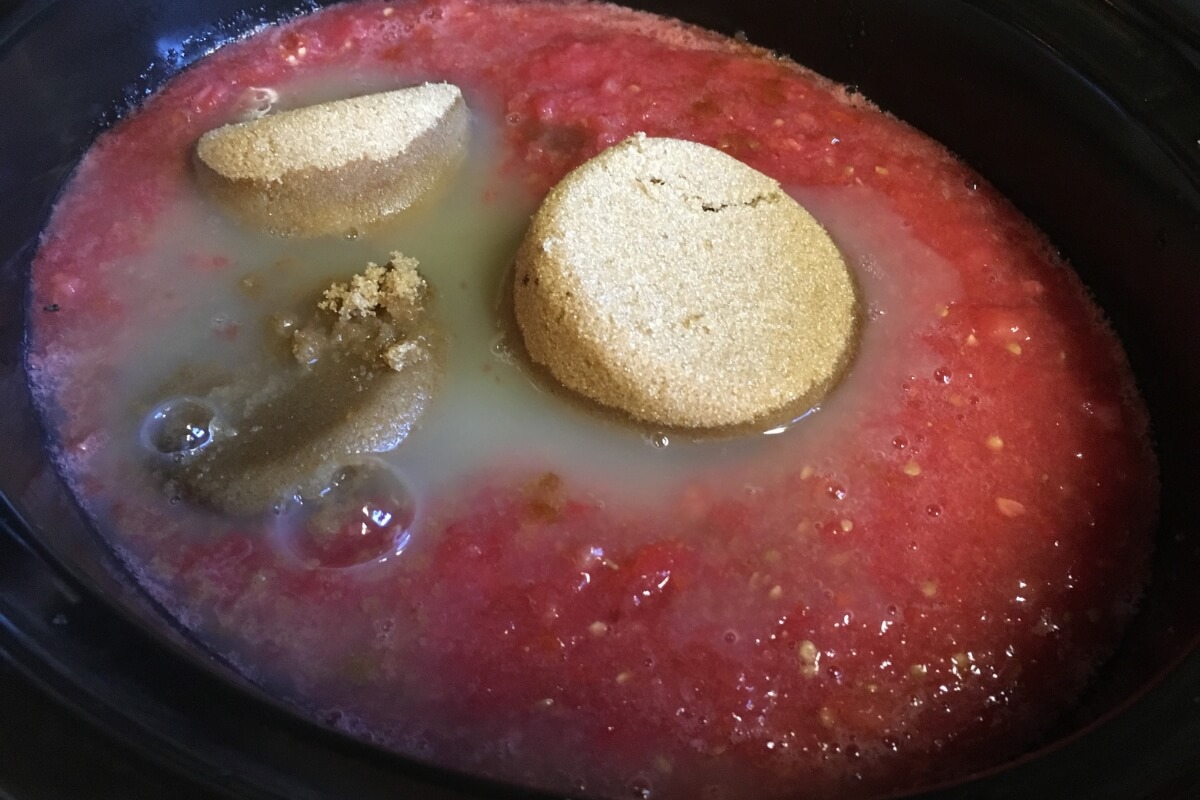 Core the tomatoes and dice them very small- I use the food processor for this step, but use your judgement based on how chunky you want your final tomato jam to be.
In your crockpot combine the diced tomatoes and all of the other ingredients.
Stir to combine.
Turn your crock pot on high and allow to cook and reduce until the tomato jam is thick and sticky, stirring occasionally. This should take about 12-15 hours, but times will vary based on your slow-cooker.
I recommend leaving the lid vented or off completely to allow the moisture to escape the jam to reduce.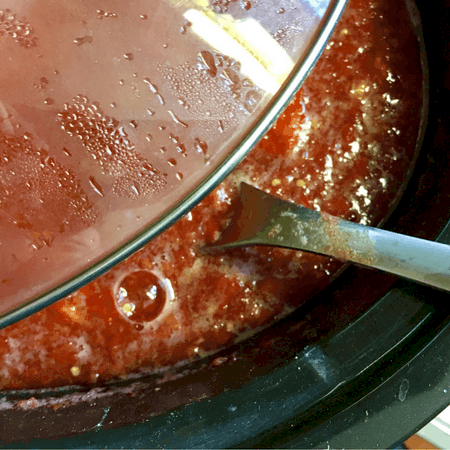 *Note: If you get a late start, like I often do, and your jam is not ready by the time you are ready to call it a day, you can transfer the tomato jam to a stock pot and cook on medium-low heat. Be sure to stir more frequently at the late stage as it can burn as all the water evaporates out of it!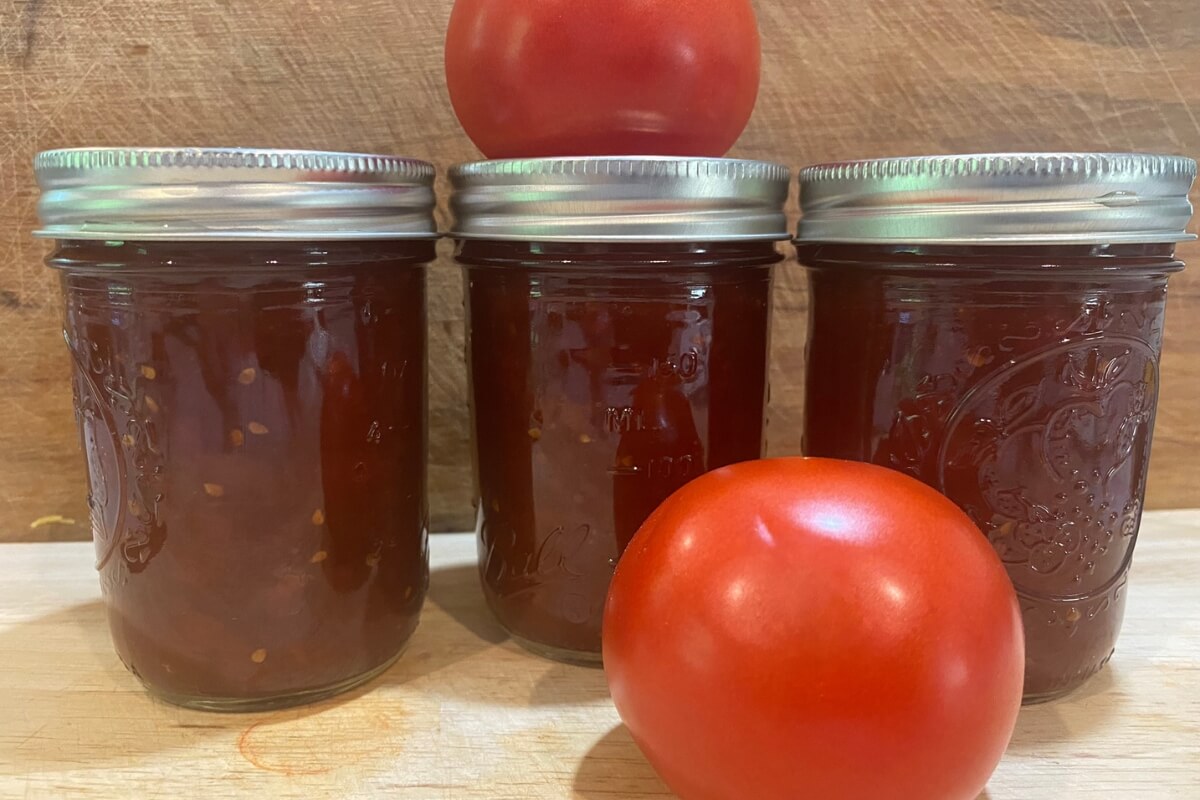 To Can Tomato Jam:
Once your tomato jam has reduced to a thick, sticky, jam consistency it is done and you are ready to put it in jars! You can keep it in the fridge for about 2 months, the freezer for a year, or can it for a shelf stable jam that has a shelf life of at least 12 months.
You can preserve tomato jam using a boiling water bath canner by following the steps below:
Step 1: Fill your canner about halfway with water and set it on medium high heat with the lid on. Bring the water to a boil.
Step 2: Wash your half-pint jars with hot water, run them through the dishwasher, or wash them and place them in the canner filled with water to get hot.
Step 3: Place your 2 part lids in a shallow pan of water set on medium-low heat.
Step 4: Ladle the hot jam into your prepared jars leaving a headspace of 1/4 inch.
Step 5: Wipe the rims with a damp cloth and place on lids and rings.
Step 6: Transfer the jars of tomato jam to the canning pot and process for 15 minutes.
Step 7: Remove from the canner and allow to rest on the counter for about 24 hours before checking for a good seal.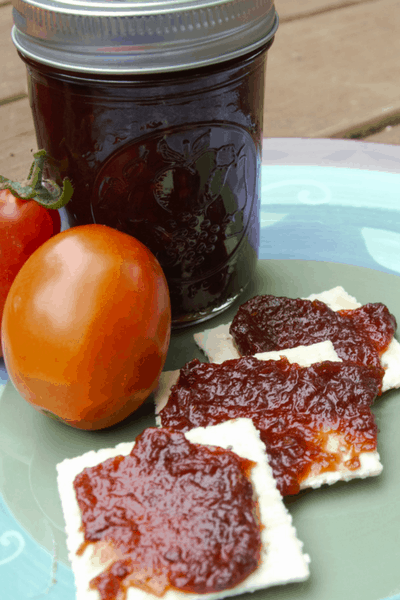 That's it! We love this jam and find that with the spice combo it tastes similar to apple butter! So if you've got a bumper crop of tomatoes why not give tomato jam a try! Let me know what you think!
Need more recipes? Check out these 100+ Canning Recipes and Resources! Or check out 11 Ways to Preserve Tomatoes for more ideas on how to use your tomato harvest.