Did you ever stop to think about how many foods you eat that contain tomatoes? Did you know you can make your own of these commonly used items using your own homegrown tomatoes! Try some of these ideas to preserve tomatoes and replace your store bought items with homemade ones!
I grow a lot of tomatoes in my garden. A lot. Like over 300 plants most years.
This site contains affiliate links. If you make a purchase using one of these links, I may earn a commission. Please see my disclosure page for more information about cookies collected and our privacy policy.
And while we love to eat them fresh, I mostly grow that many so we can preserve our tomatoes as foods we commonly eat all year long.
I mean, think about it. TONS of the foods we commonly buy at the store are tomato based. But, you know what? They aren't actually that hard to make at home yourself using your own homegrown tomatoes.
So this year, preserve more tomatoes and in the process replace some of those common store bought pantry items!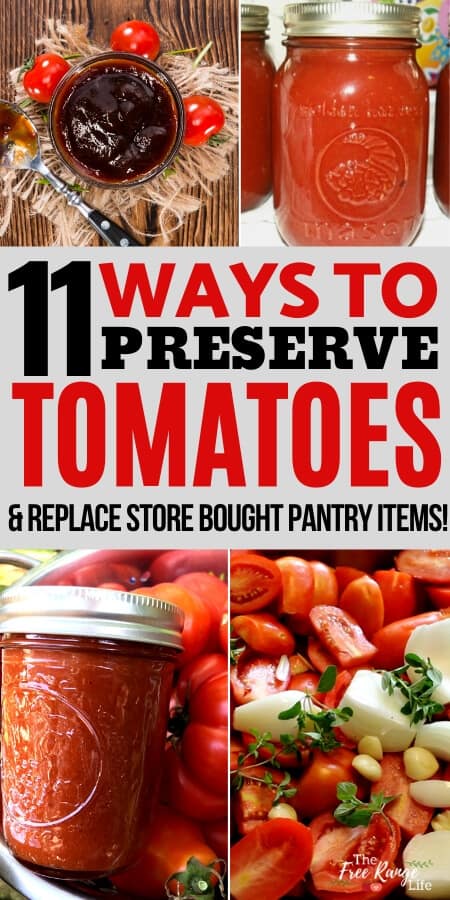 11 Ways to Preserve Tomatoes (and Make Your Most Used Pantry Items!)
✅ Ready to take control of your food source and preserve more? Check out my Food Preservation Planner to help you plan and preserve more food this year!
1. Canned Tomatoes
Let's start with the obvious here. Those cans of tomatoes you buy at the store. Yep, all they are all tomatoes. And they are SO easy for you to make a can at home.
Tomatoes can be canned using a water bath canner and you can preserve any type of tomato you grow (even cherry tomatoes!)
Here are 2 good basic canned tomato recipes to try: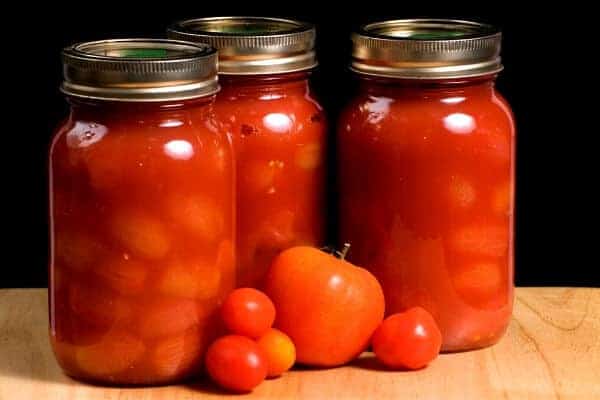 2. Diced/Stewed Tomatoes
I used to buy lots of big cans of diced tomatoes. For chili. For soup. For pasta.
But now I can my own.
Just like #1, these are just tomatoes. Chopped, crushed, stewed and then canned.
Here are a couple recipes to try: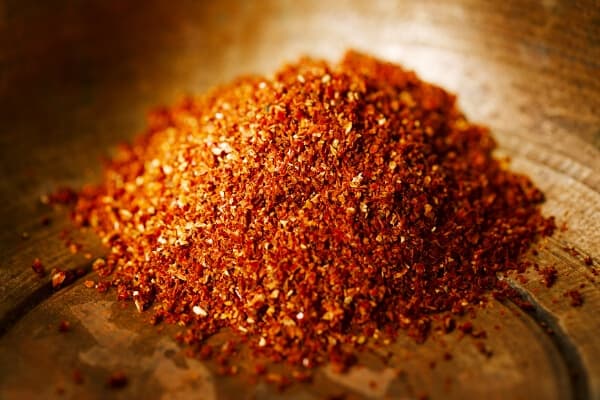 3. Tomato Powder
If you've ever canned tomatoes you'll know that there can be a lot of waste. Many recipes require you to skin your tomatoes before canning.
So what do you do with the skins? Dry them and powder them!
Then you can use the powder to flavor soup, mix in a smoothie, thicken up sauce, whatever you like!
All you really need are tomato skins and a dehydrator, but here's more information on making tomato powder.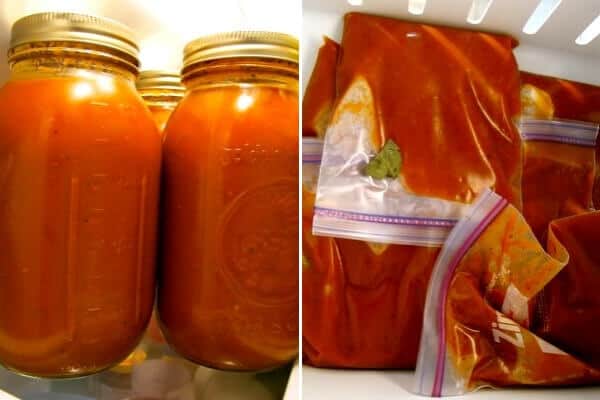 4. Tomato Sauce
I don't know about you, but here at my house we use a LOT of tomato sauce.
We eat pasta and pizza each and every week. Which means a lot of sauce throughout the year!
Sauce is the number one way to preserve tomatoes in my house.
We make this super easy roasted tomato sauce. It's not canned, but it freezes really well.
If you want a canned sauce, try one of these recipes: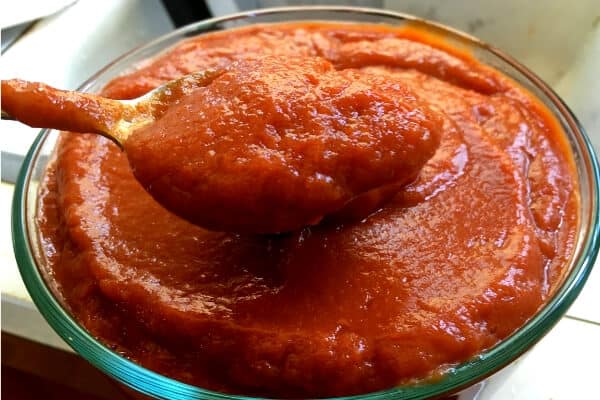 5. Ketchup
Ketchup has got to be the #1 condiment, right? I mean for kids, it's virtually its own food group!
But you know what? Ketchup is made mostly from tomatoes and it's SO easy to make and can at home.
Here's my recipe: Homemade Ketchup from Fresh Tomatoes. I also include canning directions- using a water bath canner.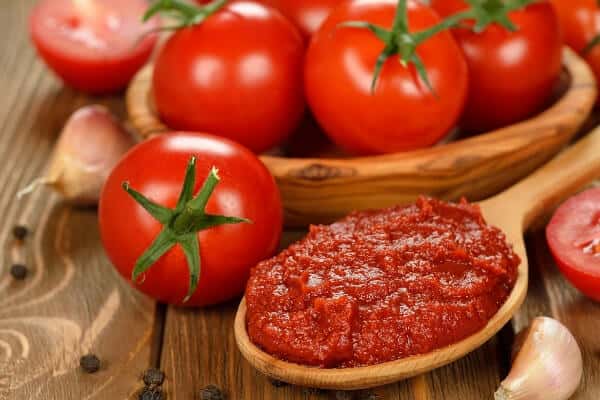 6. Tomato Paste
Tomato paste is another common tomato-based product frequently bought at the store that you can make at home easily with your homegrown tomatoes.
It's like tomato sauce, but thicker, since it's been cooked down longer and the water content has been reduced.
If you'd like to make your own, check out this recipe from NCHFP.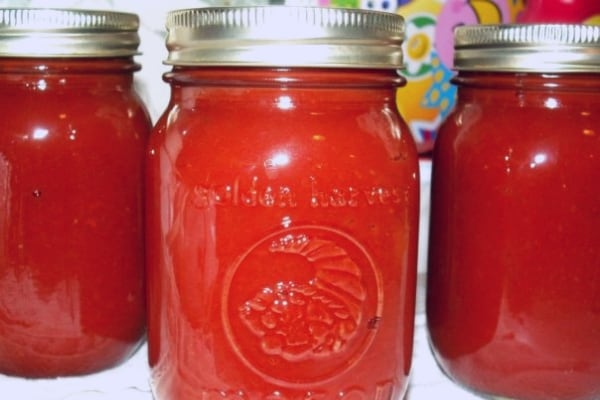 7. Tomato Juice
Now I am not a huge fan of tomato juice or V8 or the like, but I know plenty of people that consider tomato juice a staple.
If that sounds like you, you're in luck! You can easily make your own canned tomato juice straight from the garden.
If you've never made your own, here's how from Old World Garden Farms.
8. Salsa
We go through a lot of salsa at our house. Chips and salsa. Salsa and beans. Egg burritos with salsa.
So it's one of the top ways we preserve our tomatoes.
I love a fresh salsa- garden fresh roasted salsa is my favorite, but it doesn't can well.
Check out these 25 Salsa Recipes for one you like.
And be sure you're using the correct tomatoes! Read: The Best Tomatoes for Making & Canning Salsa.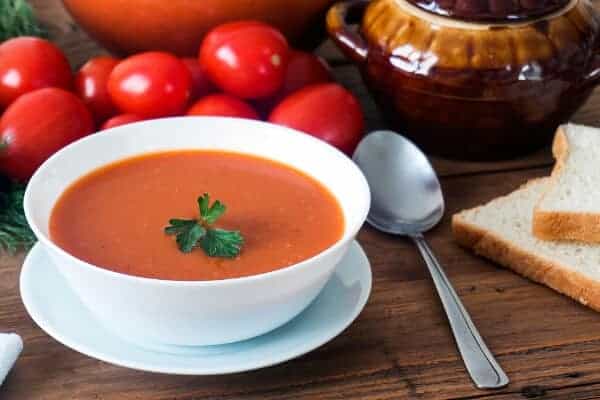 9. Tomato Soup
Creamy tomato soup and a grilled cheese sandwich. Ever had that for lunch?
Campbell's tomato soup as nothing on some homemade tomato soup- and if you've never made your own, you are missing out.
(confession- I sometimes just eat my roasted tomato sauce like soup!
But if you'd like to learn how to make and can your own tomato soup- here's how: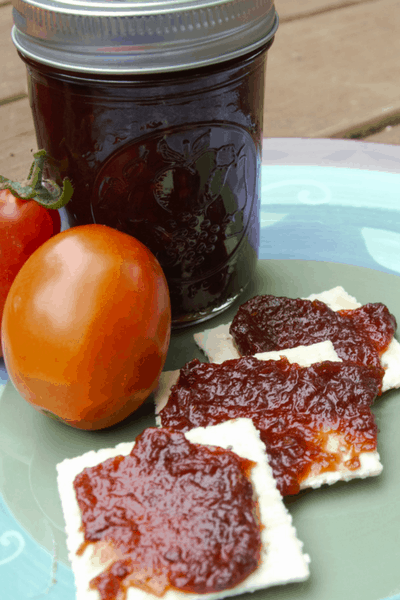 10. Jam
Jam?! Yes! Jam.
Tomato jam is actually kind of like apple butter in texture and flavor- and it's pretty easy to make too.
It may sound strange, but give it a try, you just might have a new favorite!
Here's my recipe (and canning directions): How to Make Tomato Jam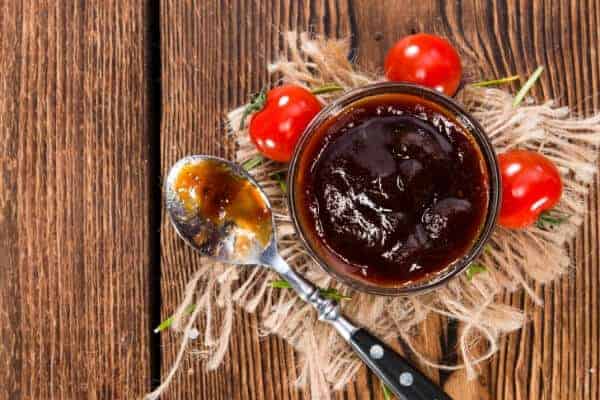 11. Barbecue Sauce
If you ever look at the ingredients in your barbecue sauce you will see tomatoes listed right up top.
Many recipes use ketchup or tomato sauce as the base. And since I've already shared recipes for both- you can now make your own barbecue sauce.
Here's a recipe that uses fresh tomatoes: Barbecue Sauce from Fresh Tomatoes
Or try one of these, using my ketchup recipe for the needed ketchup:
More Preservation Articles You May Like:
21 Foods You Can Preserve in a Water Bath Canner
6 ways to Preserve Strawberries
How to Preserve Eggplant at Home