As a homesteader, and a gardener, a food dehydrator is one of my top used tools in the summertime. A good food dehydrator is essential when it comes to preserving homegrown or locally sourced food to save for eating all year round.
Long ago, dehydrating was the top choice when it came to preserving food- it didn't require energy, all you had to do is wait for the sun to dry out the food and it was ready to store.
This site contains affiliate links. If you make a purchase using one of these links, I may earn a commission. Please see my disclosure page for more information about cookies collected and our privacy policy.
These days, dehydration often comes in second to canning in terms of food preservation, but it shouldn't.
A good food dehydrator will help you preserve almost everything you can grow in your garden, plus you can use it to make jerky or dried fruits for trail mix and on-the-go eating.
It can be confusing when buying a food dehydrator because there are so many options to choose from. How do you know which is the best food dehydrator for you and your situation?
The Ultimate Guide to Buying the Best Food Dehydrator!
How to Choose a Good Food Dehydrator
When choosing a dehydrator for your home you want to consider a few things. Such as:
• How much dehydrating do you do? Do you need a dehydrator that can withstand a LOT of use or just a little here and there?
• How much space do you have for your dehydrator?
• What is your price range?
• Do you need a dehydrator model with a timer?
• Do you have time to babysit models that require you to turn the trays for even drying?
What Makes a Good Electric Food Dehydrator?
Thermostat Control: The best food dehydrator will have an adjustable thermostat to control temperature and dry using a mounted fan for circulating air. Choose a model that has the most control over temperature and temperature range. You want a dehydrator that goes from below 90℉ to over 160℉. Most good dehydrator will offer a range of temperatures at intervals of about 5℉.
Size: You want a dehydrator that maximizes the available space for drying. Some round models have unused space in the center and can be harder to fit items within the tray. I prefer rectangular or square models that have stackable trays and no wasted space.
Adjustable: Moveable trays are another must when it comes to choosing a food dehydrator. Even though fans reduce the need to rotate your trays of fruits or vegetables, in most cases you still need to rotate at least a little bit to make sure drying is even. Having adjustable trays means you can move your trays as much as you need to. I like that I can use my Excalibur with no trays (tall items) all the way up to 9 trays. I can add and subtract trays depending on the size of the items being dried.
Timer: A basic food dehydrator will turn on and off only. A timer can be indispensable if you want to dry things over night or while you are at work during the day. You can set the timer and the machine will turn off after the specified length. This can be very helpful in preventing over drying.
Top 11 Food Dehydrators on the Market Today
The following 11 food dehydrator models are rated the best options to consider when choosing an electric food dehydrator. They all have a least 4.5 stars with a lot of happy customers!
Excalibur 9-Tray Dehydrator with Timer
Excalibur has been making the best electric food dehydrators for years and you can't go wrong with any of their models. You can use it for drying just about anything from vegetables to fruits to jerky.
Excalibur Food Dehydrator Dehydrators offer the following:
✅ It is LARGE. With trays measuring about 14″x14″ and a total of 15 sq. ft. of drying space.
✅ It features a 7 inch, 600 watt fan
✅ Has an adjustable Thermostat ranging from 95◦F to 165◦F
✅ Trays are made from BPA-free plastic (The rest of the plastic, however, isn't BPA free)
✅ No rotation is needed to evenly dry your foods
✅ You remove/adjust the trays to dry larger things, rise bread, or make yogurt.
If you are on a budget- or if you don't dehydrate too much- the top choice goes to the Nesco Snackmaster. It costs less than many comparable food dehydrators, yet it is the highest rated AND is chosen as Amazon's Best Seller and Amazon's Choice.
The Nesco Snackmaster Food Dehydrator offers:
✅An adjustable thermostat ranging from 95º-160º F
✅A top mounted, 600 watt fan
✅ The ability to expand up to 12 trays (comes with 5)
✅ Trays are about 13″ in diameter
This food dehydrator would also be great for those living in smaller homes or those with small kitchens because of its smaller size.
COSORI Premium Food Dehydrator
The COSORI Premium Food Dehydrator has it all. It's a highly rated machine that offers top notch dehydrating without a super high price.
The COSORI Premium Food Dehydrator offers the following:
✅ Adjustable thermostat ranging from 95-165
✅ Made from stainless steel, with BPA-Free tray liners.
✅ A timer that works in 30 minute increments for up to 48 hours.
✅ Quiet motor that won't disrupt your home.
When I replaced my Excalibur, I went with the COSORI. It's all stainless steel and BPA free which was very important to me.
The Magic Mill Food Dehydrator offers 7 stainless steel trays that are dishwasher safe and easy to clean. This model is often one of Amazon's Choice products and is still very affordable.
The Magic Mill Food Dehydrator offers:
✅ A rear-mounted drying fan for air flow and circulation to promote even drying
✅ Digital timer from 30 minutes to 24 hours and automatic shutoff
✅Temperature control thermostat from 95-167F
The COSORI Dehydrator Machine is a small dehydrator that is great for beginners. It's also one of the quietest models on the market. Compared to larger dehydrators this model is very affordable and won't take up too much space.
The COSORI Dehydrator Machine offers:
✅ A digital timer from 30 minutes to 48 hours.
✅ Temperature control from 95-165F
✅ BPA-Free trays and auto shut off to prevent overheating
The Tribest Sedona Express is a large dehydrator that rivals the Excalibur in size. It features all digital controls and powerful central fan to reduce the need to rotate trays.
The Tribest Sedona Express offers:
✅11 stainless steel trays for a total of 9.9 sq. ft. of drying space.
✅ A thermostat control ranging from 77-167 F making it perfect for all types of drying.
✅ A Two-Stage Sequential Temperature-Timer to start dehydrating at a higher temperature and automatically lower the temperature to finish drying.
✅ Overheat Protection and Continuous Operation Mode for up to 99 hours at a time
NutriChef Food Dehydrator Machine
The NutriChef Food Dehydrator Machine is a compact and portable machine that offers high temperatures- making it perfect for making jerky! It's an amazing value for the price.
The NutriChef Food Dehydrator Machine offers:
✅ A compact design that won't take up much space on your counter
✅ 3 temperature levels that reach temperatures up to 180F
✅ Quiet design
The Presto 06300 is a small electric dehydrator that's very affordable yet gets the job done. Compared to other models this dehydrator doesn't have as many features- single temperature and no timer, but for beginners or those who don't dehydrate much, it's just perfect.
The Presto 06300 dehydrator offers:
✅ 4 see through trays to monitor progress
✅ Trays are dishwasher safe and easy to clean
✅ Single temperature setting of 165F (great for jerky!)
✅ Compact and easy to store. Can be expanded if wanted.
The Nesco Gardenmaster offers 1000 watts of power in a compact design. Its quiet, compact design is great for beginners who still want some control. It's also made in the USA!
The Nesco Gardenmaster offers:
✅ Digital temperature control from 90-160F
✅ A fast, powerful fan to dry food even faster!
✅ 4 BPA-free trays with expansion available.
The Hamilton Beach 32100A dehydrator offers a tremendous value. It offers lots of controls such as temperature and timer yet with the price of models with less extras.
The Hamilton Beach 32100A offers:
✅ A 48 hour timer with automatic shutoff
✅ Adjustable thermostat from 100-160F
✅ 5 stackable trays, including a fine mesh sheet for drying small items or making fruit leather.
Chefman Food Dehydrator Machine
The Chefman Food Dehydrator Machine is perfect for those who need more space and are more serious about drying but aren't ready for the more expensive models. It includes 6 13"x12" trays for lots of drying room!
The Chefman Food Dehydrator Machine offers:
✅ Digital timer for up to 19.5 hours
✅ Digital temperature control settings from 95-158F
✅480 Watts of power and horizontal airflow to provide even drying without overheating.
►
Compare ONLY these 11 Food Dehydrators on ONE page!
Buying Tip:
Watch the above page for the best deals!
The Presto 06301
often goes on sale for nearly 50% off. If this small countertop dehydrator fits your needs- snatch it quick when it goes on sale!
And if you need a professional quality dehydrator, keep an eye on
the Excalibur
. If you see the price drop below $200- it's an amazing deal!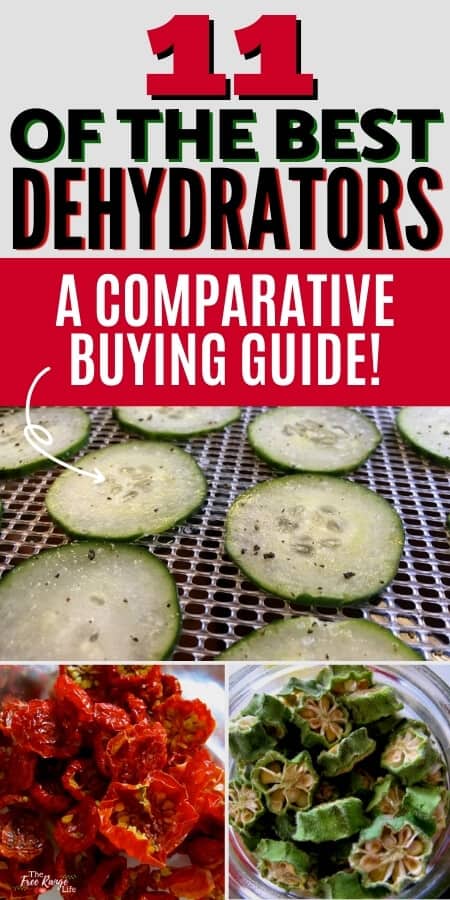 The Best Food Dehydrator as Chosen By Homesteaders
Homesteaders are serious when it comes to preserving food. And they can tell you exactly which products stand up to the rigorous use during harvest season!
I polled a group of homesteaders from around the country and they decided hands down that the Excalibur 9-Tray Dehydrator was the BEST.
I personally own the Excalibur 9-Tray Model- WITHOUT timer. With a busy household and lots of projects going on at any given time a timer would be indispensable, and I can't wait to upgrade!
I use my Excalibur Food Dehydrator ALL summer long. I use it to dry herbs (like my favorite calendula!), make veggie chips (like these cucumber chips), make goat milk yogurt, and my kids favorite- pineapple zucchini candy!
Update: I recently had to replace my dehydrator and while researching the newest options, I realized that, while I loved my Excalibur, I wasn't happy about the fact that the entire thing is made of plastic that isn't BPA free. The liners/trays are, but the rest of the machine is not. So, I purchased the
COSORI Premium Food Dehydrator instead and so far have been very happy with it. It's not nearly as large as the Excalibur, but I am more willing to compromise on size that health.
Tips on Drying With Your Food Dehydrator
Dehydrating is a great way to preserve your foods and it is often easier than getting out the canning supplies and takes up less room than freezing.
The most important thing to remember when dehydrating foods at home is that the water content must be reduced to a sufficient level in order to prevent mold and bacteria from growing on your foods.
Because of their sugar content fruits can retain up to 20% of their moisture with good results, vegetables and herbs should be as dry as possible to extend their shelf life.
Some Good Foods to Dehydrate
Cherries
Dates
Figs
Onions
Peppers
Fruit Leather
You can also use your electric dehydrator to proof yeast dough, make yogurt, or make herbal infused oils!
My Food Preservation Planner tells you which foods can be dehydrated and contains a cheat sheet on how to prepare, cook times, and cook temperatures. Check it out to help you plan and preserve food more efficiently this year!