As a homesteader, and a gardener, a food dehydrator is one of my top used tools in the summer time. A good food dehydrator is essential when it comes to preserving homegrown or locally sourced food to save for eating all year round.
Long ago, dehydrating was the top choice when it came to preserving food- it didn't require energy, all you had to do is wait for the sun to dry out the food and it was ready to store.
This site contains affiliate links. If you make a purchase using one of these links, I may earn a commission. Please see my disclosure page for more information about cookies collected and our privacy policy.
These days, dehydration often comes in second to canning in terms of food preservation, but it shouldn't.
A good food dehydrator will help you preserve almost everything you can grow in your garden, plus you can use it to make jerky or dried fruits for trail mix and on-the-go eating.
It can be confusing when buying a food dehydrator because there are so many options to choose from. How do you know which is the best food dehydrator for you and your situation?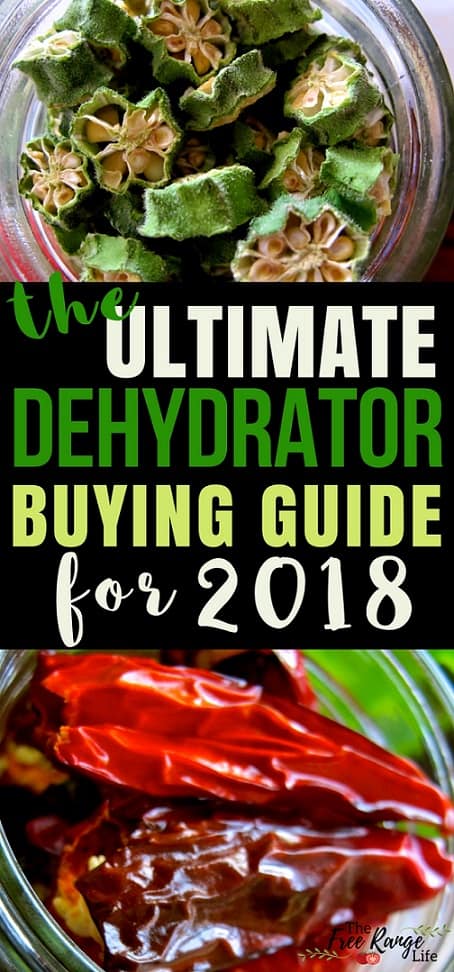 The Ultimate Guide to Buying the Best Food Dehydrator!
If you are curious (or in a hurry!):
✅
This Food Dehydrator
is rated the highest among homesteaders. With 15 sq. ft. of drying space, it's a powerhouse!
When choosing a dehydrator for your home you want to consider a few things. Such as:
How much dehydrating do you do? Do you need a dehydrator that can withstand a LOT of use or just a little here and there?
How much space do you have for your dehydrator?
What is your price range?
Do you need a dehydrator model with a timer?
Do you have time to babysit models that require you to turn the trays for even drying?
Which Electric Food Dehydrator is Best?
The best food dehydrator will have an adjustable thermostat to control temperature and dry using a mounted fan for circulating air.
Moveable trays is another must when it comes to choosing a food dehydrator. Even though fans reduce the need to rotate your trays of fruits or vegetables, in most cases you still need to rotate at least a little bit to make sure drying is even.
The following 5 food dehydrator models are the best when it comes to reviews. They all have a least 4.5 stars with a lot of happy customers.
Buying Tip: Watch the above page for the best deals!
The Presto 06301 often goes on sale for nearly 50% off. If this small counter top dehydrator fits your needs- snatch it quick when it goes on sale!
And if you are in need of a professional quality dehydrator, keep an eye on the Excalibur. If you see the price drop below $200- it's an amazing deal!
The Best Food Dehydrator as Chosen By Homesteaders
Homesteaders are serious when it comes to preserving food. And they can tell you exactly which products stand up to the rigorous use during harvest season! I polled a group of homesteaders from around the country and they decided hands down that the Excalibur Food Dehydrator was the BEST.
I personally own the Excalibur 9-Tray Model- WITHOUT timer. With a busy household and lots of projects going on at any given time a timer would be indispensable!
Excalibur Food Dehydrator Dehydrators offer the following:
It is LARGE. With trays measuring about 14″x14″
It features a 7 inch, 600 watt fan
Has an

adjustable Thermostat ranging from 105◦F to 165◦F

Trays are made from BPA-free plastic
No rotation is needed to evenly dry your foods
You remove/adjust the trays to dry larger things, rise bread, or make yogurt.
I use my Excalibur Food Dehydrator ALL summer long. I use it to dry herbs (like my favorite calendula!), make veggie chips (like these cucumber chips), make goat milk yogurt, and my kids favorite- pineapple zucchini candy!
The Best Inexpensive Food Dehydrator
If you are on a budget- or if you don't dehydrate as much or as often- the top choice goes to the Nesco Snackmaster. It costs less than many comparable food dehydrators yet it is the highest rated AND is chosen as Amazon's Best Seller and Amazon's Choice.
The Nesco Snackmaster Food Dehydrator offers:
An adjustable thermostat ranging from 95º-160º F

A top mounted, 600 watt fan
The ability to expand up to 12 trays (comes with 5)
Trays are about 13″ in diameter
This food dehydrator would also be great for those living in smaller homes or those with small kitchens because of its smaller size.
Tips on Drying With Your Food Dehydrator
Dehydrating is a great way to preserve your foods and it is often easier than getting out the canning supplies and takes up less room than freezing.
The most important thing to remember when dehydrating foods at home is that the water content must be reduced to a sufficient level in order to prevent mold and bacteria from growing on your foods.
Because of their sugar content fruits can retain up to 20% of their moisture with good results, vegetables should be as dry as possible to extend their shelf life.
Some Good Foods to Dehydrate
Here are some of the best, and easiest foods to dehydrate:
Apple slices
Cherries
Dates
Figs
Onions
Hot Peppers
Fruit Leather
My Food Preservation Planner tells you which foods can be dehydrated and contains a cheat sheet on how to prepare, cook times, and cook temperatures. Check it out to help you plan and preserve food more efficiently this year!