In this article: Dehydrating zucchini doesn't have to be boring! Learn to make tasty pineapple flavored dried zucchini candy!
One year my kids gave me a zucchini for my birthday. And this wasn't an ordinary zucchini but the monster of all monster zucchinis. They secretly worked together to keep me away from a particular plant in the garden to see just how big it would grow before my birthday arrived.
This site contains affiliate links. If you make a purchase using one of these links, I may earn a commission. Please see my disclosure page for more information about cookies collected and our privacy policy.
And it was HUGE. It was almost as big as my then-one-year old daughter! And what do you do with a huge monster zucchini? You make candy! Or more specifically dried pineapple zucchini candy!
Related Reading: The Best Zucchini (Squash) Companion Plants in the Garden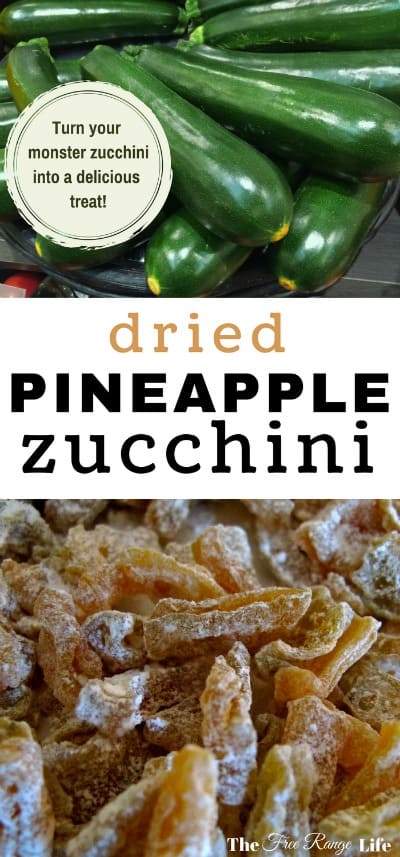 Want to preserve MORE food this year? Get my Food Preservation Planner to help you plan your family's food needs and save time by helping you preserve more efficiently!
If you are like most gardeners, those first zucchini are exciting and cooked with love. But then the plants start cranking out a million zukes a day and that little, not-quite-big-enough zucchini grows into a monster in a matter of hours. And all of a sudden you are so overrun with zucchini you just don't know what to do with it all!
That's where pineapple zucchini candy comes in. Dehydrating zucchini is a great way to preserve your produce because it is shelf stable and because of the reduction in size your preserved foods will take up less room. This recipe is great because you can clear off your counter and get rid of all the zucchini, including the huge ones!
If you are in the market for a dehydrator, check out my Best Dehydrator Buying Guide to help make your choice.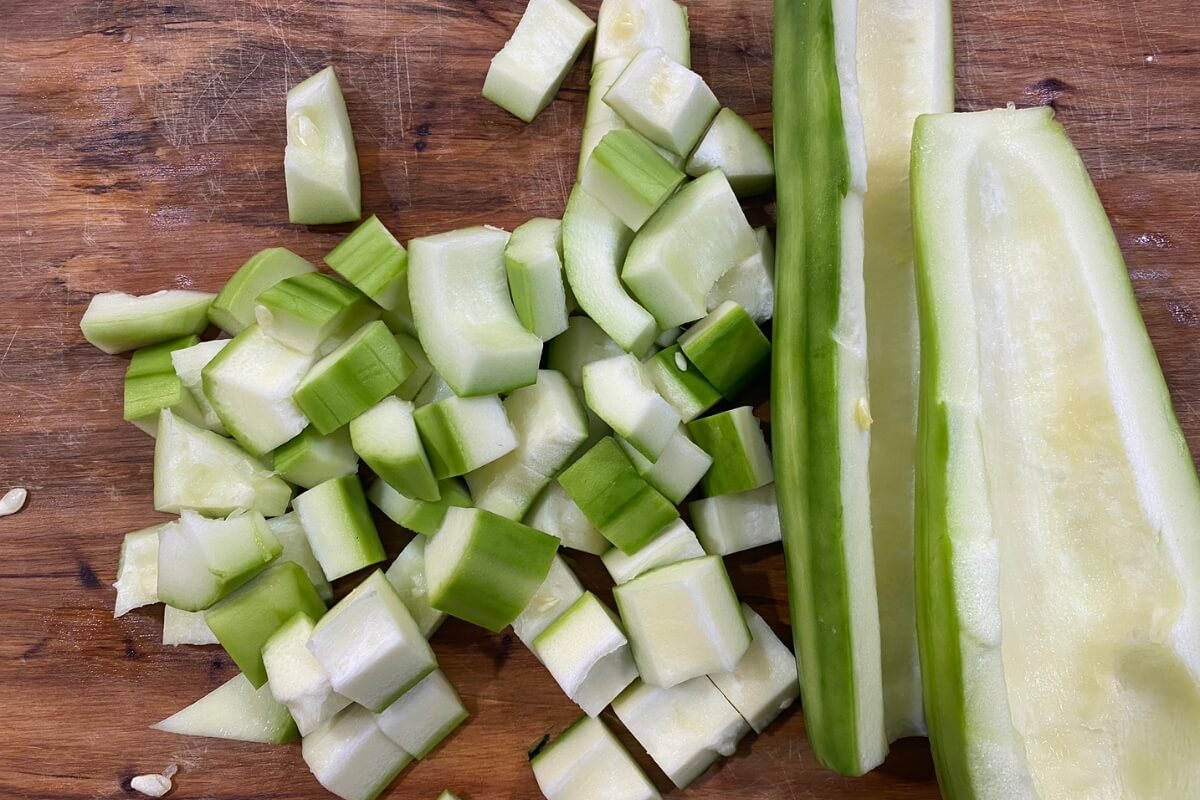 How to Make Dehydrated Zucchini (That Tastes Like Pineapple!)
This isn't so much a recipe, but a process. The amounts aren't really important, but here is what you need:
Pineapple juice
zucchini- peeled, de-seeded and cut into cubes (big is okay, they reduce a lot while cooking and dehydrating)
powdered sugar
corn/tapioca starch
a dehydrator- I love my Excalibur 9-Tray Dehydrator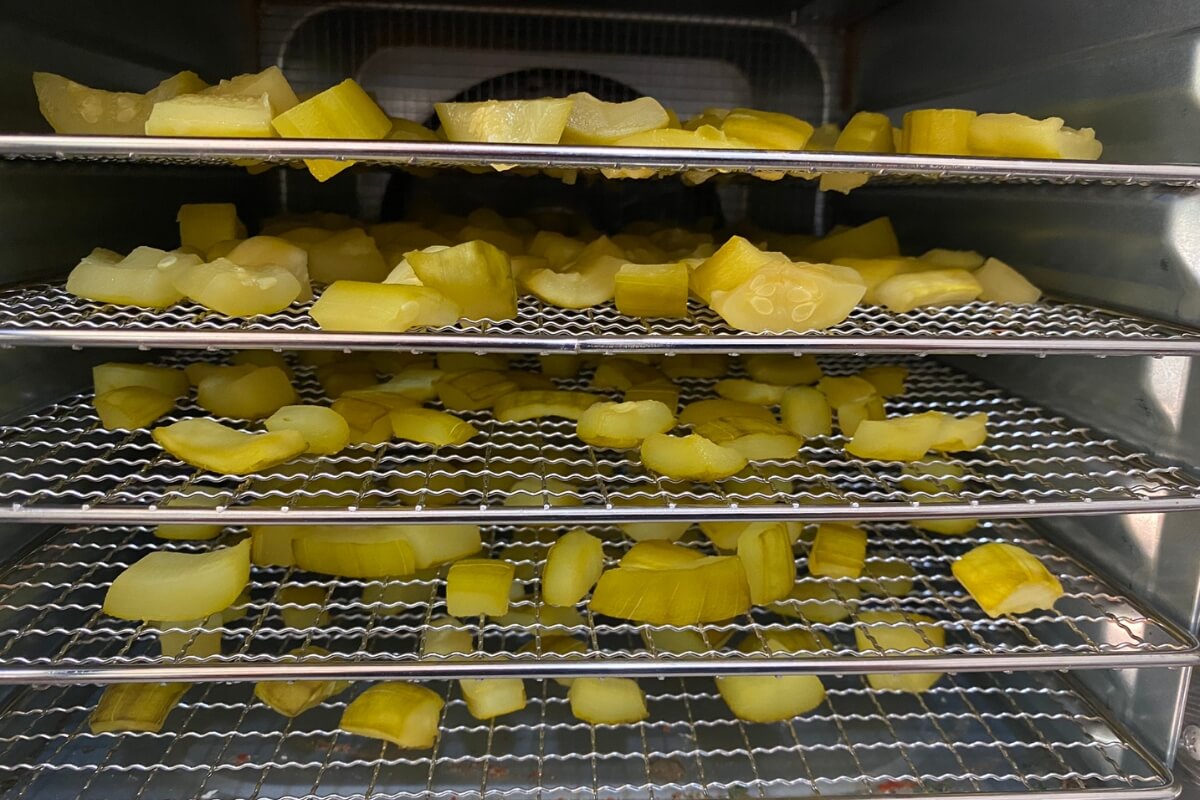 Place the pineapple juice in a large pot. You want enough to fill the pot and cover the zucchini that you will be boiling.
Add the zucchini and bring to a boil.
Reduce heat to medium and allow to simmer until the zucchini is soft and translucent. It should look like canned pineapple.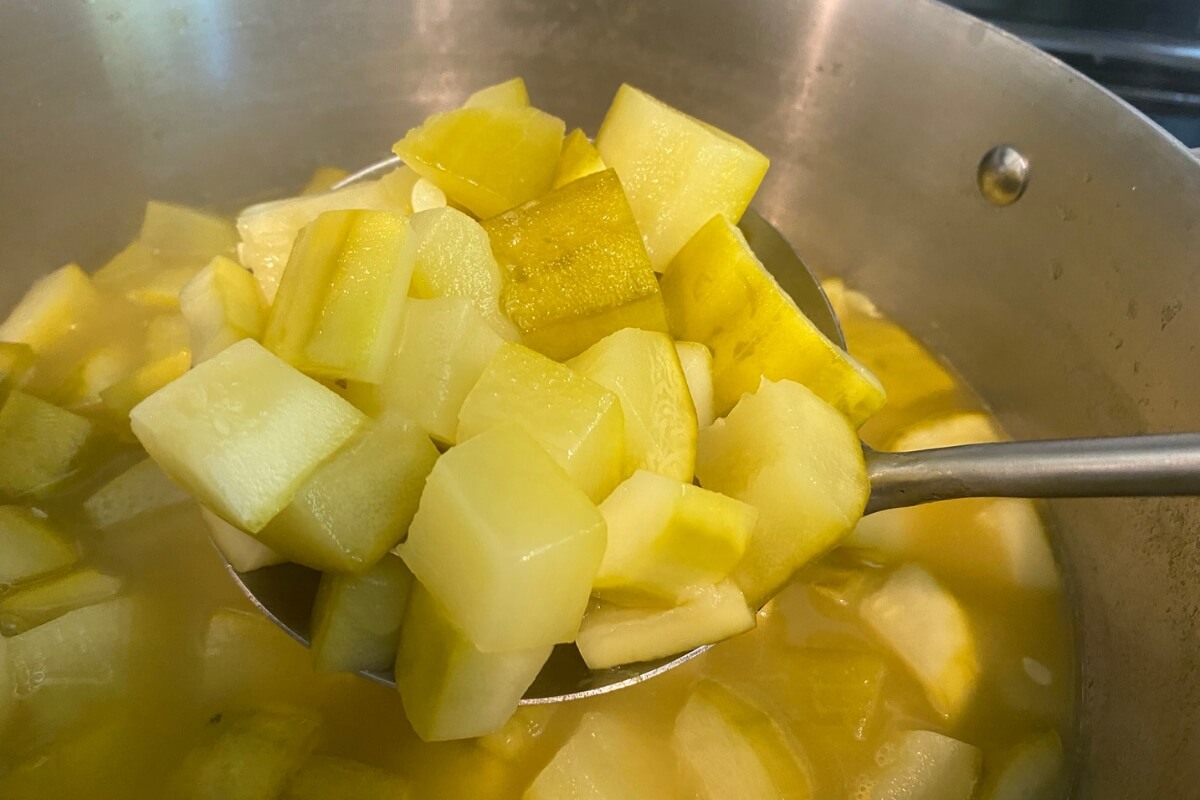 Scoop out the zucchini using a slotted spoon and allow them to drain a bit in a colander.
Place the zucchini pieces in your dehydrator at about 130 degrees. It will take about 18 hours to dehydrate the zucchini completely, depending on the temperature and humidity levels of your home.
Once the zucchini is dry, place a couple tablespoons of powdered sugar and corn/tapioca starch in a plastic bag with the dried zucchini and toss to cover.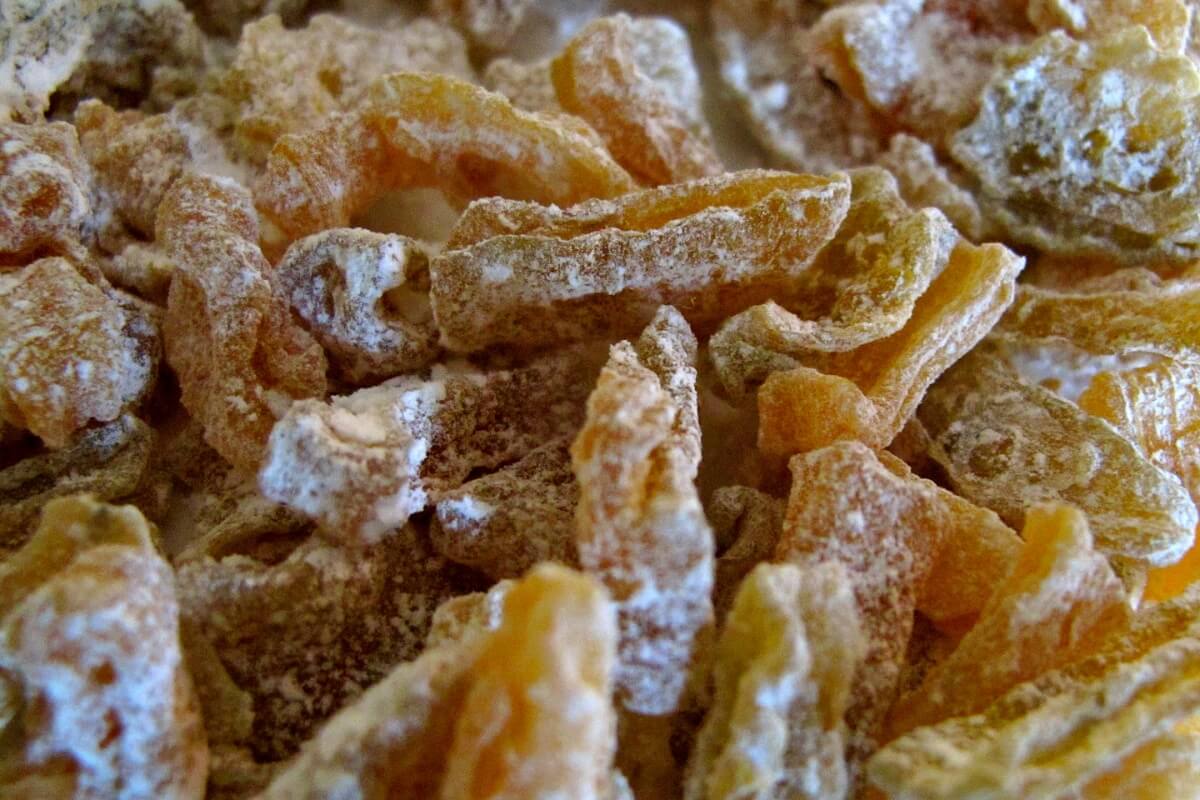 Got zucchini? I've got over 50 Recipes for you to use and preserve zucchini!
Note:
I used the remaining pineapple juice again to simmer another batch of zucchini. Twice was all I could get before the juice was pretty much syrup. And I stuffed the pot almost overflowing with zucchini both times.
You can also add a little water to get more out of the juice.
Then eat! It's really good, the kids were stealing pieces all day. I would like to say that we preserved enough for eating later in the season, but it just doesn't last that long! Give it a try and let me know what you think!
More Dehydrating and Preserving Articles:
5 Ways to Preserve Cherry Tomatoes