If I had to give this growing season a name, it would be The Year of the Eggplant. We have had an amazing harvest- which means we have been eating a lot of meals using eggplant. It also means there is a lot left over to preserve.
Due to its dense nature, it is not recommended that you can eggplant at home. So how do you preserve eggplant?
This site contains affiliate links. If you make a purchase using one of these links, I may earn a commission. Please see my disclosure page for more information about cookies collected and our privacy policy.
Looking for how to store fresh eggplant? Learn how to store fresh eggplant for the best results.
How to Preserve Eggplant
✅ Ready to take control of your food source and preserve more? Check out my Food Preservation Planner to help you plan and preserve more food this year!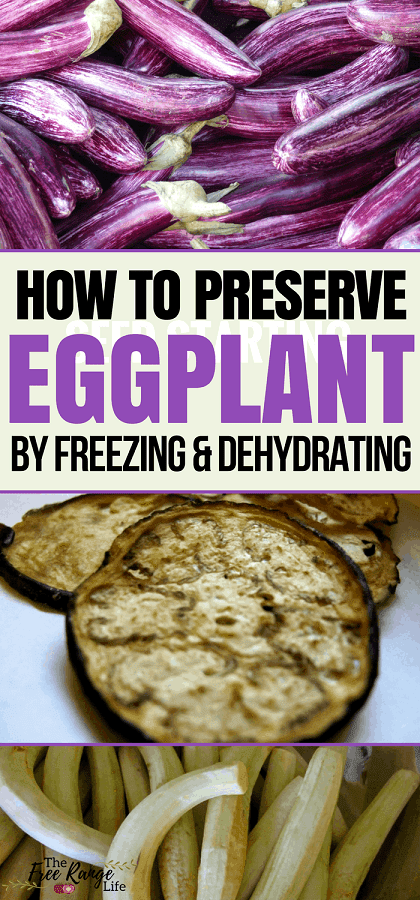 Preserving Eggplant by Freezing:
There are a few ways to go about freezing your eggplant but the basic steps are to peel, cook, and freeze. Frozen eggplant will defrost some what mushier, similar to zucchini. Under the correct conditions they will last at least a year with out a change in quality.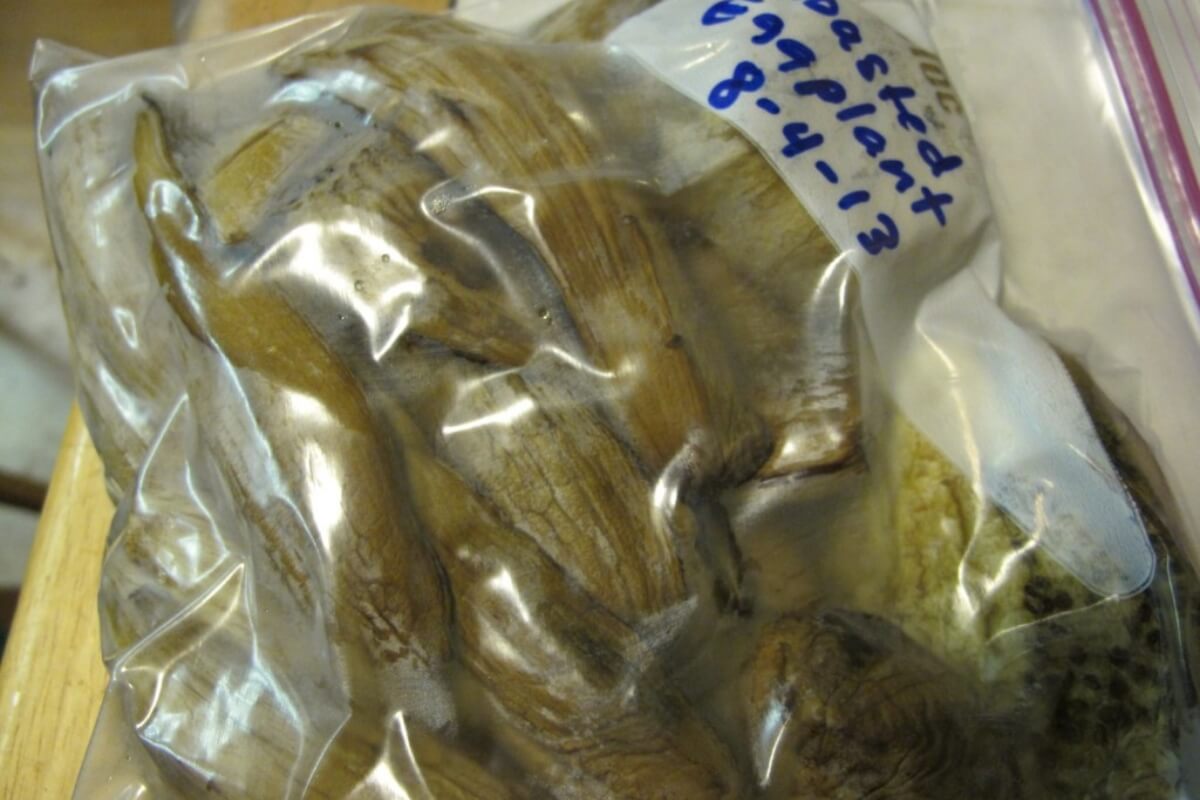 Option 1: Roasted Eggplant
To freeze roasted eggplant you want to peel your eggplant and cut them in half or in rounds and roast at 400* for about 30 minutes. Allow the slices to cool, then simply place them in your container or freezer bag.
Freezing roasted eggplant is a good option if you enjoy dishes that are prepared by roasting the vegetable first- such as Baba Ganoush or my vegetarian eggplant balls.

Want to preserve MORE food this year? Get my Food Preservation Planner to help you plan your family's food needs and save time by helping you preserve more efficiently!
Option 2: Blanched Eggplant
To freeze blanched eggplant, peel and slice your vegetables and then place them in boiling water for 4 minutes.
Transfer them to an ice bath until completely cool.
Drain well before placing in your container.
I have quite a few bags of sliced and blanched Ping Tung Eggplant in the freezer to make Eggplant Crisp later in the year.
Option 3: Sliced and Breaded Eggplant
If you like to make Eggplant Parmesan, you can make the breaded and fried slices ahead of time and freeze them so that you can make this dish all year long.
Simply bread and fry your eggplant slices, allow them to cool and place them in a single layer on a cookie sheet in the freezer for a couple of hours.
Then transfer them to a freezer safe container. When you are ready to eat, simply take out the amount of slices you need and continue on in the recipe.
Preserving Eggplant by Dehydration:
You can use your oven on it's lowest setting or an electric dehydrator to dehydrate your eggplant. Make sure it is completely dry before storing to prevent spoiling.
You can store the dehydrated eggplant in the freezer or in the pantry. There are a lot of options when it comes to dehydrating, such as: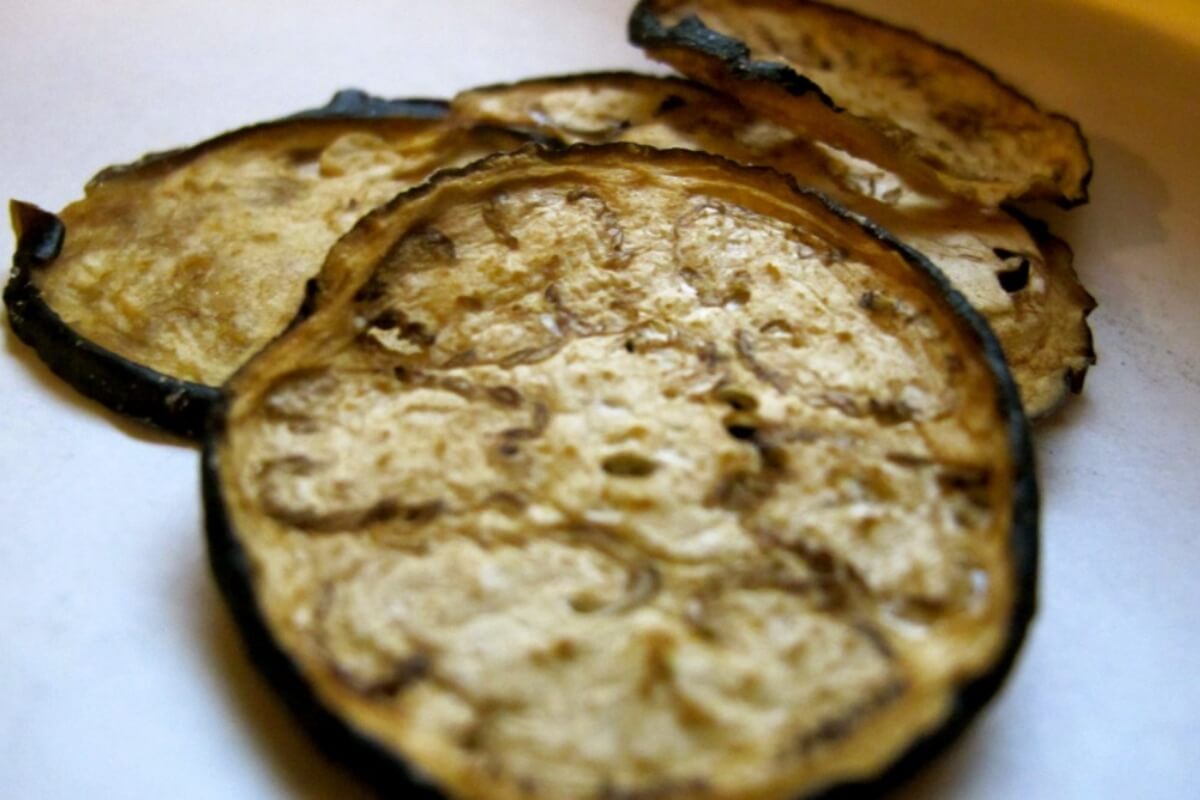 Check out the Ultimate Dehydrator Buying Guide to help you decided which dehydrator will work for your needs!
Dehydrate 1/2 in slices plain until crispy. Boil in water for 5 minutes to rehydrate and use in recipes such as Moussaka
Use a mandolin to slice 1/4 in. slices of eggplant. Sprinkle with your choice of spices (salt, pepper, garlic, onion, etc.) and dehydrate for eggplant chips
Marinate eggplant slices before dehydrating to make a jerky- such as Eggplant Bacon.
Cut eggplant in 1 inch cubes and dehydrate. Use them in soups and stews.
If you are looking for a good dehydrator, I LOVE my Excalibur 9-Tray Dehydrator
. If you don't need one quite so big they also come in 4 or 5-tray options!
Many dishes using eggplant also freeze well. We like to keep a bag of the vegetarian eggplant meatballs in the freezer for an easy lunch. So if you have a favorite recipe try freezing a portion and see how it reheats.
More Dehydrating and Preserving Articles:
5 Ways to Preserve Cherry Tomatoes
6 Ways to Preserve Green Beans