Eggplant is one of those vegetables that does not have a very long shelf life. It seems no matter where you put it- it's quality goes down hill pretty fast.
So how do you store eggplant? What are the best conditions to store eggplant? Let's talk about that.
This site contains affiliate links. If you make a purchase using one of these links, I may earn a commission. Please see my disclosure page for more information about cookies collected and our privacy policy.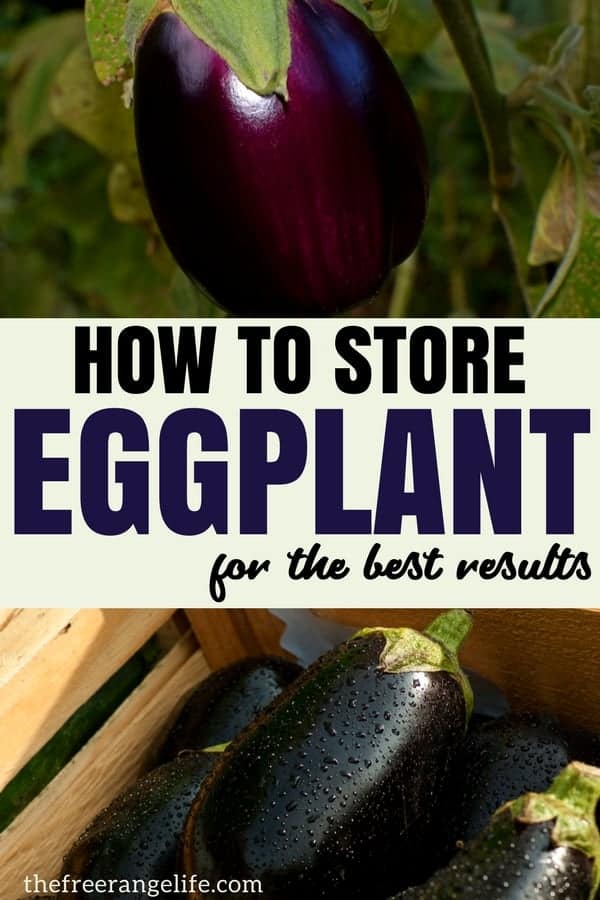 How to Store Eggplant for the Best Results
Fresh eggplant will only last a few days once harvested- and even less if you bought it from the store.
In order to keep your eggplant as fresh as possible you need to store it correctly. The answer to how to store eggplant is not as clear cut as on the counter or at the fridge. But is more about to create the optimum conditions in your home.
At What Temperature to Store Eggplant:
Eggplant does not like to be chilled and can be damaged by cooler temperatures.
The optimum temperature for storing eggplant is around 55F. Which means it's somewhere between the cooler temperatures of the fridge and the warmer temperatures of your kitchen on a summer day.
If you have a cooler kitchen, or a dark cabinet or pantry that stays cooler than the rest of the room, storing eggplant at room temperature may be your better choice. This is the best option for people who keep their homes relatively average and have air conditioning or live in a cool climate.
Refrigeration isn't the best option for storing eggplant, and it won't last more than 2-3 days before developing soft spots and getting a little squishy.
We don't have air conditioning in our home, so on hot summer days, the kitchen is likely to reach 90F or higher. That's too hot for storing eggplant so we store our eggplant harvest in the refrigerator. It's not optimal, but it's better than being TOO hot and humid!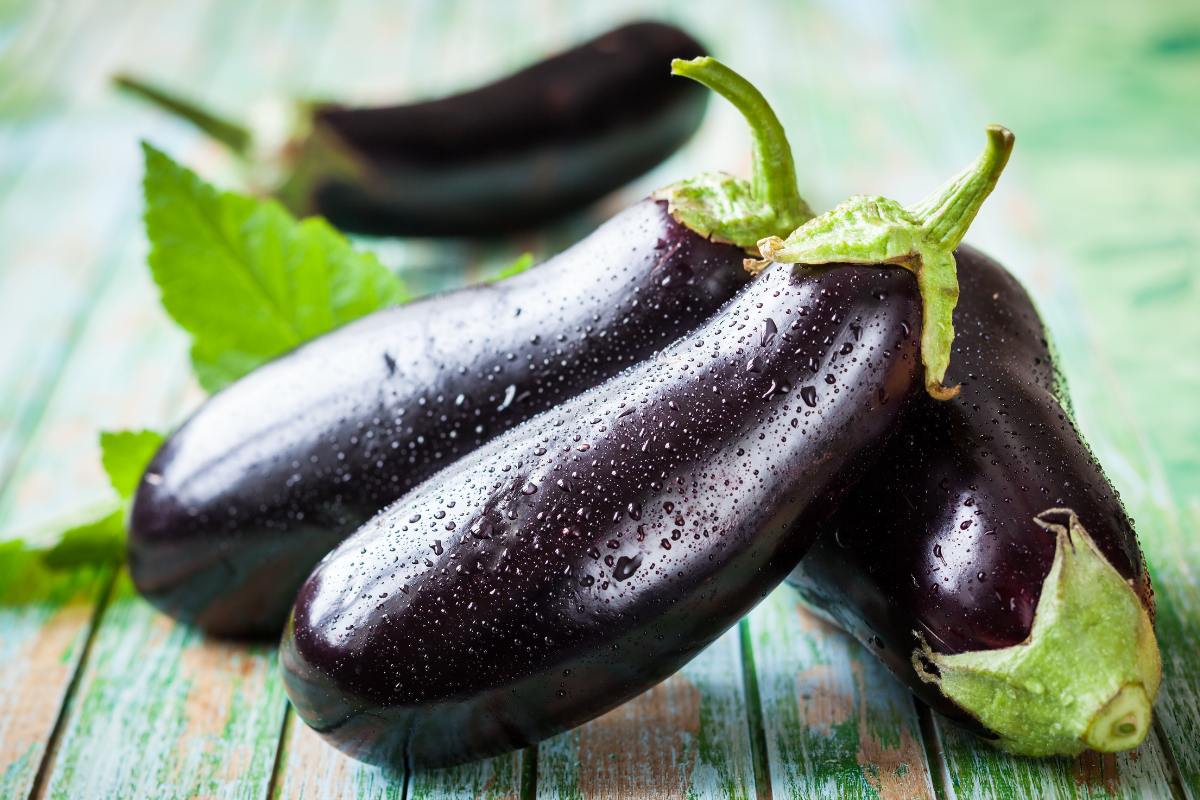 Other Storage Factors for Eggplant
When storing your eggplant, be sure to keep it away from ethylene producing fruits. This includes fruits like apples, melons, avocados, bananas, and nectarines to name a few.
Storing eggplant in close proximity to these fruits can reduce your storage length by a couple of days- and when you only have a few days to start with you don't want to lose any!
I've not tried it with eggplant specifically, but you can also try storing eggplant in green produce bags to extend their life too.
The Best Way to Store Eggplant Long Term:
Do you have a large eggplant harvest or need to store it for longer than a few days?
When it comes to storing eggplant you have 2 options- use it up right away or preserve it for later.
You can't can eggplant- unless you want to pickle it- but it does freeze well and you can dehydrate it.
Check out my article on preserving eggplant for longer storage for more information.
Check out my Food Preservation Planner to keep track of all your food storage. With inventory sheets for the pantry, freezer, and fridge plus planning pages and record sheets you will be able to preserve more efficiently than ever!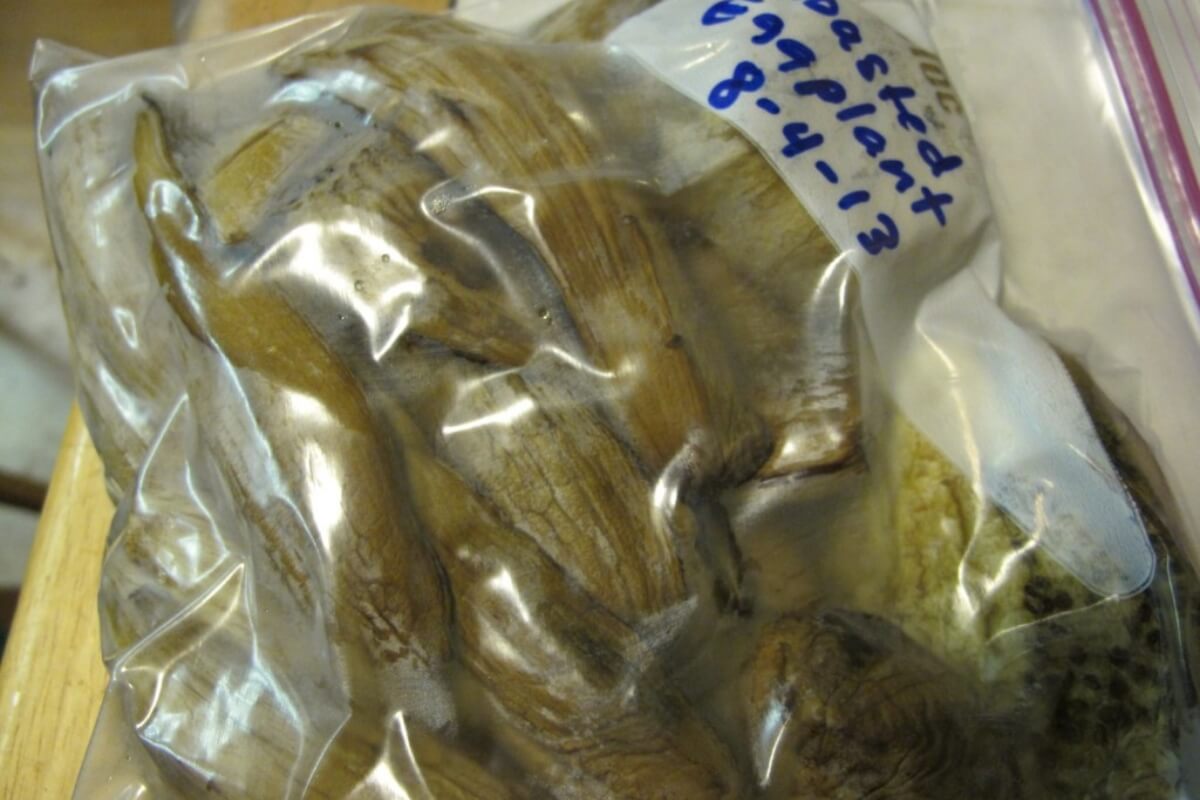 Need Some Ideas on How to Use Your Eggplant?
Maybe you have a garden full of eggplant, got a few in your CSA box, or got a good deal on some beautiful eggplant at the market and now you don't know what to do with it?
Here are a few of my favorite ways to use eggplant:
Eggplant Meatballs– this vegetarian meatball is the #1 thing requested during eggplant harvest season!
Eggplant Crisp– okay this may sound weird but this is a family favorite! Think apple crisp- but with eggplant!
And if you want to get more fancy- here are over 50 Delicious Eggplant Recipes to try!
You May Also Like:
How to Grow Eggplant from Seed
The Ultimate Food Dehydrator Buying Guide