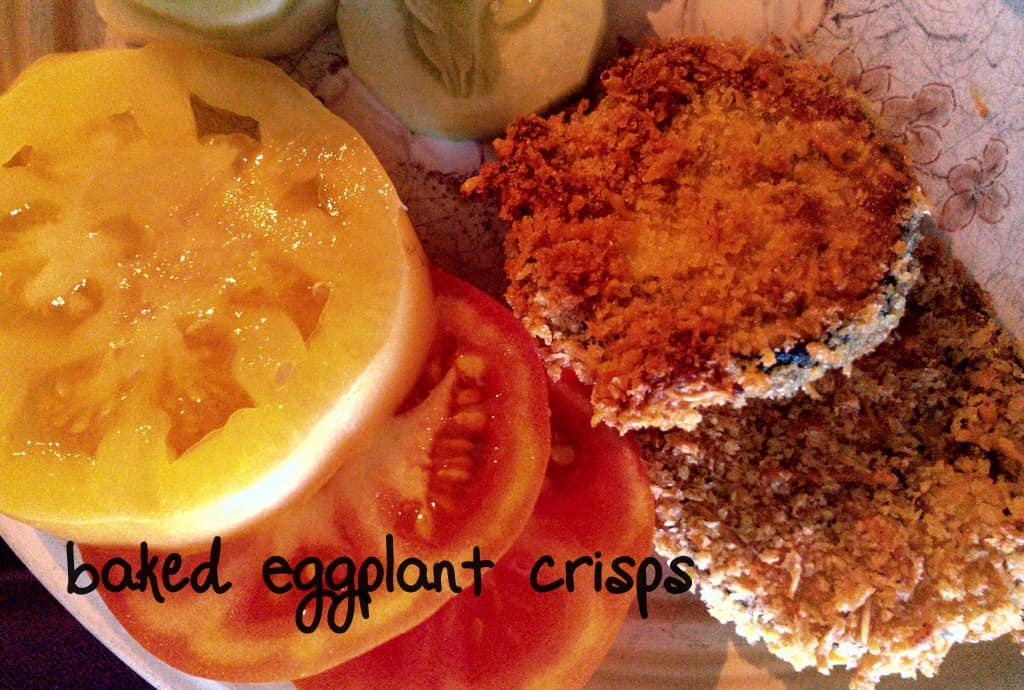 This site contains affiliate links. If you make a purchase using one of these links, I may earn a commission. Please see my disclosure page for more information about cookies collected and our privacy policy.
First I would like to apologize for the lack of pictures in this post. My hands were a bit covered in flour/egg/breadcrumbs to handle my camera too much.
So, I have to settle for the one picture I took with my phone before we ate! My 8 year old helped me make this the first time for lunch, and none of us were sure we would like it or not. I've posted a few eggplant recipes, and I might have given off the impression that I love the stuff.
But really, I love to grow eggplant. I think the fruits are just beautiful. I think we should eat it, but I have had to work hard to find and create recipes we like.
Most baked and roasted eggplant tends to be on the, well…slimy side and I don't really care for that.
So I set out to find a simple recipe that was crispy. I found a few that weren't quite what I was looking for, but combined some ideas to form this one, and it is really tasty.
The breading turns out very crispy and the inside still soft- but not slimy. It got a thumbs up from 4 out of 5 kids- which in this house is a winner!
You just need a couple ingredients: eggplant, egg, flour, breadcrumbs and spices. Hope you enjoy it!
Eat the slices plain, or dip them in sauce- such as fresh roasted tomato sauce.Save
Save
You May Also Like:
Save