This year we are growing a beautiful little variety of eggplant called Ping Tung. It's a long, skinny, light purple eggplant with a lovely taste and texture. Each of the plants is very prolific and we often find ourselves with an entire crisper drawer full of these little purple vegetables.
Eggplant is very versatile in recipes because it soaks up the flavors and spices in the dish, so when my kids started to ask for a homemade dessert I started to think about what I could make.
This site contains affiliate links. If you make a purchase using one of these links, I may earn a commission. Please see my disclosure page for more information about cookies collected and our privacy policy.
Apple Crisp is a family favorite in our house, but since apples aren't quite in season, we don't have a lot of them hanging around just yet, but I do have all those little purple eggplant. And since eggplant gets rather soft when cooked, I thought I'd give Eggplant Crisp a try. The following is the recipe I came up with, and I have to say my kids are now begging for it all the time!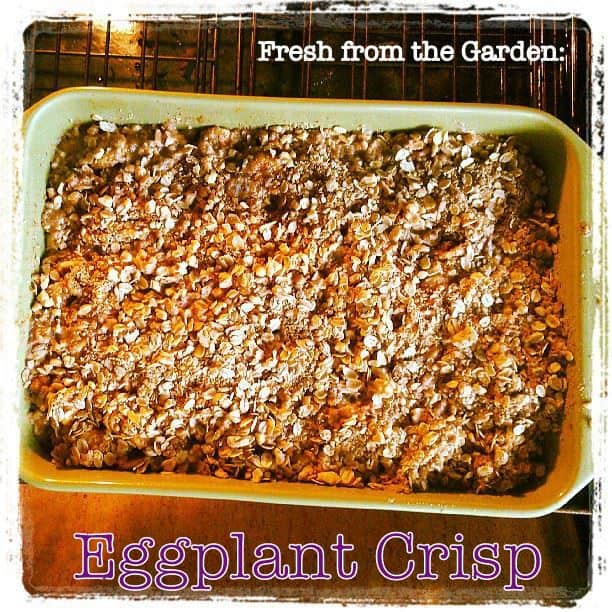 How to Make Eggplant Crisp:
You will need the following:
For the Filling:
15 Ping Tung* Eggplant
2 T flour
2 T sugar
2 tsp cinnamon
1 T lemon juice
1/8 cup water (or apple juice)

For the Topping:
1 cup rolled oats
1/2 cup butter
1/2 cup flour
3/4 cup brown sugar
1 tsp cinnamon
1/2 cup chopped walnuts (optional)
Related Reading: How to Preserve Eggplant
Putting Your Eggplant Crisp Together:
Peel your eggplant and slice very thin. *You can use any variety of eggplant you have on hand, but if they are larger variety such as Black Egg, then quarter before slicing for smaller pieces.
Toss eggplant with water and lemon juice. Alternatively you can boil the eggplant for a few minutes, until soft and then toss with lemon juice.
Add flour, cinnamon, and sugar and toss to coat
Place the eggplant mixture into a greased 9 x 13 pan.
In a large bowl, cut the butter into the flour.
Add the oats, brown sugar and walnuts and stir briefly to combine.
Sprinkle the crumb mixture on top of the eggplant
Bake at 350 for approximately 30 minutes or until the eggplant is very soft. Allow to cool before eating.
Related Reading: How to Grow Eggplant in Your Garden
Like this recipe? Keep it on hand by writing it down in my Blank Recipe Journal! It's a great way to keep all of your favorite recipes in one place- and makes a great heirloom to pass down through the generations!
If you have excess eggplant and are in the mood for something a little sweet, I hope you will give this a try and let me know what you think! And if you are looking to add eggplant to your garden in the future, Baker Creek Heirloom Seed Company has an amazing assortment of eggplant varieties– including the Ping Tung I used in this recipe.