The following page will help you see how to use the Food Preservation Planner. Many of the pages are meant to be printed multiple times- as many times as you need to record your efforts and needs.
Don't have the Food Preservation Planner yet? Get your copy now!
This site contains affiliate links. If you make a purchase using one of these links, I may earn a commission. Please see my disclosure page for more information about cookies collected and our privacy policy.
Get the Food Preservation Planner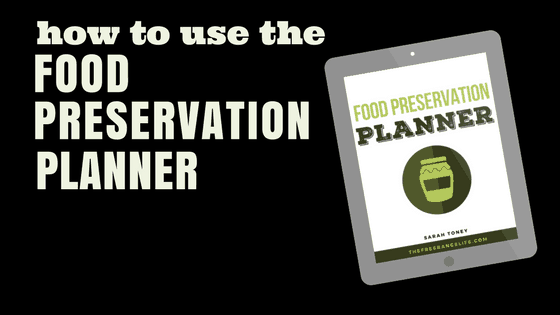 How to Use The Food Preservation Planner:
Planning Your Food Needs:
This first few pages of the planner discuss how to plan the amount of food your family needs for any given food.
You can use the notes pages to jot down and make calculations and then use the food needs planning page to write down the amounts you need plus any notes on last year.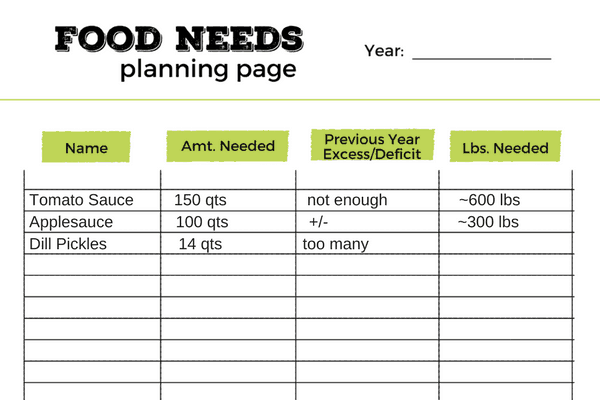 Pages to Make Preserving Go More Efficiently:
Next you will find a series of pages intended to help you save time when preserving. These include an Altitude Chart, a Canning Checklist, and a Preservation Supply List.
For convenience I have listed the more common preservation supplies but there is ample room to list any other supplies you may need to add.
Following those pages are some cheat sheets to give you information like what preservation method to choose, headspace, cook time, and how many pounds of food you will need per quart preserved. These cheat sheets include information for water bath canning, pressure canning, and dehydrating.
And just in case there is any confusion- the "X's" marked on the Preservation Methods pages means that the food in question CAN be preserved using that method.
Recording Your Progress
They key to preserving enough food for your family for an entire year is keeping good records. Use the Preservation Record Sheet to write down how much you preserved plus the date you used all of your stores by. That way you will be able to plan better for the following year and know for certain how much more or less you need to preserve of any given food.
Using the Inventory Sheets:
There are 3 inventory sheets included in the Food Preservation Planner. One for the freezer, the pantry, and the fridge. Print as many of these pages as you need to inventory your stores. Below is a picutre of how I use the inventory sheets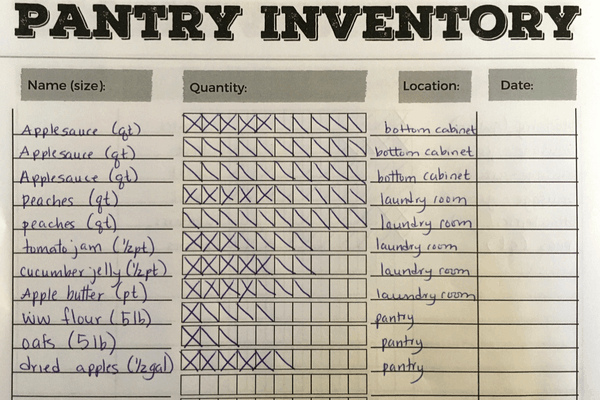 I use a single slash to show that the item is IN inventory. And when I use the item I make a second slash to create an X. You can also blacken the box entirely if you want. Each line has enough boxes for a quantity of 10.
Of course, you may come up with your own system to fill in these sheets.
Recipes and Meal Planning
The Recipes to Try sheet is, of course, to write down recipes. You can use them for any recipe, but since this is a preserving planner, the intended use is to write down your preserving recipes. Things like relish, applesauce, peaches, honey peach preserves, etc. So that you don't have to go search out how to make your favorite canned goods.
You can also use this page to collect recipes that USE your preserved foods. There's no use having a pantry full of home-preserved food if you don't use it!
The meal planning sheet is for general weekly meal planning. There is a section called "Preserved Foods to Use" to remind you to choose recipes that feature what you have in your pantry or freezer.
The Monthly Planning Pages
The monthly planning pages are for you to keep notes and a journal of your year. You can keep a list of recipes, notes on your inventory, a preserving to-do list, and any other notes you may need to jot down to remember.
Keeping It All Together
How do you keep your Food Preservation Planner?
That is up to you, but I like to keep it in a 3 ring binder kept in the kitchen with my most used cook books. I keep the information sheets in the front- so that I can easily find things like cook time and headspace. Then I have dividers labeled by year to keep the planning pages and note pages. That way I can easily look back over previous years to get a clear picture of what I need to do differently this year.
Recipes are kept in their own section in the back.
You can keep your inventory pages in a binder like this, but I find that they are more used if they are located in a closer proximity. Printing out a few copies and clipping them to a clipboard with an attached pen works best. You can find magnetic clipboards for your fridge and freezer and hook your pantry board to a wall or the back of a door or cabinet.
I keep my weekly meal plan directly on the fridge as well.
Do you have any questions? Comments? Feel free to comment below or email me at sarah @ thefreerangelife .com (spaces removed)