Do you have an abundance of cucumbers on your counter? Here are 10 ways to preserve cucumbers, so you can enjoy them all year long!
Ahh….the cucumber. One of my very favorite things to grow. And anyone who grows cucumbers knows that even just one plant can land you in cucumber overload.
This site contains affiliate links. If you make a purchase using one of these links, I may earn a commission. Please see my disclosure page for more information about cookies collected and our privacy policy.
So if you are looking for ways to preserve cucumbers- this is the place! Here are 10 delicious ways to preserve cucumbers so that none of that cucumber goodness goes to waste!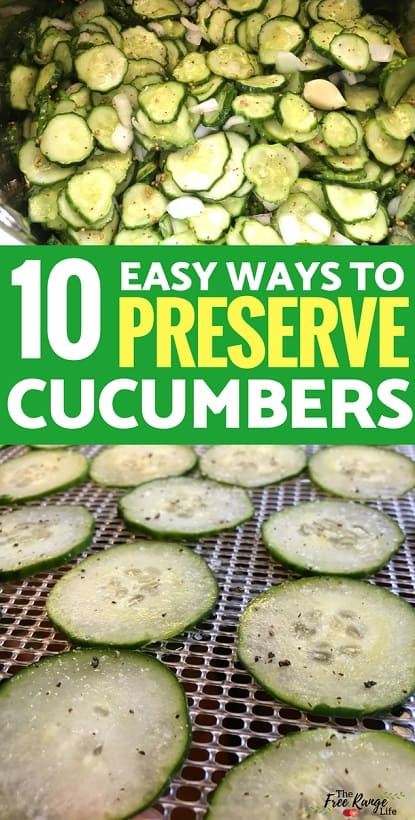 10 Delicious Ways to Preserve Cucumbers
If you are looking for ways to use fresh cucumbers check out this post: 30+ Fresh Ways to Use Cucumbers + How to Store Cucumbers!
Cucumber Jelly
Are you looking for something new and unique to do with your cucumber harvest? Why not preserve your cucumbers by making some cucumber jelly? It's sweet and tangy and pairs great with savory meat dishes or a simple snack of cheese and crackers.
Get the recipe for Cucumber Jelly– includes directions on how to can it using a boiling water bath canner!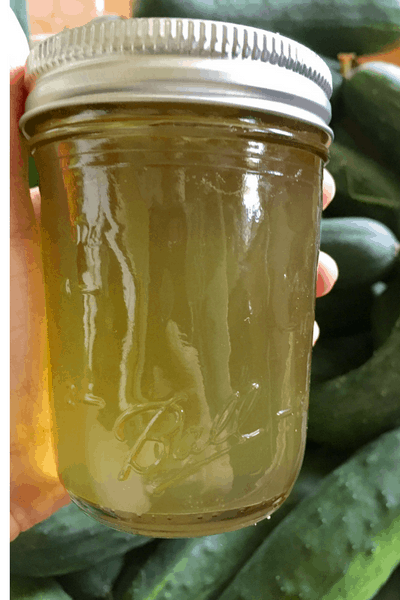 Cucumber Muffins
Another unique way to preserve your cucumbers is to make cucumber muffins (or bread). It's reminiscent of zucchini bread and is tastes of cucumber and spice. These muffins freeze well for quick and easy breakfasts before school. Or to put in the lunch box to eat on your lunch break!
Get the recipe for Cucumber Muffins!
✅ Ready to take control of your food source and preserve more? Check out my Food Preservation Planner to help you plan and preserve more food this year!
Cucumber Chips
These dehydrated cucumber chips are a simple and shelf-stable way to preserve cucumbers without canning. You can keep it simple with just a little salt or pepper. Or spice it up a little by mixing up different flavors.
Learn how to make Cucumber Chips!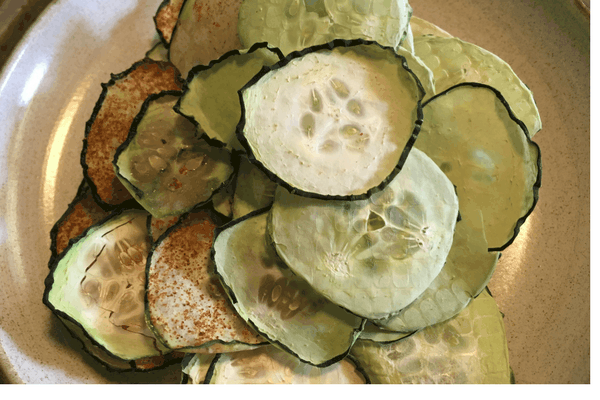 Dill Pickles
Pickles are the go-to when it comes to preserving cucumbers. Pickles are also one of the easiest ways to preserve when you are a beginning canner. The easiest way to make a batch of dill pickles is to pick up a package of Mrs. Wages Dill Pickle Mix. Or try one of these recipes:
Blue Ribbon Amish Dill Pickles
Sweet Refrigerator Pickles
If you don't feel like canning, you can preserve cucumbers quite easily by making easy refrigerator pickles. They are very quick to make, no prior experience needed. And best of all they still last nearly 2 months in the fridge!
Learn how to make Refrigerator Pickles!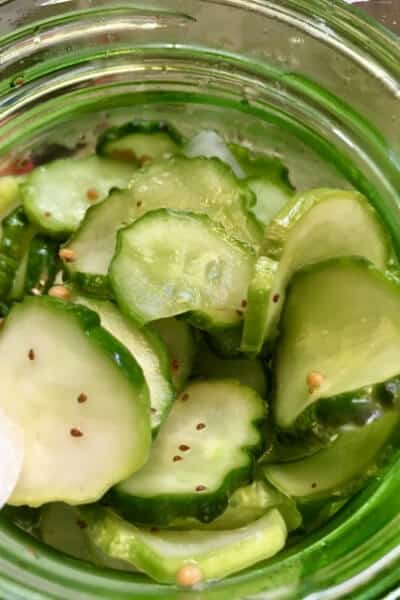 Bread and Butter Pickles
Are you fond of the sweeter side of pickles? Bread and Butter Pickles may be just for you. Again- the easiest way to do this is to pick up Mrs. Wages Bread and Butter Pickle mix. Or you can give one of these recipes a try:
Granny's Bread and Butter Pickles
Lacto-Fermented Bread and Butter Pickles
Want a fresh way to use cucumbers? Try cucumber water! Read all about the benefits of cucumber water and get 14 refreshing cucumber water combinations to try!

Cucumber Juice
Cucumbers are full of nutrition and the juice captures most of that goodness. If you have a juicer, try sending your cucumbers- skins, seeds, and all- through. You can use the juice to make smoothies, in cucumber jelly, freeze ice cubes of it for a cucumber splash to your sparkling water.
Here are a couple ways to use up your cucumber juice:
Or simply add frozen cubes of cucumber juice to any of your favorite smoothie, slushie, or homemade juice mix!
Cucumber Relish
Who doesn't love a hot dog or bratwurst covered in relish? Pickle relish is a great way to preserve your cucumbers. It's slightly sweet, acidic, and is the perfect addition to a fall cookout or barbeque.
Get the recipe for Cucumber Relish!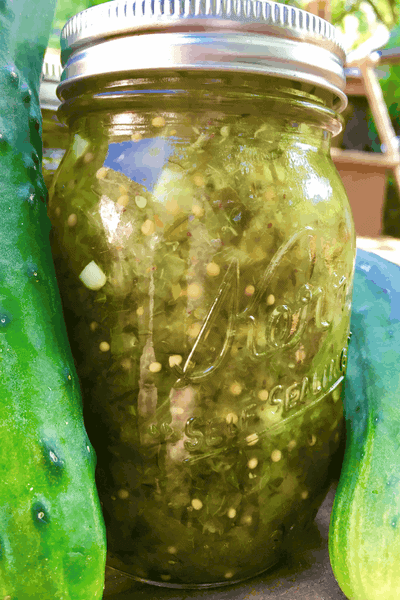 Cucumber Salsa
Tomatoes aren't the only way to make salsa. Try out one of these recipes that let's the cucumber take the stage:
Cucumber Salsa with Onions and Radishes
Cucumber Sorbet
How about preserving cucumbers in a sweet and refreshing way? This Cucumber Sorbet from The Little Epicurean looks delicious! And a perfect way to cool off in the summer AND use up all those cucumbers.
There you have it- 10 ways of preserving cucumbers that should satisfy the needs of any home gardener! Which way is your favorite way to preserve cucumbers?
More Preservation Guides You May Like:
11 Ways to Preserve Tomatoes (and Replace Common Pantry Items!)
6 Ways to Preserve Green Beans
6 Ways to Preserve Strawberries