In this article: Get 14 cucumber water recipes to refresh and rehydrate you this summer!
Want a refreshing alternative to plain water? Try cucumber water!
This site contains affiliate links. If you make a purchase using one of these links, I may earn a commission. Please see my disclosure page for more information about cookies collected and our privacy policy.
Cucumber water has lots of health benefits and can help you stay hydrated and healthy. Cucumber water is easy to make— just add your fruit to the water and allow it to infused for a couple hours to overnight and enjoy!
You can also purchase infused water bottles and pitchers that make drinking your cucumber water even easier.
Related Reading: 12 Amazing Benefits of Cucumber Water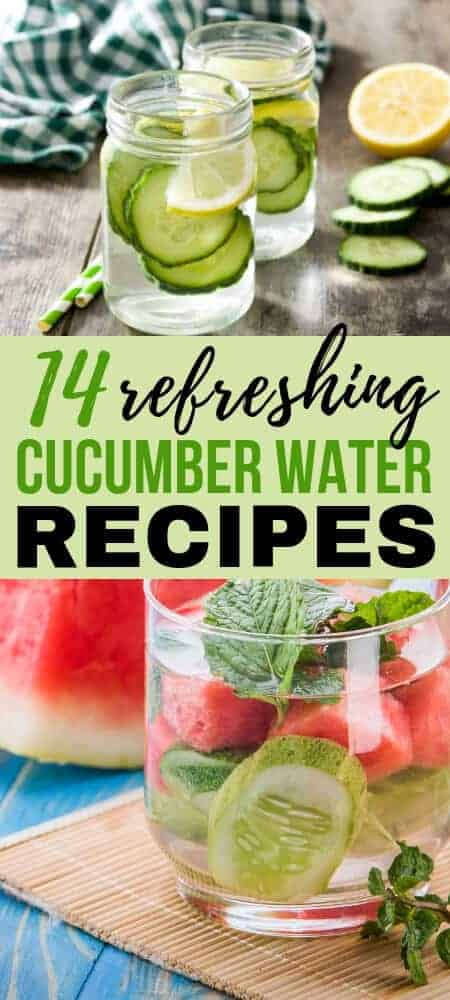 How to Make Cucumber Water
Making cucumber water is so simple to make- just slice your cucumber- about 1/2 to 1 whole cucumber- place them in a 1/2 gallon mason jar (or a fruit infusion water pitcher) filled with water.
You can top your jar with ice to help hold the cucumber under the water if you like. Place the cucumber water in the refrigerator for a minimum of 2 hours, but overnight is best.
After infusing you can choose to remove the cucumber slices or leave them in to continue infusing.
Then enjoy your cucumber infused water all through the next day!
Where to Infuse Your Cucumber Water:
Refreshing Cucumber Water Recipes and Combinations
If you want something a little more flavorful that plain cucumber water, try one of these cucumber water combinations!
Cucumber and Lemon Water
If you want something a little different try adding lemon (or lime) to your cucumber water. The added citrus will boost the flavor plus add additional nutrients, such as Vitamin C, to your cucumber water.
Simply slice 1 lemon or lime and add it to your water before allowing to set overnight.
Cucumber and Mint Water
Adding mint to your water will give your cucumber water a fresh zing. Plus mint can help aid in digestion, sooth allergies, and has antioxidant properties and other trace nutrients.
Just add a few leaves of fresh mint to your water along with your cucumbers.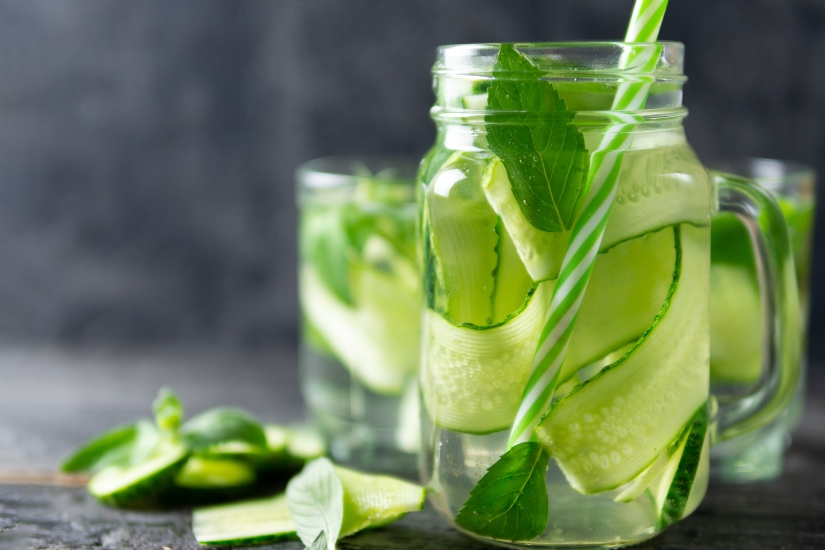 Watermelon and Cucumber Water
Nothing says summer like watermelon and cucumber! Adding watermelon to your cucumber water will add sweetness and keep you refilling your cup all day long.
Dice up about 1 cup of watermelon and add it to your jar along with the cucumber. Try adding some lemon to boost the flavor as well.
Cucumber and Lavender Water
Need to relax after a long day? Try adding some lavender blossoms to your cucumber water! Lavender has too many health benefits to mention- but adding just a teaspoon or two to your water will add an additional layer of flavor you will love.
Be sure to use culinary lavender or grow your own to ensure that it's free of pesticides.
Cucumber, Lime, and Strawberry Water
Want to fancy up your infused water even more? Try adding multiple layers such as this cucumber, lime, and strawberry water. Sweet, sour, and fresh all at once.
Check out this post on how to make this flavorful cucumber water combination!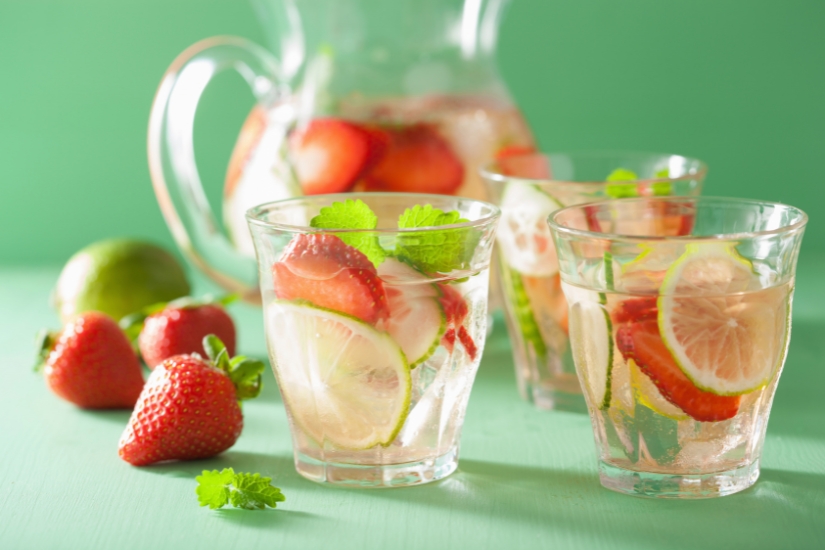 Cucumber Basil Water
Basil is one of my absolute favorite culinary herbs and my garden is always full of it. Basil pairs beautifully in cucumber water.
Add a handful of fresh basil leaves (and a few lemon or lime slices if you desire) to your cucumber water.
Check out this easy to read infographic on How to Make Cucumber Water!


Cucumber-Melon Water
Watermelon isn't the only melon around. Try adding honey dew or cantaloupe melon- or both- to your cucumber water for extra sweetness and freshness.
Add about a cup of melon total to your cucumber water before setting overnight.
Rosemary Cucumber Water
Rosemary is full of vitamin C, iron and calcium, so why not throw a few sprigs into your pitcher? You'll get all of the benefits of cucumber and rosemary plus stay hydrated all day long.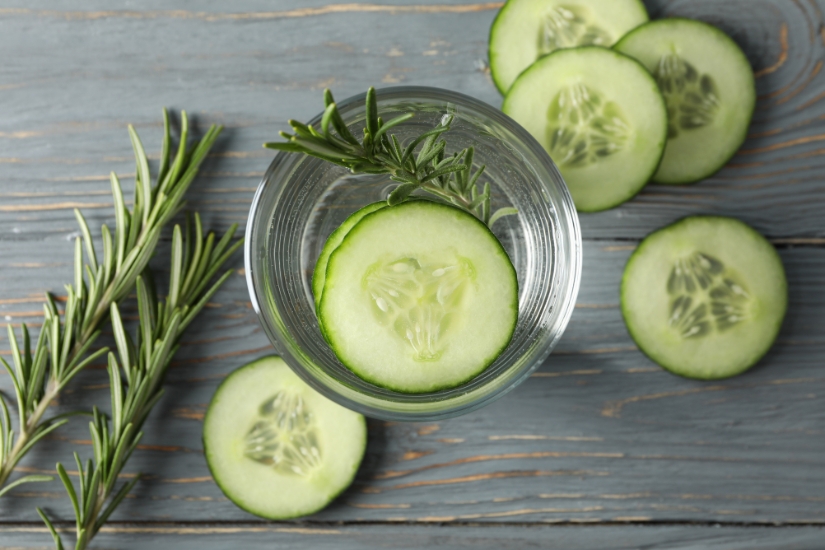 Cucumber, Tangerine and Thyme Water
Tangerine adds a new citrus flavor to your cucumber water in this recipe. If thyme isn't your cup of tea feel free to switch it out with another herb of choice such as mint, basil, or rosemary.
Get the cucumber water recipe now.
Cucumber Lemon Cilantro Water
I know….cilantro is one of those love it or hate it herbs. But if you are in the love it camp, this water combo will soon be a favorite.
Check out this post on how to make lemon, cilantro, cucumber water
(Cilantro is super easy to grow, too. Learn how to grow cilantro!)
.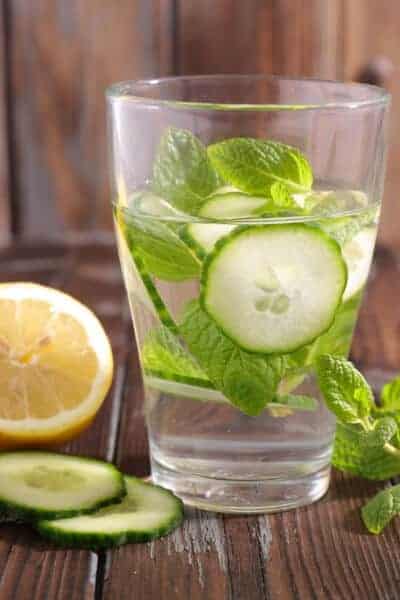 Ginger, Apple, Cucumber Water
Cucumbers flush toxins, apples curb your appetite and ginger boosts your metabolism.
Get the recipe for this weight loss boosting cucumber water now!
Pomegranate, Lemon, and Cucumber Water
Now this is a winning combination. Superfood pomegranate pairs with the vitamins and minerals in cucumber and lemon into one delicious drink.
Get the recipe for this super cucumber water– you'll feel energized in no time!
Cucumber Lemongrass Water
Combining cucumber with lemongrass will leave you feeling refreshed and relaxed. All you need is a stalk of lemon grass, a cucumber, and some water!
Related Reading:
30 Ways to Use Fresh Cucumbers