One of the best things that comes from the garden is fresh salsa. We eat a lot of it during the summer months when tomatoes, peppers and onions are at their full potential.
I have yet to find a canned salsa recipe as much as I love fresh salsa, so we tend to keep our chip n' salsa eating to the warmer months.
This site contains affiliate links. If you make a purchase using one of these links, I may earn a commission. Please see my disclosure page for more information about cookies collected and our privacy policy.
Here is my go-to recipe for fresh-from-the-garden roasted salsa!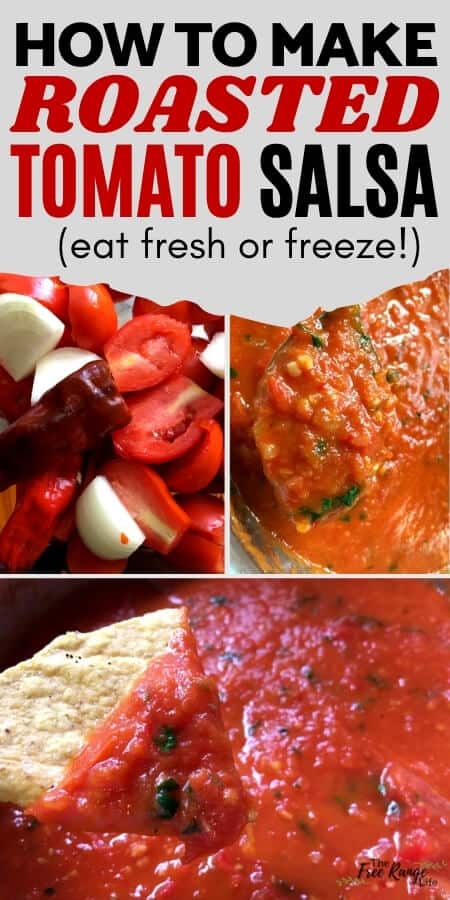 How to Make Roasted Tomato Salsa:
Tomatoes- 10-15 or enough to fill a large roasting pan (Here are the best tomatoes to use in salsa)
Peppers- a couple sweet and a couple spicy.
Onion- 1 large
Garlic- at least 3 cloves
Olive Oil
Lemon/Lime Juice or vinegar- a couple tablespoons
Spices: salt, pepper, cumin, cilantro
Now, everybody's tastes are different so if you like more peppers, add more. If you want more spices, add more.
The amounts don't matter as much as the process!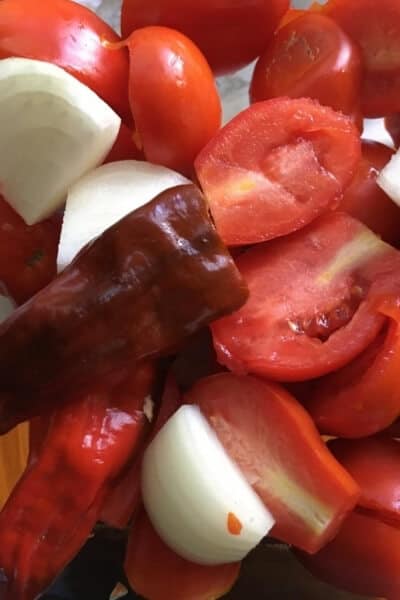 Want to preserve MORE food this year? Get my Food Preservation Planner to help you plan your family's food needs and save time by helping you preserve more efficiently!
How to Make the Roasted Salsa
Quarter the tomatoes and onion and place in a roasting pan.
Bruise the garlic and remove the skin and add to the pan.
Cut the tops of the hot peppers- you can remove the seeds if you want, I usually leave them in. Halve and de-seed the sweet peppers and add them to the roasting pan as well.
Sprinkle with salt and drizzle with olive oil. Toss to coat.
Place in the oven at 350 for about 30-45 min until some of the vegetables have blackened edges.
Transfer everything to a food processor, add cilantro and cumin.
Pulse to chop. How long you pulse will depend on how chunky you like your salsa!
Stir in lemon/lime/vinegar and additional salt and pepper to taste.
Transfer to jars and refrigerate overnight so the flavors can meld.
This will keep at least a week in the fridge and we have kept it for over a month with no problems, especially when the jars "self seal" as they cool. Use your judgement and if in doubt, throw it out.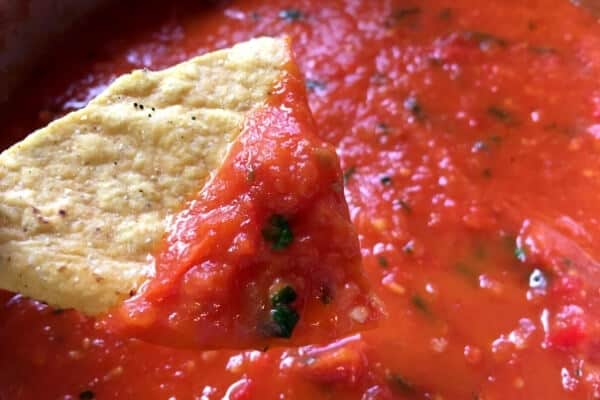 Serve with chips, eggs, beans, or your recipe of choice. What is your favorite way to enjoy fresh salsa?
Be sure to check out my round-up of 25 Homemade Salsa Recipes! They are all absolutely mouth watering and I know you will find one that you can't wait to try!
You May Also Like:
Roasted Tomato Sauce (So Easy!)
11 Ways to Preserve Tomatoes and Fill Your Pantry
Tomato Ketchup Recipe (+ Canning Directions)