Eggplant is one of the most beautiful crops to grow in the garden. The first eggplant variety I ever planted was the standard Black Beauty.
But I quickly branched out to growing long Chinese eggplant varieties, white, and other colorful varieties. Here are some of my very favorite eggplant varieties. Give one a try this year!
This site contains affiliate links. If you make a purchase using one of these links, I may earn a commission. Please see my disclosure page for more information about cookies collected and our privacy policy.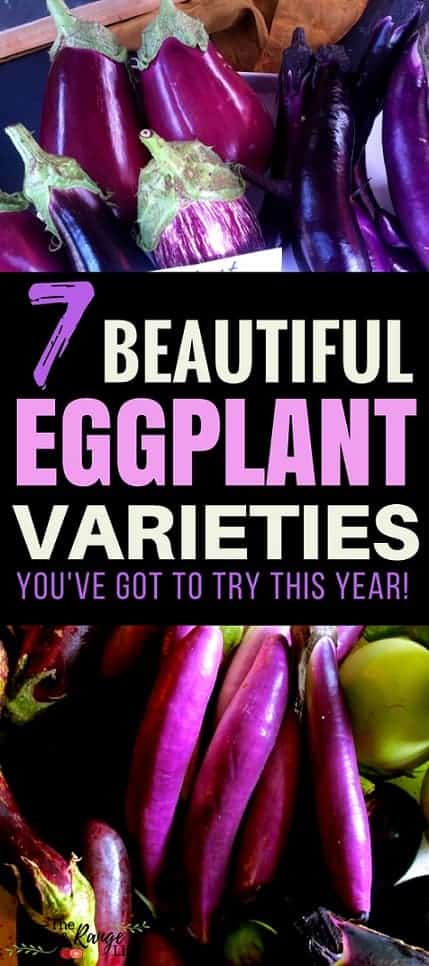 Amazing Eggplant Varieties You NEED in Your Garden
Check our my Yearly Garden Planner to help you plan this years garden and keep track of EVERYTHING you need to have the most successful garden ever!
Ping Tung Chinese Eggplant
The Ping Tung eggplant is my very favorite eggplant to grow. The plants are very prolific and give a lot of fruits! This is a long Chinese purple eggplant variety that grows up to 18 inches in length.
I prefer to harvest them a bit early so their skin in still tender and no signs of seeds.
This is a delicious eggplant- and one my kids love to use in our Eggplant Crisp!
Listada De Gandia Eggplant
The Listada De Gandia Eggplant is one of the prettiest ones around. It is white skin with light purple stripes. The fruits on this eggplant variety are about 7 inches in length and somewhat pear shaped. The flesh is mild and tender.
If you sell produce at a farmers market or run a CSA- this one is an amazing seller simply because of how it looks!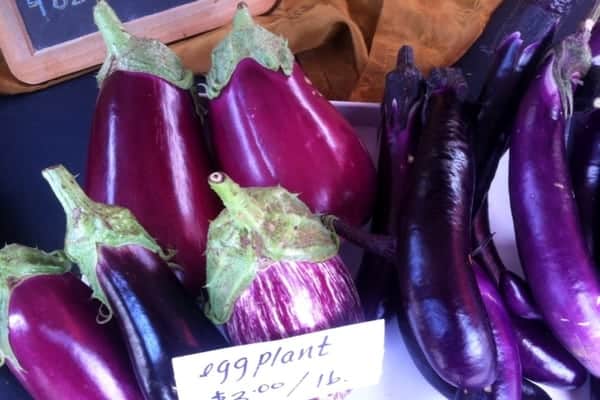 Fengyuan Purple Chinese Eggplant
The fengyuan purple eggplant is another Chinese eggplant varieties that is very similar to the Ping Tung. The fruits have light purple skin and grow just a bit shorter than ping tung. The plants have very good yields with a lot to harvest.
The skin is thin and doesn't hold up to grilling as well, but makes for a great addition to stir-fries!
Rosita Eggplant
Rosita is another beautiful globe eggplant. The skin on this eggplant variety is somewhat of a neon purple-pink that is amazing. Which makes it another big seller at the market.
The skin is tender and not at all bitter, plus you won't be disappointed in the yields from this plant.
Black Beauty Eggplant
Black Beauty is a classic globe eggplant variety that you just can't go wrong with. It's an old variety that has been grown in backyard gardens for years.
The fruits are large and are perfect for grilling, making babaganoush, or any other fabulous eggplant recipes!
Related Reading: 50+ Eggplant Recipes for Your Summer Harvest
Rosa Bianca Eggplant
Rosa Bianca is an heirloom eggplant that is light purple with white shading. It's beautiful and a favorite in restaurants and a great market seller.
These 4-6 inch globe fruits are good for any eggplant recipe you can throw at it.
Clara Eggplant
Are you looking for a white eggplant? The Clara Eggplant is a large, white, Italian eggplant variety that is firmer than others. It is meatier and does great on the grill. It holds up well to many types of cooking and handling.
If you are new to growing eggplant, check out my article on How to Grow Eggplant from Seed or the Best Companion Plants for Eggplant to learn more about growing eggplant in your garden.
Plus learn How to Store Eggplant and How to Preserve Eggplant.
Check Out My Other Favorite Varieties:
7 Cucumber Varieties to Try This Year
8 Early, Fast Tomato Varieties