Cucumbers are a staple in my garden. There's nothing better than munching on a fresh-picked, homegrown cucumber for a snack! Over the years we developed some favorites and some can't be beat cucumber varieties that I think everyone will enjoy growing (and eating!)
Are you new to growing cucumbers? Read my Tips for Growing Great Cucumbers and my guide to the Best Cucumber Companion Plants to grow the best cucumber crop!
This site contains affiliate links. If you make a purchase using one of these links, I may earn a commission. Please see my disclosure page for more information about cookies collected and our privacy policy.
Most of these varieties can be eaten fresh or pickled.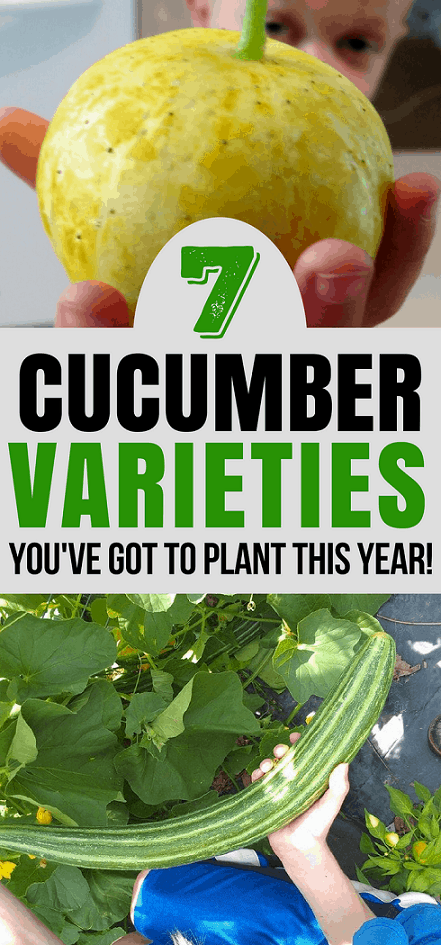 7 Cucumber Varieties You Need in Your Garden!
Marketmore Cucumber
The Marketmore Cucumber is an heirloom variety that is prolific and a must for every home gardener that loves to eat fresh cucumbers. These cucumbers are 8-9″ slicers that have amazing flavor. They were also top sellers at the market when we sold produce.
Plan your best garden ever with my Yearly Garden Planner. It has planning pages, records sheets and more to help you start seeds, keep track of pests and disease, and keep track of everything garden related.
Straight 8 Cucumber
The Straight 8 cucumber is similar to the Marketmore. With long, 8″ fruits that are great for slicing and fresh eating. This cucumber variety has some disease resistance. Make sure it gets regular water to prevent bitterness.
Lemon Cucumber
The Lemon Cucumber is one of my absolute favorites. This cucumber variety is round and yellow- just like a lemon! These fruits hardly ever get bitter and they have a nice fresh flavor. We eat t hem just like apples- bite right in!
Armenian Cucumber
The Aremenian Cucumber Variety is a must if you live in a hot climate. This cucumber is about 18 inches long and mild-tasting with less seeds than most classic slicing cucumbers. Great eaten fresh- and makes some amazing pickles! Grow it vertically for straighter fruits.
Related Reading: How to Grow Vertically in the Garden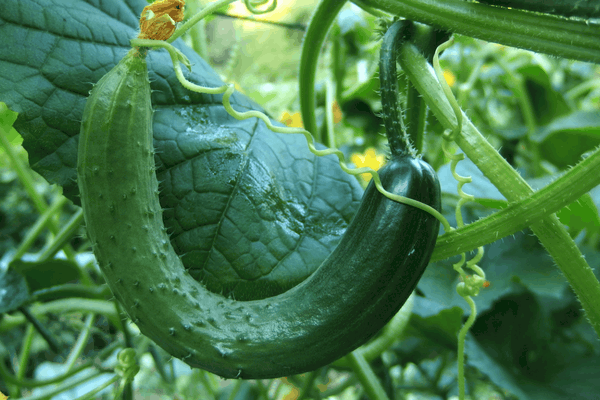 Suyo Long Cucumber
We started growing the Suyo Long cucumber a few years back and it's been a regular ever since. This cucumber is long and skinny- can get up to about 18 inches, but we usually pick a bit younger. It is sweet and mild, with hardly any seeds at all.
Dragon's Egg Cucumber
The Dragon's Egg Cucumber is another fun one to grow. The fruits are white and roundish- like a very large egg! They have thin skin- and even my kids who like their cucumbers peeled will eat this skin. They are a little more seedy than your standard cucumber, but great for fresh eating!
Related Reading: 13 Unique Vegetables to Grow This Year
Painted Serpent Melon Cucumber
The Painted Serpent Cucumber is one of our favorite unique vegetables to grow. We started growing them for fun- and to enter into the local fair- but we keep growing them because they just taste amazing! This cucumber variety can get long- over 3 feet if you let it. I suggest picking it smaller- around 18 inches for fresh eating. The larger it gets the more melon-like it gets. But just scoop the seeds out and still eat it like a melon! The kids will love growing these too.
As with all long varieties, growing vertically will help you get longer, straighter fruits.
Those are my 7 favorite cucumber varieties. We've also tried some we didn't like- the crystal apple cucumber, for one. Do you have any to add to this list?
You May Also Like:
How to Store Cucumbers (and Ways to Use Them Fresh!)