Back a few years ago my husband worked in sales- at a commission-only position. This meant that some months were great and some, not so much.
Then we hit a recession and people weren't buying. At all. Ever. During that time our food budget had to take a hit. We had to come up with cheap and frugal meals to feed our large family without breaking the bank.
This site contains affiliate links. If you make a purchase using one of these links, I may earn a commission. Please click here for more information about cookies collected and our privacy policy.
I mentioned this a few times before, especially in my 19 Ways to Save Money on Groceries, but if you are not already- GROW YOUR OWN!! This will help you so, so, much when it comes to making more meals for less money. Even if it's just a couple of plants on a patio- do it!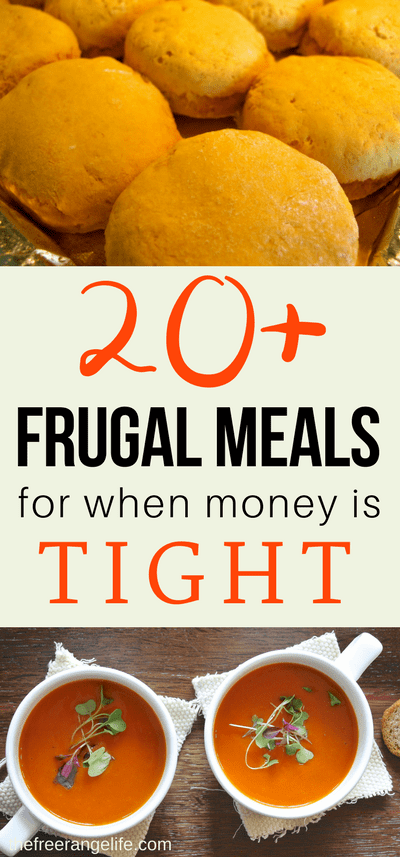 When money was a little tighter we had our garden- or stuff we preserved from our garden. And we had our chickens- and a lot of eggs!
Even if you don't have chickens, eggs are pretty inexpensive (if you buy regular grocery store eggs anyway) and a great source of protein.
Before we get to the ideas, you may want to check out my list of 7 Frugal Foods To Stretch Your Budget. These are staples you should have on hand at all times.
20+ Frugal Meals to Make When Money is Really Tight!
Frugal Breakfast Ideas:
A note on breakfast: In our house we don't have a breakfast time. It's a do-your-own-thing deal for all of us. Most of the things I listed as breakfast we actually make for lunch or dinner and then freeze the leftovers for breakfasts.
Pancakes/Waffles– Waffles/Pancakes are really cheap to make. If you've got milk you can use it, but you don't have to. If we are really tight on money I will make it with just flour, water, eggs and baking powder. The kids like them with peanut butter or dusted with cinnamon sugar.
Eggs– Fried, Boiled, Scrambled….whatever way you like them, eggs are cheap and easy.
Oatmeal– We buy oats in bulk and they last a long time. If you have a bulk food club you can order from in your area then do it. Oatmeal is a hearty, filling breakfast for just about anyone. Stir in some homemade preserves, pumpkin butter, or brown sugar.
Muffins- Muffins are super easy and can be made really inexpensive. A basic muffin is just flour, eggs, water/milk, and baking powder. Add in OJ, blueberries, mashed bananas, etc and you can make a yummy, filling, breakfast.
French Toast- Our local grocery store has large loaves of french bread regularly for $0.99 or less. We buy a lot and save them in the fridge or freezer. One loaf plus some eggs and cinnamon and you've got a pretty cheap meal for a big family.
Homemade Bread/Toast– If you aren't already making your own bread you should be. We also buy flour in bulk and try to keep loaves of fresh bread around at all times. Try my Honey Oatmeal Bread, it's a favorite here!
Homemade Biscuits- Either plain, buttermilk biscuits or sweet potato biscuits
Learn how this mom reduced her food budget from over $1000 to under $200– without sacrificing quality AND still eating healthy, organic foods!
Frugal Lunch Ideas:
Egg Burritos- Scrambling up eggs, topping with cheese and stuffing in a homemade tortilla. We have these multiple times per week. You can also try making these swiss chard crepes and filling them with eggs.
Mac N Cheese– Pasta is cheap. It's not the best for you, but when you are broke, that doesn't always matter. We love this Instant Pot Mac and Cheese….but it's easy to make on the stove too!
French Bread Pizza- I mentioned the cheap loaves of french bread. We use it to make pizzas for a quick and frugal meal for lunch. Cut it in half lengthwise, sprinkle with sauce and cheese and stick it in the oven. We feed 6 people for less than $3 with this one.
Salads– If you have a garden going salad is basically free- lettuce, spinach, cucumbers, peppers, tomatoes. It's not always kid friendly, but if you start them young or try deconstructing the salad and just giving piles of cut veggies with dip. Add cheese, apple, hardboiled egg for a more filling salad.
Sandwiches– the old standby- grilled cheese, peanut butter, lunch meat if you can find a good deal on it. Homemade bread makes it more economical and healthier too!
Tortilla Pizzas- We use tortillas a lot in our house. My kids love to make their own mini pizzas on tortillas.
Write down all of your favorite recipes in my Blank Recipe Journal! Having good recipes on hand for homemade food is one of the best ways to keep your food budget down! Get the Blank Recipe Journal today!

Frugal Dinner Ideas:
Pasta- Pasta, especially if you pair it with homegrown, homemade sauce, is the ultimate frugal meal
Chili– Chili, especially if you go heavy on the beans and light on the meat, if a wonderful frugal meal. Use homegrown tomatoes and it'll be even cheaper. Try out my Instant Pot Chili!
Vegetable Soup- This is virtually free if you have a garden- dump in whatever vegetables you have growing, water, tons of herbs, salt, pepper, maybe a handful of pasta or can of beans, and you are good to go.
Bean Soup- Beans are the ultimate filling and frugal ingredient. And they are versatile. Check out how this mom makes one pot of bean soup and uses the leftovers to make new meals all week!
Learn how to make Poor Man's Crab Cakes for a frugal meal!

Bean and Cheese Burritos– Refried bean burritos are on our menu weekly. It's the quickest meal- great for busy families- that won't break the bank. Save more money by making the refried beans yourself!
Tacos- Cutting back on meat is an easy way to save money, but let's face it, some people just aren't cut out for the vegetarian life (like my husband and kids!). We buy ground hamburger in large amounts since it's usually cheaper. I use it for chili, pasta, and of course tacos. Make your own Taco Seasonings to save a bit more!
Rice- There are so many ways to cook rice. You can have it multiple times per week and not repeat a meal. Some of our favorites are fried rice, mexican rice, and garlic butter rice.
The 4 Food Groups– Sometimes the most frugal meals I could come up with at the time was simply piecing together what I had or what was on sale. Homemade bread + on sale or in garden veggies + on sale or home canned fruit + cheese/yogurt/on sale meat. And you know what- I think those easy meals were always the favorites!
There are 20 or so ideas to get you started. Are you struggling to keep your food budget down? What are your cheapest meal ideas? Be sure to check out my post on How to Stop Living Paycheck to Paycheck for more tips!

You May Also Like:
How to Take a No Debt Vacation
9 Gardening Supplies You Can Get for Free
11 Easiest Vegetables to Grow for Beginners
Save
Save