Are you on a tight budget or just want to save some money each month? Here are 5 skills you can learn to save you money every year!
Many of us live month to month on a very tight budget. But then we also seems to live on autopilot- spending money when we don't have to.
This site contains affiliate links. If you make a purchase using one of these links, I may earn a commission. Please see my disclosure page for more information about cookies collected and our privacy policy.
Car needs an oil change- pay someone to do it. Toilet is leaking? Call the plumber. Hole in your favorite pants? Throw them away and buy some new ones.
But it doesn't have to be that way! So many of the things that we employ others to do for us are easy to learn to do at home. We live in a world where information is literally at our finger tips and the world wide web is full of people sharing their expertise.
Learn to do these skills that save you money- and start living more self sufficiently!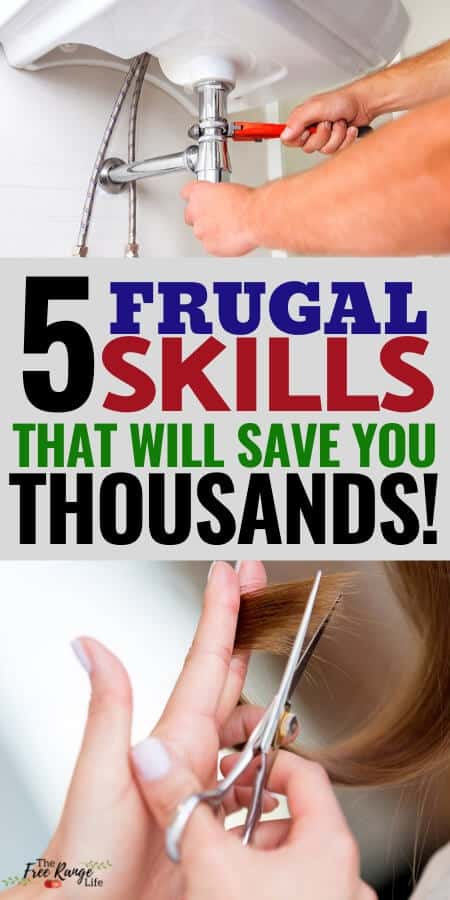 5 Skills that Save You Money (Thousands a Year!)
Car Maintenance
We all have cars. Those cars need maintenance and repairs to stay in top shape and allow us to go all the places we need to go. And unless you live in a metro area with a good public transportation system or a small enough town to bike everywhere, we need our cars.
Auto mechanics have bad reputations. Most of the time your local mechanic will be trusty worthy, but there is a huge mark up in this industry and labor costs are very high. If you can learn to do just basic maintenance you will be able to save yourself a lot of money!
Some very simple tasks you can learn to do are:
My 15 year old son is currently attending our local community college as a dual enrollment student. He is pursuing an Associates Degree in Auto Technology. He is also rebuilding 2 cars on his own.
When my husband was 16 he fixed my brakes (pads and rotors), by reading a book on the subject. Because of these learned and self-taught skills we are able to save ourselves a lot of money on routine maintenance and repairs for our vehicles.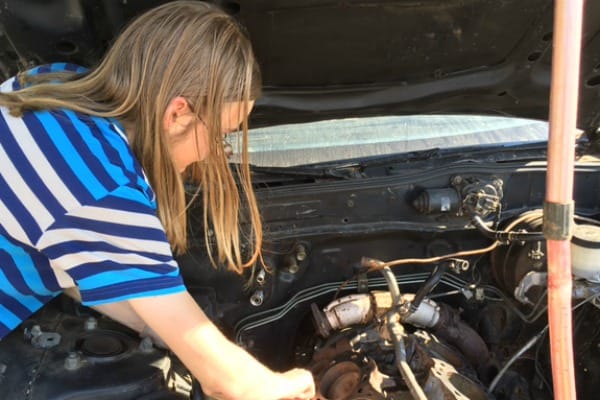 Plumbing
Calling a plumber is another big expense. There are many small things people call plumbers for all the time that are simple to do at home yourself for no money at all. All you need are a few simple tools like a pipe wrench, a drain snake, plumber's putty, and teflon tape.
Some money-saving repairs you can make yourself:
Snaking a drain
Installing or replacing a water heater
Repairing a leaking pipe, toilet, or sink
Installing a new sink, dishwasher, shower head, or toilet
We have never had to call a plumber. Even when the pipe behind the basement wall was leaking and it required tearing out cinder blocks to access the pipe before we could replace it.
Basic Electric and Wiring
Wiring and working with the electrical system can seem a little scary, and while you will need an electrician to rewire an entire house, there are a lot of things that you can do at home yourself to save money. And it's just a good skill to have! Most jobs require very little in the way of tools- usually just a screw driver, some needle nose pliers, wire cutters, wire nuts, and maybe some electrical tape.
Some electrical jobs you can do at home are:
Replacing an outlet or light switch
Installing a GFCI outlet
Installing a new light fixture or ceiling fan
Rewiring a broken lamp
Replacing an extension cord plug
Even installing a circuit to your fuse box can be learned to do at home
Working with your electrical system requires some extra safety measures. So make sure whatever you are working with is unplugged and the breaker is off before you begin.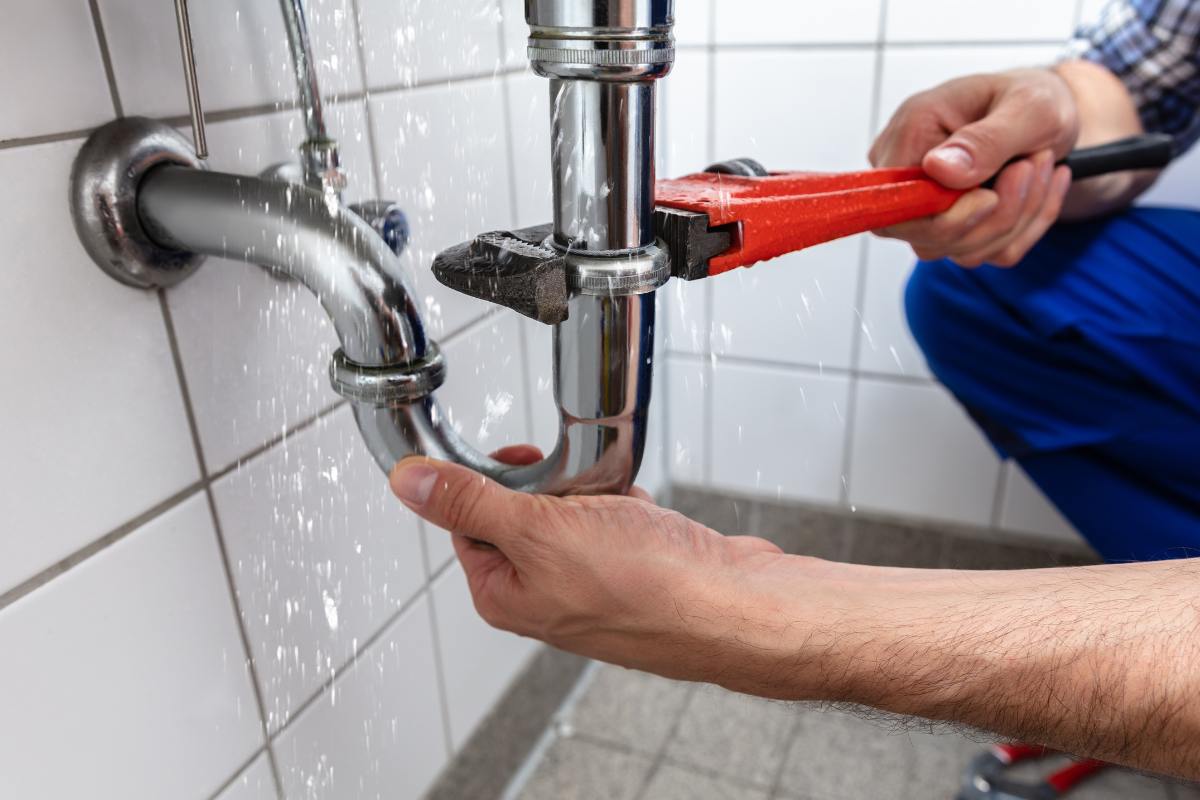 Related Reading: 20+ Frugal Meal Ideas
Sewing
Sewing is a lost art. When I was young my mom made me dresses and skirts and I loved them. In the age we live in it is cheaper to run to Target or the mall to buy clothes than it is to make them yourself. But, the quality of those clothes are usually not that great. And that is where knowing how to sew comes in. Instead of just throwing stuff away you can fix them yourself!
With a little needle and thread (and maybe a sewing machine) you can:
Hem your own pants, dresses, and skirts
Repair busted seams
Replace a missing button
Patch a hole in jeans or other pants
All of these things will make your clothes last longer- which saves you money. If you learn more you can start to re-purpose things. You can make kid-sized pants from an adult-sized shirt. Or sew curtains from old sheets. Make your own hats from old, accidentally felted sweaters. The list goes on and on.
Cutting hair
I have 6 children and I have never paid for one haircut for them. I actually don't pay for any haircuts- I cut my own, my husband's and all of the kid's hair here at home.
I have never been trained and I am probably not that skilled, but at $20 per haircut think of all the money I have saved over the years!
You really only need a couple of things to cut hair at home and they will pay for themselves in no time.
A good, sharp pair of scissors
A good quality hair trimmer
A hand mirror if you will be doing your own hair (or just trust someone else to help you with it)
That's it! We are simple here. Most of my boys and my husband opt for the easy buzz cut. My daughter and I just trim straight across, with the occasional layer cut in. I have 2 boys with longer hair, but I do my best with scissors and they are good too.
What do you do yourself versus calling a professional? Have you spent time learning skills that save you money? Tell me about them in the comments!
Need more money saving tips? Check out these articles:

How to Stop Living Paycheck to Paycheck- 11 Tips to a Better Life
7 Frugal Foods to Keep on Hand (and Stretch Your Budget)
How to Have Great Christmas on a Budget
19 Ways to Save Money on Groceries
Save