In this Post: Do you love pumpkin spice? Get the recipe for spiced pumpkin butter to enjoy on your fresh biscuits or toast!
We grew a lot of winter squash this year. A LOT. We also grew a field of pumpkins. My kids love drinking what they call pumpkin pie smoothies and we put pureed squash in place of sweet potatoes in my Sweet Potato Biscuits. We were in need of a spread- for toast, English muffins, or just to eat with a spoon- and we love apple butter, so I thought why not pumpkin butter?
This site contains affiliate links. If you make a purchase using one of these links, I may earn a commission. Please click here for more information about cookies collected and our privacy policy.
Okay, I call it pumpkin butter, but really I didn't use pumpkin at all. I used a huge winter squash grown by my oldest son. But Red Warty Thing butter doesn't really sound so appealing to eat, does it? So I call it pumpkin. This spiced pumpkin butter is easy to make- keeps a couple weeks in the fridge or frozen for longer storage.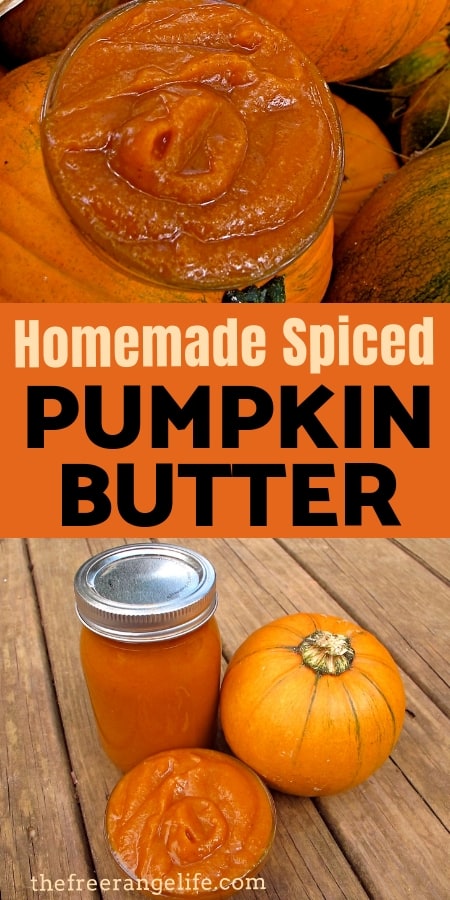 Homemade Spiced Pumpkin Butter

For the Pumpkin Butter you will need:
5 cups of pureed pumpkin- any orange winter squash will do
1 cup of apple juice
1 cup brown sugar- depending of your tastes you can reduce this by half if you want
3 tsp cinnamon
1 tsp ginger
1/2 tsp nutmeg
1/2 tsp allspice
Juice of 1 lemon/lime (I used a lime, since that was on our tree right now)
Place all of the ingredients in a medium saucepan and stir to combine. Heat on medium-high until the mixture boils. You want to stir often because as it starts to boil it will bubble and spatter.  Once it has boiled, reduce the heat to low and allow to simmer- stirring occasionally.
I'd place the lid on partially to reduce the mess and catch the spatters.  Allow it to simmer for about 30-45 minutes- depending on how thick you want your pumpkin butter to be.
Quit printing out the same recipe over and over or searching online for that favorite you made last week. Check out my new Blank Recipe Journal! The perfect place to write down all those favorite recipes you find online!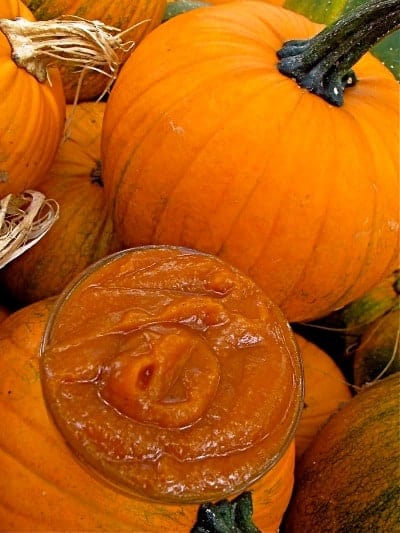 You can serve this pumpkin butter spread it on toast, biscuits or muffins. Serve it over ice cream or stir it into your morning oatmeal! I keep a jar in the fridge and freeze the rest. If you like your oatmeal with pumpkin butter, try freezing it in ice cube trays so you have just the right amount to add to your breakfast.
You'll find a printable version of the recipe below. Let me know if you give it a try, and what you think!
Save
Save
Save
Save
Save