In this Post: Do you love pumpkin spice? Get the recipe for homemade pumpkin butter to enjoy on your fresh biscuits or toast!
We grow a lot of winter squash in our garden each year. A LOT. We also grow a lot of pumpkins. They are the perfect calorie crop that lasts a long time in storage and can be added to lots of recipes and dishes.
This site contains affiliate links. If you make a purchase using one of these links, I may earn a commission. Please see my disclosure page for more information about cookies collected and our privacy policy.
My kids love drinking what they call pumpkin pie smoothies and we put pureed squash in place of sweet potatoes in my Sweet Potato Biscuits.
We were in need of a spread- for toast, English muffins, or just to eat with a spoon- and we love apple butter, so I thought why not pumpkin butter?
Okay, I call it pumpkin butter, but really I didn't use pumpkin at all. I used a huge winter squash grown by my oldest son. But Red Warty Thing butter doesn't really sound so appealing to eat, does it? So I call it pumpkin.
This spiced pumpkin butter is easy to make- keeps a couple weeks in the fridge or frozen for longer storage.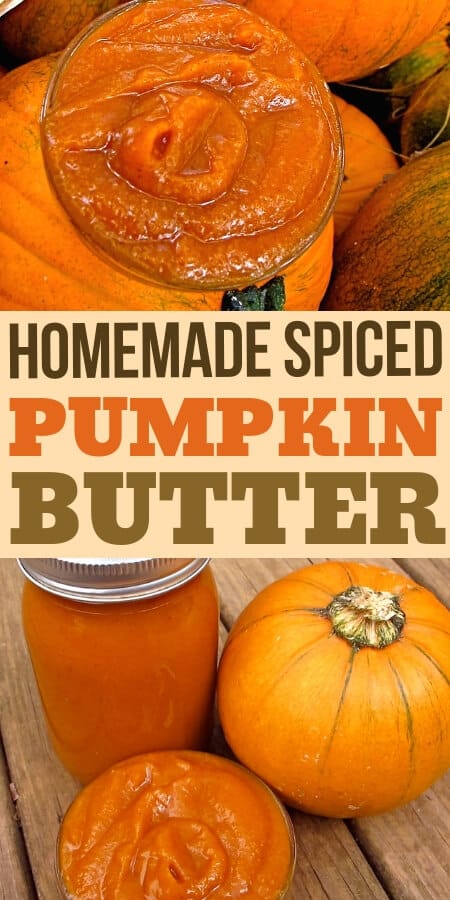 Homemade Pumpkin Butter Recipe
Making pumpkin butter is really easy. I used fresh pumpkin puree, but you can use canned pumpkin if that's what you have on hand.
For the Pumpkin Butter you will need:
5 cups of pureed pumpkin- any orange winter squash will do
1 cup of apple juice
1 cup brown sugar- depending of your tastes you can reduce this by half if you want
3 tsp cinnamon*
1 tsp ginger*
1/2 tsp nutmeg*
1/2 tsp allspice*
Juice of 1 lemon/lime (I used a lime, since that was on our tree right now)
*Instead of using the individual spices you can also use 5 tsp of pumpkin pie spice.

Place all of the ingredients in a medium saucepan and stir to combine.
Heat on medium-high until the mixture boils.
Stir often because as it starts to boil it will bubble and spatter.
Once it has boiled, reduce the heat to low and allow to simmer- stirring occasionally.
I recommend placing the lid on partially to reduce the mess and catch the spatters.
Allow it to simmer for about 30-45 minutes- depending on how thick you want your pumpkin butter to be.
Quit printing out the same recipe over and over or searching online for that favorite you made last week. Check out my new Blank Recipe Journal! The perfect place to write down all those favorite recipes you find online!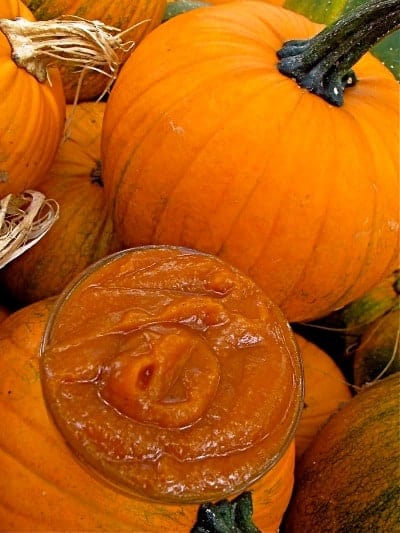 Ways to Use Pumpkin Butter:
Homemade pumpkin butter can be used however you like! Basically anyway you would normally use apple butter or jam. But here are some of some of the uses for pumpkin butter:
Spread it on toast, biscuits or muffins.
Serve it over ice cream
Stir it into your morning oatmeal
Use in baked french toast
As a filling for breakfast bars or cookies
Added into your favorite pumpkin bread recipe
Swirled in yeast bread
The options are endless! Pumpkin butter can make everything taste like fall and pumpkin spice!
Canning Pumpkin Butter
So lots of people ask: Can you can pumpkin butter?
The safe answer is NO. Pumpkin butter should not be canned at home using either a water bath canner or a pressure canner.
The main reason for this is that pumpkin butter is quite dense, which makes it hard for the heat to reach the interior of your jars to heat it enough to kill any botulism spores.
There are many home-canners who will tell you that they have been canning pumpkin butter for years without issue, and that may be true. In this case if you would like to go against the recommended canning methods, then go right ahead.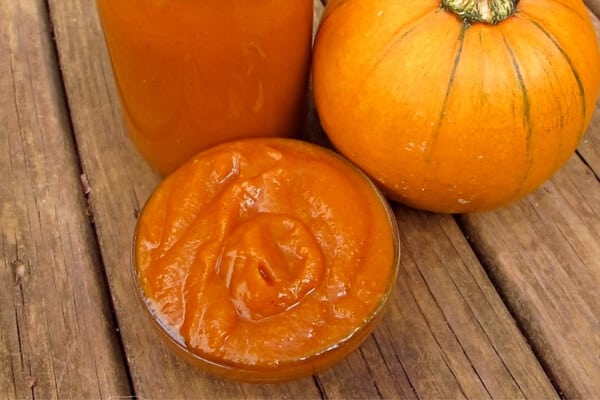 How to Preserve Pumpkin Butter
The best way to preserve pumpkin butter is by freezing.
Remember if you are freezing in glass jars, to leave at least a 1 inch headspace so that your jars do not crack as the pumpkin butter expands. I also recommend leaving the rings off until the contents are completely frozen to reduce cracking.
To defrost just stick a jar in the refrigerator.
If you like smaller portions, you can also freeze pumpkin butter in ice cube trays. This is a great option if you like pumpkin butter in oatmeal! Just drop a cube in the hot oatmeal to melt (and cool off your breakfast!)
Looking for more ways to preserve winter squashes and pumpkins? Check out my article 5 Ways to Preserve Winter Squash for more ideas.
You'll find a printable version of the recipe below. Let me know if you give it a try, and what you think!