Do you have excess zucchini from your garden? Or maybe you need a cheaper or vegetarian alternative to crab cakes. Whatever the reason give these mock zucchini crab cakes a try- you won't be disappointed!
I spent a few years of my childhood living in Maryland- where the Potomac River meets the Chesapeake Bay.
This site contains affiliate links. If you make a purchase using one of these links, I may earn a commission. Please see my disclosure page for more information about cookies collected and our privacy policy.
I have fond memories of crabbing with my family- out on a row boat pulling up crab traps or sitting on the edge of the little bridge on our road dropping bits of chicken tied to a string into the water and pulling them back up with crabs attached.
See- here's 5 year old me with our fresh caught crabs: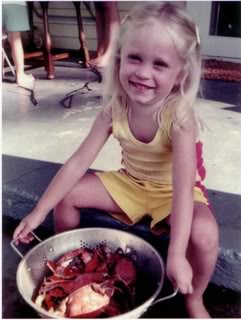 As a result have a fondness for crab cakes. Since I now live in the mountains of North Carolina and crab is not in abundance I don't eat crab cakes nearly as much as I'd like.
But what I do have an abundance of is zucchini and as luck would have it substituting zucchini for crab can make a pretty good "crab" cake.
These mock zucchini crab cakes, also known as Poor Man's Crab Cakes is a less expensive, and vegetarian, alternative to true crab cakes that are just as delicious!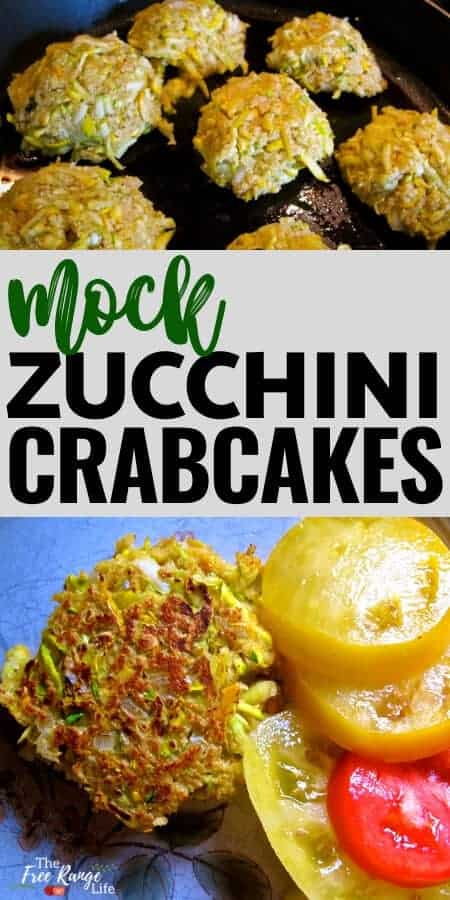 It's probably obvious where the name "Poor Man's Crab Cakes" comes from- those too poor to afford the high cost of crab, can easily make a cheap alternative by using shredded zucchini in place of the crab meat.
Either way it's a nice vegetarian option or just a great way to use up that mountain of zucchini from your garden!
Related Reading: 50 Zucchini Recipes for Your Summer Harvest
So if you've got zucchini taking over your kitchen, give these mock zucchini crab cakes a try!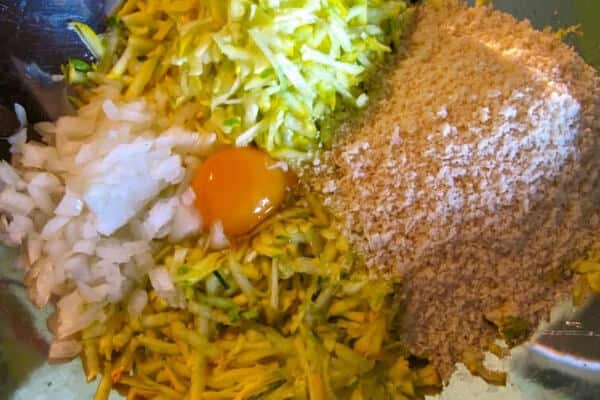 How to Make Mock Zucchini Crab Cakes!
~ 2 cups of grated zucchini/summer squash
1 cups bread crumbs (Panko is best)
1 small onion- finely chopped
2 cloves minced garlic
1 T mayonnaise
1 egg
1-3 tsp Old Bay Seasonings (to your taste)
Splash of Worcestershire Sauce (optional)
Salt and Pepper to taste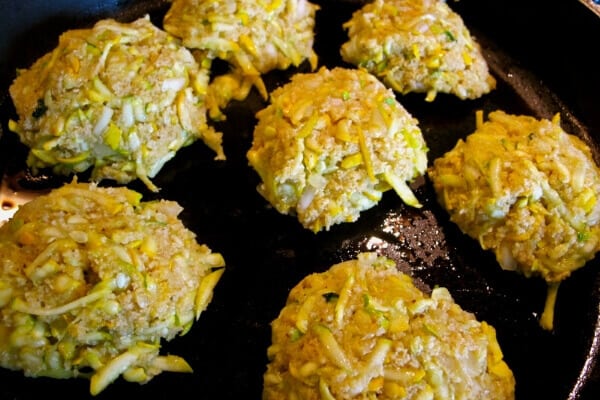 Mix all of the ingredients together and allow to sit for a few minutes. You can adjust all the amounts to suit your needs- but the end result should be a mixture that will hold together when formed into patties.
This recipe can be doubled, tripled, etc. very easily.
Scoop about 1/3 of a cup of the zucchini mixture out of the bowl and press it together to form a uniform patty. Continue making patties until all of the zucchini mixture has been used.
Heat a skillet over medium heat.Pour olive oil in your pan- you want to add enough oil to spread completely across the bottom of the pan. This helps with getting evenly cooked, crisp patties.
Place your zucchini crab cake patties in the pan and cook, flipping once, so that the patties are golden on both sides.
You can serve these as is, with homemade ketchup, or your choice of sauce or as a sandwich.
These can also be made using frozen zucchini (thawed and drained), so it's a great dish to make in the winter that uses some of your preserved summer harvest! You can find a printable version of this recipe below. Enjoy!
Don't grow your own zucchini yet? It's so easy! Check out these articles for help:
The Best Squash Companion Plants