Flour Tortillas are a staple at our house- they get eaten for breakfast, lunch and dinner. If you look at the ingredient list on the back of most store-bought tortilla packages you will see quite a long list of not-so-good things.
I have been making homemade flour tortillas for years now and they aren't as hard as you might think. And on the days that I am running short on a time and end up at the grocery store, a quick look at the package will get me right back in the homemade tortilla habit.
This site contains affiliate links. If you make a purchase using one of these links, I may earn a commission. Please see my disclosure page for more information about cookies collected and our privacy policy.
I started out with a very simple recipe, but over time I have experimented and finally landed on a favorite version. Using milk, butter and a bit of honey make these flour tortillas soft and flavorful.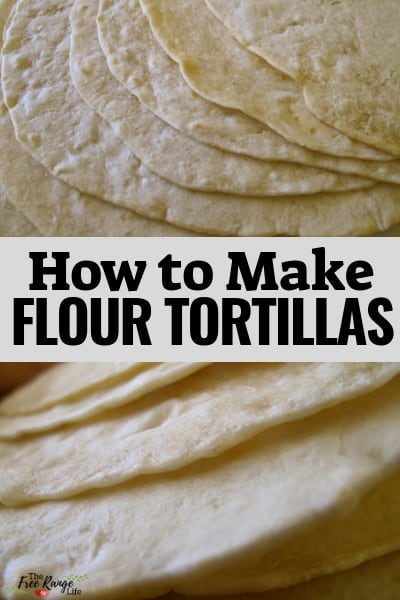 How to Make Flour Tortillas
Ingredients:
2 cups flour
1/2 tsp baking powder
dash salt
2 T butter
3/4 cup milk
1 tsp-1 T honey
*Note: If you are want to make these more economical, you can substitute water for the milk. You can also omit the honey and use oil instead of butter. Milk, butter and honey make the tortillas a bit softer, but they can be substituted if you are out of ingredients or trying to conserve things like milk and butter.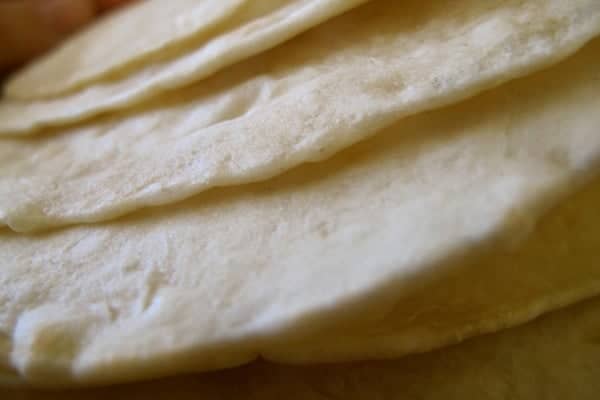 How to Make Flour Tortillas:
Combine the milk,honey and butter and heat until the butter is almost melted.
In a large mixing bowl combine the flour, baking powder and salt.
Turn on your mixer using the dough hook attachment* and gradually add the milk mixture to your dry ingredients.
Allow it to mix until the dough has come together and pulls away from the bowl. You may have to add additional liquid or flour depending on the humidity of your house.
Allow the dough to rest in a covered bowl for 20 minutes
Divide the dough into approximately 12 balls and allow to rest, covered, for 10 minutes.
Preheat a skillet on medium heat.
On a floured surface, roll** one of your balls of dough into a circle 6-8 inches in diameter, making sure to turn the dough for even rolling and to prevent sticking.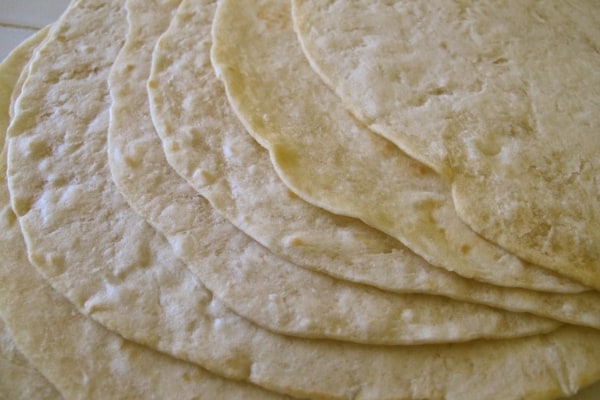 Place the rolled dough in your skillet and allow to cook about 1 minute on each side.
While the first tortilla is cooking, roll your next tortilla, and continue this way until all are rolled and cooked.
Place finished tortillas under a towel while the rest are being made.
* If you do not have an electric mixer, add the milk a little at a time, stirring with a wooden spoon after each addition. Knead with your hands for a few minutes once the dough has come together.
**You can also use a tortilla press to press the dough. Some presses do both the pressing and cooking.
This flour tortilla recipe doubles or triples well. I make triple batches often to save in the freezer.
This recipe is also adaptable to different types of flours, and if you find yourself low on milk, you can use mostly (or all) water for the liquid.
Once you get the hang of the rolling and cooking process, it goes pretty quickly and you should be able do a batch of 12 in less than 15 minutes.
A couple of years ago, I bought the CucinaPro 1443 Flatbread and Tortilla Maker
* which presses and cooks the tortillas. I would highly recommend it. I am not sure it saves me time, but it makes the process much simpler- especially when I get interrupted numerous times!
Have you ever made tortillas at home? If not, give it a try! Like most things, the homemade version is so much better than the store-bought alternative!
You May Also Like:
How to Make Sweet Potato Biscuits
You MaySave