Swiss Chard is one of the first things to be harvested from the garden in the spring. It's a lovely cool weather crop that is full of vitamin A and Vitamin C.
These Swiss Chard crepes have become one of the new favorites at our house. I especially like it because almost all of the ingredients come from the farm With the exception of the flour and spices, I can gather everything required just by walking out the back door!
This site contains affiliate links. If you make a purchase using one of these links, I may earn a commission. Please click here for more information about cookies collected and our privacy policy.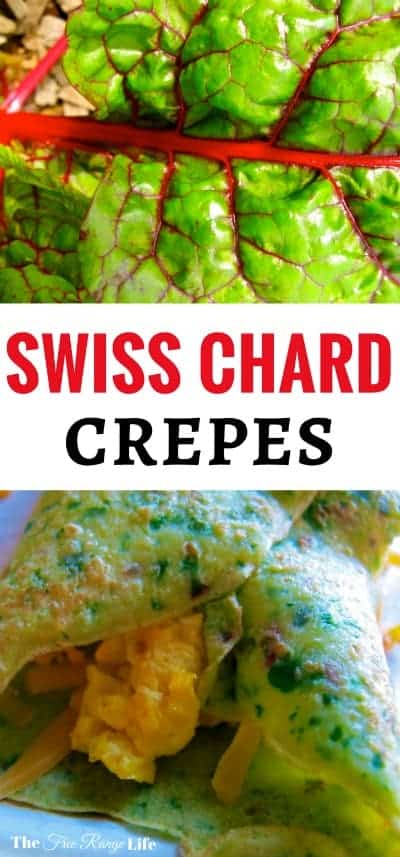 How to Make Swiss Chard Crepes:
You will need:
10 or more leaves fresh chard, with stems cut off
1 small onion
3 cloves garlic
2 cups milk
4 eggs
2 cups flour
salt and pepper to taste
Heat a skillet over medium heat.
Place all ingredients except chard in a blender or food processor. Mix until well blended. Gradually add the Swiss chard and pulse until fully incorporated.
Remove pan from heat. Pour 1/3 cup of batter into the pan, tipping from side to side in order to cover the bottom.
Place back on heat and allow to cook for one minute, or until the edges begin to curl in. Flip and cook an additional minute.
Place finished crepes in a warm oven or covered with a towel while the others cook.
Serve filled with re-fried beans, scrambled eggs or other fillings of your choice. This is a wonderful and flavorful alternative to a tortilla!
My family eats these often filled with eggs and cheese for a breakfast burrito or refried beans and salsa for a filling supper. The filling possibilities are endless, so use your imagination!
More Swiss Chard Recipes to Try
Crustless Chard and Kale Quiche
Sauteed Swiss Chard with Garlic and Lemon