Looking for a farm fresh meal for breakfast, brunch, or lunch? Try this chard quiche that is full of farm and garden fresh ingredients!
One of my main goals is to get most of our food directly from our home. So since the garden is greening, the goats are milking and the hens are laying, it is the perfect time to start trying out new recipes!
This site contains affiliate links. If you make a purchase using one of these links, I may earn a commission. Please see my disclosure page for more information about cookies collected and our privacy policy.
Today's lunch was chard quiche- and the only ingredients from a store were the salt and pepper and 3 tablespoons of flour.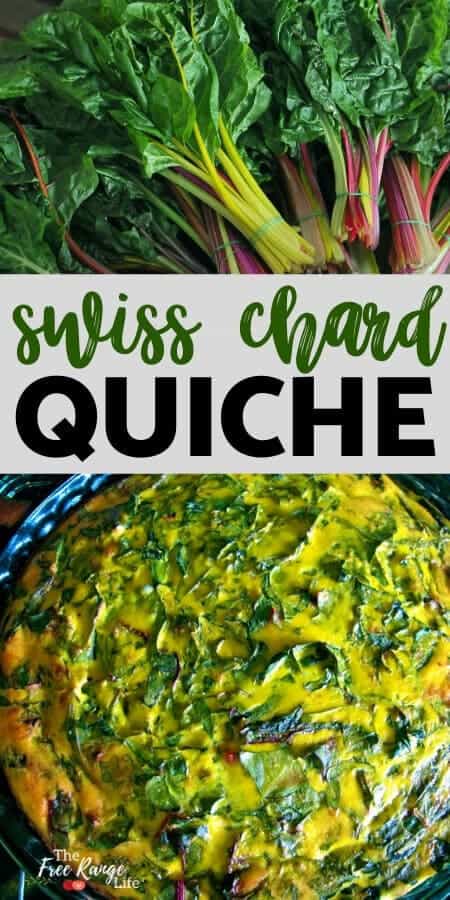 Crustless Chard Quiche:
1 cup whole milk ( I used our raw goat milk)
1 cup plain yogurt (I used my homemade goat milk yogurt)
5 eggs (Farm fresh!)
3 T flour
1 tsp salt
1/2 tsp ground black pepper
Chopped fresh herbs- I used basil, thyme and rosemary (Garden fresh)
1-3 cups chard- or kale- I used some of both, but mostly chard (garden fresh)
Then I gathered my little helper…
Preheat oven to 375.
In a small bowl, mix one egg and the 3T of flour until well combined.
Add the remaining 4 eggs and whisk until smooth.
In a larger bowl whisk together yogurt and milk.
Stir in the chopped herbs, salt and pepper.
Place the coarsely chopped greens in a greased pie pan and pour the egg/milk mixture over top.
Bake for 10 minutes at 375 and then reduce the heat to 325 for an additional 30 minutes or until the center is set.
Allow to cool for about 10 minutes before slicing.
Be sure to try out my Swiss Chard crepes too! They are great for every meal or lean How to Dehydrate Swiss Chard to preserve your harvest!