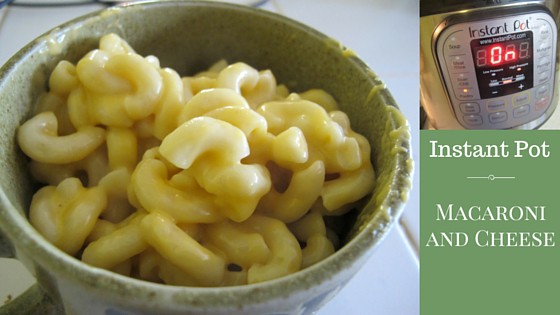 This site contains affiliate links. If you make a purchase using one of these links, I may earn a commission. Please click here for more information about cookies collected and our privacy policy.
The following recipe for Instant Pot Macaroni and Cheese was created by my 12 year old son, who loves Mac n' Cheese. He previously made a one pot stove top version, but when we purchased our new Instant Pot he quickly converted, raving that it was so much easier!
It is a very simple macaroni and cheese recipe, no standing over a hot pot stirring noodles for 10 minutes.
Just throw the pasta, water, butter and a dash of salt into the pot. Place the lid on the pot and allow it to cook for 4 minutes (that's a total of maybe 10 minutes if you include the time it takes to come to pressure). Stir in milk and cheese and it's done!

Easy Instant Pot Macaroni and Cheese:
You will need: 2 cups water 3 cups uncooked macaroni 2 T butter A dash of salt 1/2 cup milk 2 cups cheddar cheese- or a combination of your favorite cheeses
Quit printing out the same recipe over and over or searching online for that favorite you made last week. Check out my new Blank Recipe Journal! The perfect place to write down all those favorite recipes you find online. Now available from Amazon!
Here's how to make it:
Place the water, pasta, salt and butter in the bowl of your Instant pot and stir
Place the lid on your pot and hit the manual button and set for 4 minutes
Allow the pot to come to pressure, when the timer beeps do a quick release
One the pot has depressurized, hit the saute button and add the milk to the pasta.
Stir well and allow it to cook, while stirring for about 2-3 minutes or until the liquid shows signs of boiling
Stir in the cheese and mix until it is completely melted Remove the bowl from the pot to prevent burning on the bottom
Serve!
If you like this recipe, head on over to my son's blog and let him know! He's only 13 and loves being in the kitchen and has his sights set on being a pastry chef! I know he would love to hear if you enjoyed his recipe!
You can also find his One Pot Mac n' Cheese recipe if you don't have an Instant Pot.
Try out my other Instant Pot recipes: Instant Pot Chili and Instant Pot Shredded Chicken Tacos!