If you are just getting started in trying to live a more natural life- with less pharmaceuticals and more herbs- it can be pretty confusing. You might start to wonder how many little essential oil bottles or jars of herbs you will have to store in your house.
I am a minimalist. I don't go to the doctor unless I absolutely have to. I prefer to take no medication over any (even herbal). So when it comes to my "medicine cabinet" I only keep stock of about 5 things. And I feel like those 5 things are enough to cure most ailments.
This site contains affiliate links. If you make a purchase using one of these links, I may earn a commission. Please see my disclosure page for more information about cookies collected and our privacy policy.
I call these my Natural Health Essentials. I use them in almost all concoctions and remedies. So what are they?
My Top 5 Natural Health Essentials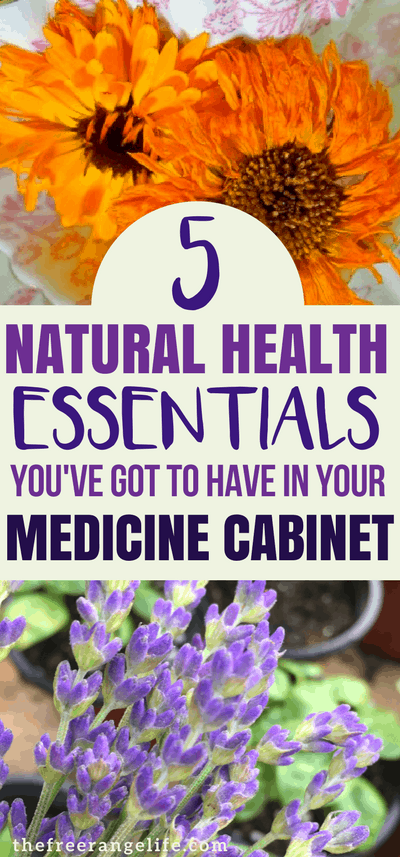 Lavender Oil
Lavender Essential Oil is often considered to be the all purpose essential oil. It is known for its antimicrobial properties which help to kill germs and prevent infection and fight fungal and bacterial conditions. Lavender is also a potent antioxidant, protecting your body from free radical, pollutants, and chemicals.
Simply put lavender is a healer. It heals the skin. The body. The mind.
I use it in my calendula salve- which acts as our antibiotic ointment. It is in all my lip balms to help with chapped lips. I've also added it to bath water, foot soaks, and warm rice bags.
Tea Tree Oil
Tea Tree Essential Oil, like lavender, has antibacterial properties making it perfect for use on wounds. It also has antiviral and anti-fungal properties- which make it a good fit for things like shingles, athlete's foot, and ringworm.
I tend to use Tea Tree as a medicine (whereas I might say I use lavender of a preventative…) I have used it in foot soaks for ingrown toenails and athletes foot. It goes in my poison ivy salve. When paired with coconut oil and lavender essential oil it is great for getting rid of yeast infections.
Calendula
Calendula is the number 1 herb I grow. It has amazing healing properties both internal and external. It also has anti-microbial and anti-inflammatory properties. Calendula is very gentle- gentle enough for most people of all ages and even pets. I tend to recommend calendula so often my family gets a bit annoyed with me.
You make calendula tea or make an infused calendula oil.
Calendula is featured in all my lip balms, my antibiotic and healing salve. I have used it to aid in the treatment of canker sores and pink eye. I stick it in soups and salads.
Calendula is super easy to grow, but you can also purchase the petals from The Bulk Herb Store, if you don't want to grow your own.
If you want to know more, check out my article: 30 Uses for Calendula
Coconut Oil
Coconut oil is one of those things that is good for your in so many ways and I use it as part of our everyday diet. But it also takes up space in our medicine cabinet. It's got a lot of anti-fungal and anti-microbial properties. I use it as my main carrier oil for essential oils- so it's in salves and lip balm along with the lavender and tea tree oils I have already mentioned. You can also infuse it with calendula.
I have used it to help treat canker sores, yeast infections, warts, and skin issues such as eczema and cuts and scrapes.
Here are a few links to get you started on all the benefits of coconut oil:
Health Benefits of Coconut Oil from Wellness Mama
42 Uses for Coconut Oil from Dr. Axe
Oregano Oil
Oregano oil is the final of my top 5 natural health essentials. This one is much more potent than the others. It is considered to be an antibiotic, antiseptic, antiviral and immune booster.
I have known people to use it to get rid of giardia and food-born illnesses such as e coli.
I personally have used it diluted with coconut oil to get rid of warts, inhaled (in boiling water or shower) for colds/draining eyes, and for infected ingrown toenails.
Make sure to dilute it and if you take it internally make sure it is a high quality, pure oil.
You can read more about oregano here => The Many Uses and Benefits of Oregano
Related Reading: How to Get Rid of Warts Naturally!
That's it. That is my medicine cabinet! I do have more herbs (usually ones I grow myself) and a few essential oils. But these 5 are the most used and they allow me to treat and heal most things.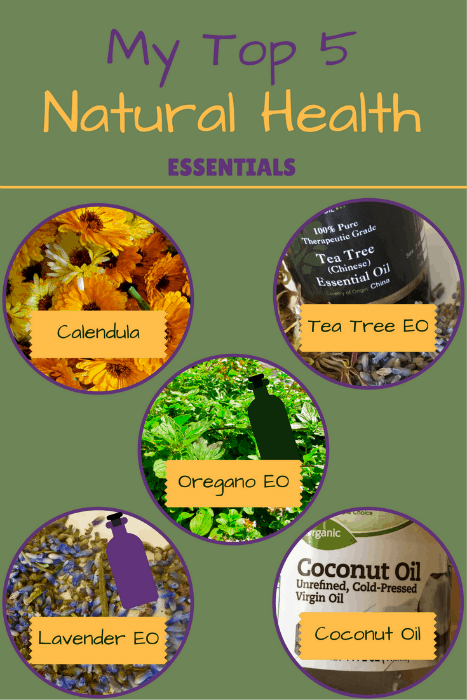 Now, let me add a bonus #6….
Your Kitchen!
I am a firm believer that food heals. In addition to eating real food in healthy portions, your kitchen pantry should be already stocked with foods that can also double as medicine.
Foods such as: Garlic. Raw honey. Apple Cider Vinegar. Turmeric. More coconut oil….
These foods (and many others) can aid in preventative health care and at the first signs of illness.
Disclaimer: I am not a doctor or health care professional. This article is based on my own research and usage. Everyone responds differently to different products, so please do your own research or ask a health care professional before making an informed decision.