Got chapped lips? Here's a lip balm recipe that uses healing calendula and lavender to soothe and protect your lips without harmful chemical or unnatural ingredients.
I am a lip balm lover. I always have a tube in my purse, in the bathroom, on my desk, etc. For years I relied on Burt's Bees or other brands for my supply- but now I make my own! It is so simple to make and best of all only contains ingredients I can pronounce!
This site contains affiliate links. If you make a purchase using one of these links, I may earn a commission. Please see my disclosure page for more information about cookies collected and our privacy policy.
I make a lot of different flavors, but one of my favorite is this Calendula Lavender Lip Balm- which is very smooth, incredibly healing, and lightly lavender scented.
Here's how to make your own!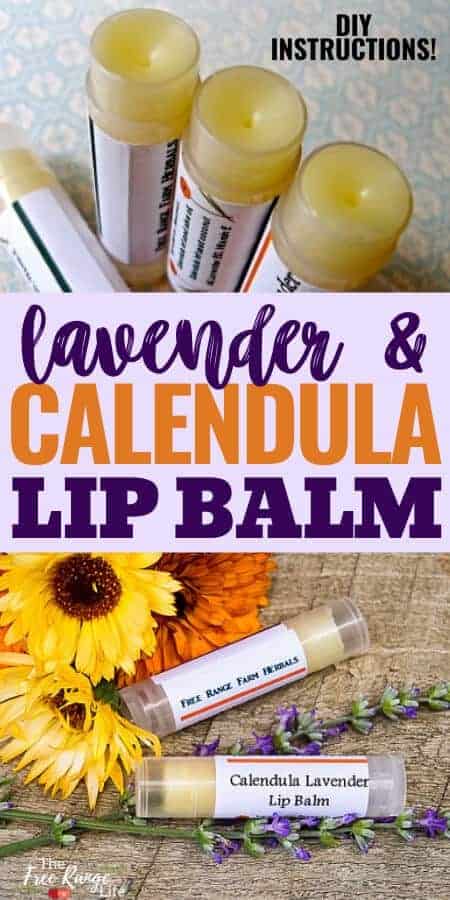 Make Your Own Calendula Lavender Lip Balm
This DIY lip balm called for 2 infused oils. Infused oils are easy to make and I recommend you keep some on hand for various uses all year round.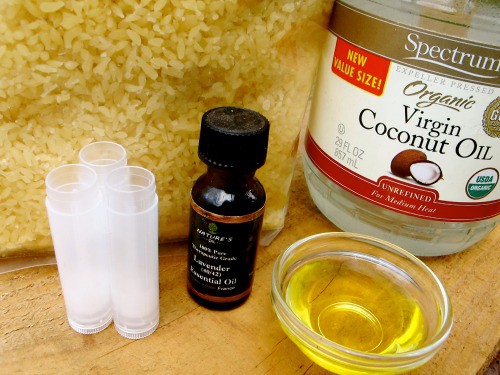 Ingredients for Calendula Lip Balm:
2 T Calendula infused coconut oil*
6 T Calendula infused olive oil*
4T Beeswax
10 drops Lavender Essential Oil
1 tsp Vitamin E Oil
Lip Balm tubes/tins
*Learn how to grow, harvest, and use calendula- including how to make infused oils- in my Calendula ebook!
In a double boiler, combine your coconut oil, olive oil and beeswax. Warm on medium-low, stirring occasionally, until the beeswax has melted completely.
Note: I don't have a double boiler, so I use a makeshift one by placing a glass bowl or measuring cup in shallow pan of water.Just be sure the glass doesn't touch the bottom of the pan directly. I usually set a canning ring under mine.

Once your wax has melted, remove from the heat and stir in your essential oil and Vitamin E.
Once it is all well mixed, start filling your tubes!
I use a glass measure with a pour spout, you can also use a pipette or anything that allows you to slowly pour a small amount with good precision.
Related Reading: How to Grow Calendula from Seed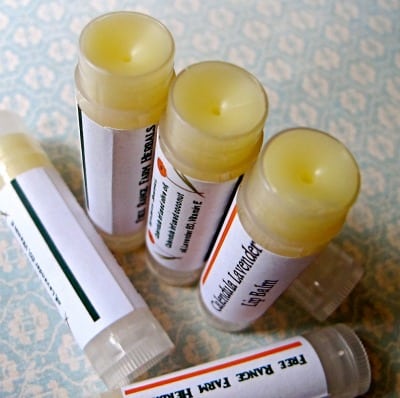 When your tubes/tins are filled, allow them to sit- uncovered and undisturbed until they are cool. I usually stick them in the fridge since our kitchen stays a nice 90* in the summer time!
Once they are cool put the lids on and they are ready to use!
This recipe makes about 25 standard sized lip balm tubes.
If you want to reduce it (or make more) just keep a 1:3:2 ratio between the coconut oil, olive oil and beeswax! You can also experiment with your favorite essential oils to change up the scent.
I use this recipe as my base for almost all of my lip balms- just exchange the lavender for other scents such as peppermint, sweet orange or lemon. I like to keep the calendula in since it has so many amazing healing properties and makes the lip balm super soothing.
You might also like to learn How to Make Poison Ivy Salve or this Healing Calendula Salve.