Are you someone who fears poison ivy? Make this poison ivy jewelweed salve to help stop the itch and clear up rashes and bites!
The warmer weather of late spring and summer means we are outside a lot of the day. It also means mosquitoes, no-see-ums, fleas, poison ivy and other itch-causing things.
This site contains affiliate links. If you make a purchase using one of these links, I may earn a commission. Please see my disclosure page for more information about cookies collected and our privacy policy.
So what do we do when our arms and legs are covered in bites or patches of poison ivy rash? We use this poison ivy- jewelweed salve!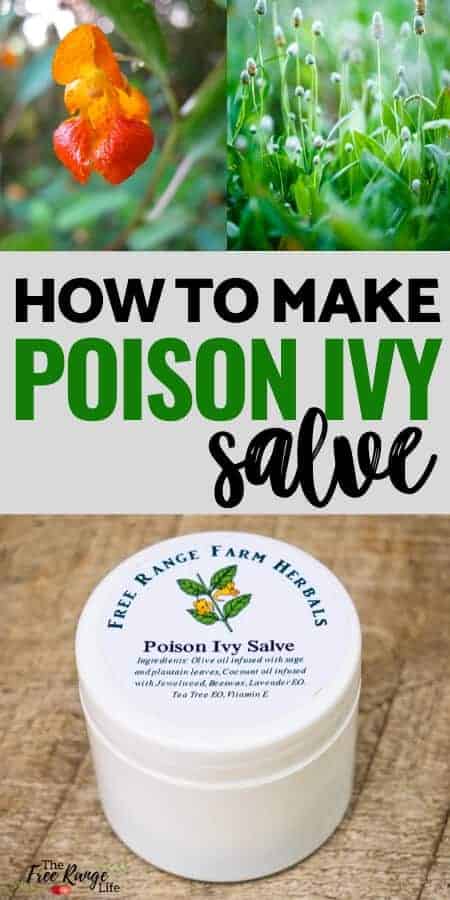 It is made with olive oil, coconut oil and beeswax- all of which is very soothing to the skin. The oils are infused with plants and herbs from nature, such as:
Jewelweed: For skin healing properties. The leaves and juice from Jewelweed have been used for years as a treatment (and preventative) for poison ivy and other rash-inducing plants. It works by counter reacting with the chemical in the offensive plant.
Plantain: For anti-inflammatory and soothing properties. Most commonly seen as a weed, this amazing little plant is great for soothing any itchy bite or sting.
Sage: For anti-inflammatory, astringent and antiseptic properties. This common culinary herb works medicinally as well.
How to Make Poison Ivy Jewelweed Salve for Itchy Rashes and Bites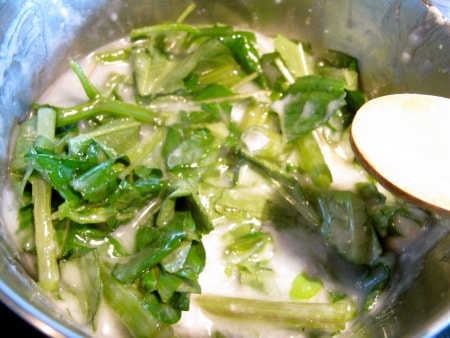 Before you begin you will need to harvest your herbs. To make this salve you will need:
Sage (I used sage from my garden)
Plantain ( wild harvested from my yard)
Jewelweed (wild-harvested from my yard)
If you can't find fresh herbs in your yard, you can find Plantain and Sage at the Bulk Herb Store, but Jewelweed is harder to find dried, as it is best used fresh so you get the fresh juices of the plant stalks.
Jewelweed often grows near poison ivy or stinging nettles. Also known as the spotted touch me not, it tends to like wetter soils and grows well near creeks and streams.
The flower looks like this: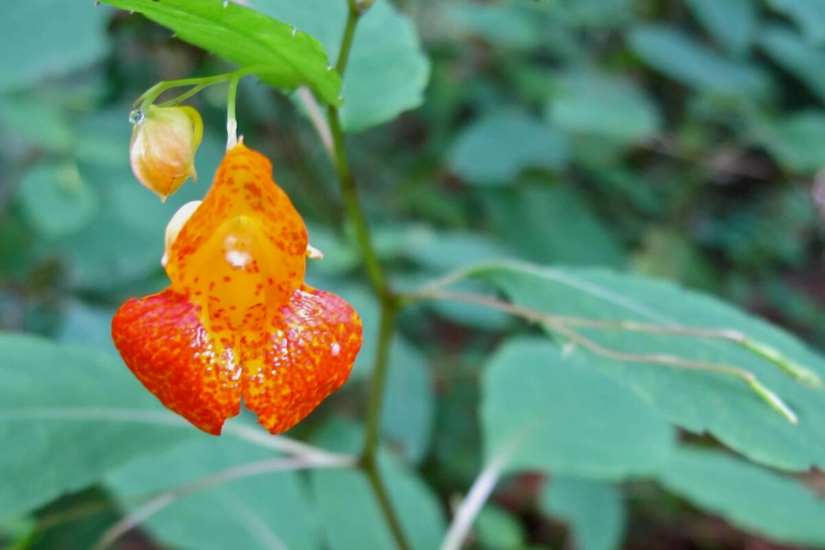 Once you have your plants, allow them to wilt overnight, or dry in the oven for a few minutes to reduce the water content. Reducing the water content helps your salve last longer.
Then you are ready to infuse your oils!
In a small saucepan, combine 1 cup of coconut oil with fresh chopped jewelweed. I used about 3 stalks- coarsely chopped.
It will wilt as it cooks so it's okay if the oil doesn't completely cover the leaves. Cook on very low heat for 2-4hours. Stirring occasionally.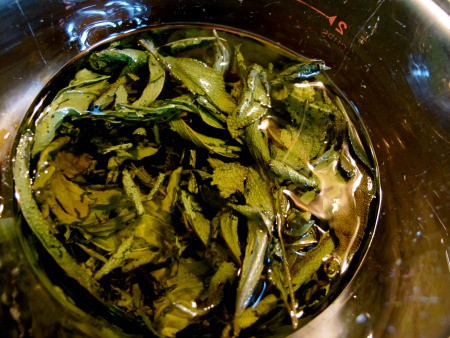 While the jewelweed is infusing, combine the plantain and sage in a small jar. Cover with 1 cup of olive oil.
Place as much plant matter as will fit, as long as it is completely covered by the oil. Place the jar in a pan of water in a warm oven (heated turned off).
Allow the herbs to infuse for about 4 hours.
After infusing, strain the plant matter out of both of the oils using a mesh strainer or cheese cloth.
Discard the plant matter and place both the coconut oil and olive oil in a double boiler (I just place it in a small sauce pan set inside a larger pot).
Add 1/2 cup of beeswax and heat until the beeswax is completely melted.
Once the beeswax is melted, you can add any essential oils you wish. I used lavender and tea tree- about 20 drops each.
Add in 2 tsp of vitamin E oil– which helps preserve the jewelweed salve for a longer shelf life.
Stir to combine the essential oils and you are ready to pour into containers.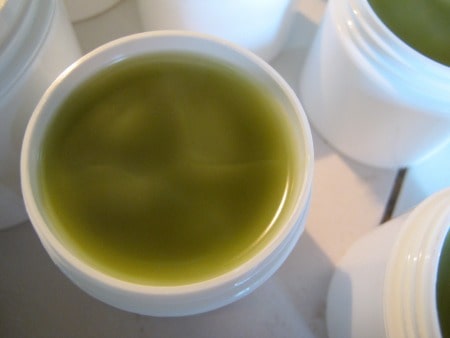 I used a combination of plastic tubs and lip balms tubes (for easier application and portability). You can pour it into any plastic, glass or tin you wish.
Allow it to sit uncovered and undisturbed until it is completely cool.
Use your jewelweed salve on poison ivy, insect bites, or other skin rashes and itches.
Related Reading: 13 Natural Remedies for Bug Bites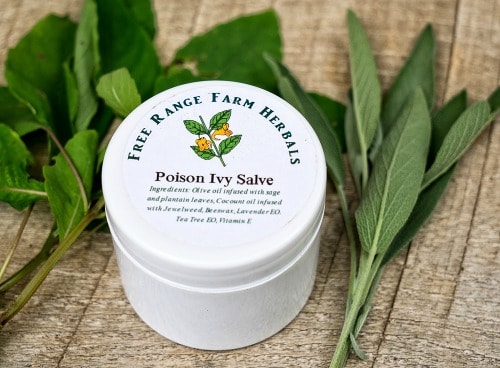 Give it a try! Let me know how it turns out!

You might also like my recipe for this Herbal Healing Salve– featuring calendula, plantain, lavender, and comfrey!
Save