I shared my list of the Best Heirloom Tomato Varieties, now I'd like to share my very favorite heirloom sweet pepper varieties. I didn't grow up liking peppers, and they are still not my favorite thing to snack on.
But I do enjoy cooking with them and adding them to salsa and sauces. Over the years I have found a few types that even I will eat fresh and my pepper-loving kids will devour like candy.
This site contains affiliate links. If you make a purchase using one of these links, I may earn a commission. Please see my disclosure page for more information about cookies collected and our privacy policy.
Here are my top 5 heirloom sweet pepper varieties- remember I live in Western NC in growing zone 7a. Most of these sweet peppers are early varieties that should do quite well in northern climates with shorter growing seasons.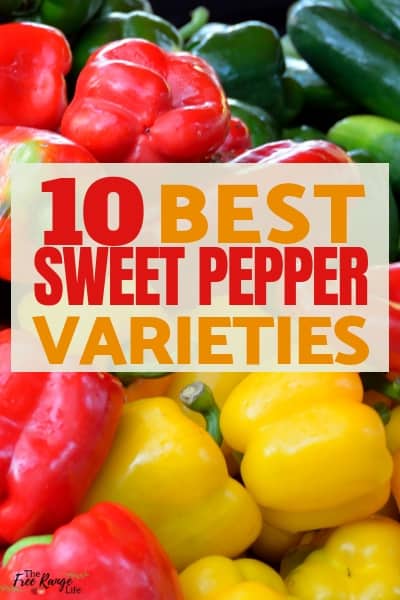 Top 5 Heirloom Sweet Pepper Varieties
1. Lipstick
Lipstick are a smaller, pimiento type pepper. They are thick, red tapers that are about 4 inches long. This one is super sweet- and so delicious.
Even I will eat this one fresh from the garden and my kids often have red-stained faces from chowing down. According to Baker Creek they will also do well in the North since they ripen early.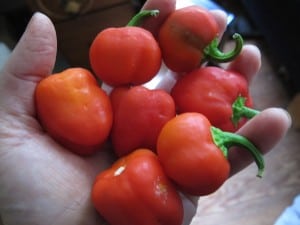 Don't forget that planning and record keeping is super important to efficient gardening. Try out my Yearly Garden Planner to keep yourself, and your garden, organized!
These are adorable tiny peppers. They are only about an inch or 2 in size and the plants are very prolific. We had tons and tons of these from just 2 plants.
They are the perfect bite sized snack and don't have a ton of seeds.
This has been my go-to roasting pepper for years. They are long, tapered peppers that are great for frying or roasting.
They taste amazing in my Ajvar. And when I say long….I mean LONG. Each pepper is around 9 inches in length!
They have a nice width and thick walls and are early to produce and keep on going all season long.

Make your homestead dreams come true! The Homestead Goal Planner will help you prioritize your life and your homestead goals and keep you on track with good planning practices. After all, goal with out a plan is just a dream!
This is a wonderful, all-purpose yellow pepper. Sweet tasting, high production and good for fresh eating or cooked. They are a block style pepper which makes them great for stuffing.
They turn from dark green to yellow when ripe- though you can harvest them green as well.
5. Red Marconi
The Red Marconi is a later pepper with long tapered peppers. They are almost as long as the Italian Reds, coming in a around 7 inches, but they are much thinner in width.
They are great for sauteing up in your favorite stir-fry. This year I am trying the Golden Marconi to add more yellow to our collection of peppers, I'll let you know if it makes the favorite list as well!
So that's is my top 5. I have a few new varieties I am adding this year including the Golden Marconi, Sweet Yellow Stuffing, Red Cheese, Ozark Giant and Orange Bell (All available through Baker Creek). What are your favorites?? I'd love to add some more to my to-try list!