I love, love, love, Mason Jars and use them everywhere. No farmhouse kitchen would be complete without a healthy dose of mason jars! So let's take a look at some fabulous Mason Jar kitchen decor ideas that you have to get in your kitchen today!

Mason Jar Kitchen Decor for the Counters
This site contains affiliate links. If you make a purchase using one of these links, I may earn a commission. Please see my disclosure page for more information about cookies collected and our privacy policy.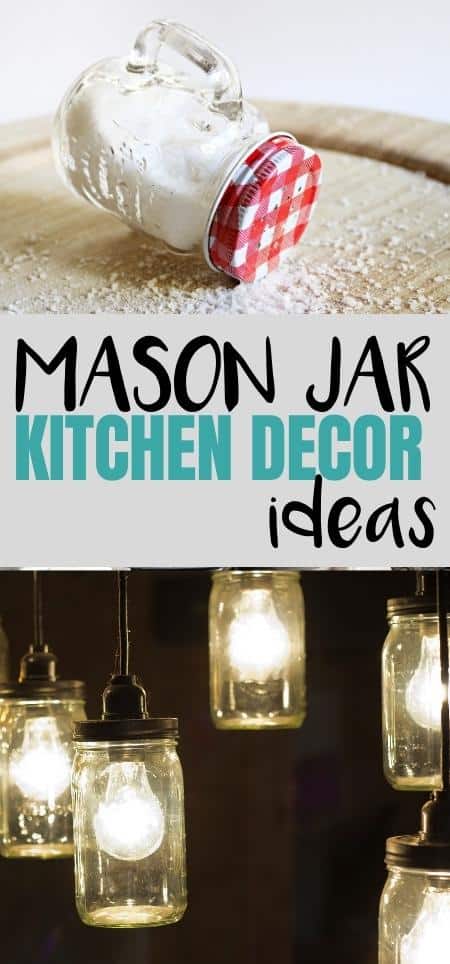 Mason Jar Kitchen Decor Ideas for Your Farmhouse Kitchen!
Mason Jar Kitchen Decor for the Counters
No farmhouse kitchen would be complete without a set of mason jar canisters! I love the ones that are painted in a distressed fashion! They are perfect for storing your coffee, sugar, or teas.
I love these mason jar salt and pepper shakers. I'd have to get a couple sets for all my other spice mixes that we use on a regular basis!
If you are more the DIY type you can learn how to make your own distressed mason jars to decorate your kitchen with and how to make your own Mason Jar Salt and Pepper Shakers!
Mason Jar Kitchen Decor for the Sink
What better than to surround yourself with mason jars while you wash the dishes!
Check out this super cute mason jar sponge holder and mason jar soap dispenser!
Then when you are done washing up dry your hands on this mason jar towel! Because Everything is Better in a Mason Jar!
Mason Jar Kitchen Decor: Lights
If you are crafty you have got to grab your mason jars and a light kit and make some rustic farmhouse mason jar lights! I have a whole post rounding up some of the best DIY Mason Jar Light Projects.
But if you aren't the DIY type- check out some of these fabulous made for your Mason Jar decor lights!
You can get anything from a single open bottomed pendant light to a multi-jar chandelier.
These are some of my favorites:
Items shown in the pictures above:
3-Light Mason Jar Ceiling Light
Wood Pendant Lighting 5-light Glass Mason Jar Ceiling Lights
Ring Mason Jar Chandelier Lighting Fixture
Handmade Industrial Chic 4-light Mason Jar Fixture
Mason Jar Chandelier Swag Light
Mason Jar Kitchen Decor Accents
Now let's get to the just-for-fun stuff. The decor that fills your walls and your spaces that pulls the whole rustic farmhouse- mason jar decor look together.
See that cute little mason jar shaped chalk board in the picture above? Wouldn't that be perfect for writing down your shopping list, taking down phone messages, or writing out the day's menu?
I love the look of the Country Mason Jar Wall Hooks– I think they'd be perfect for hanging keys or other light weight items.
These Rustic Mason Jar Scones would look perfect on either side of my kitchen window!
Finally- what could be cuter than this personalized Mason Jar Cutting Board!?!
And don't forget no mason jar kitchen could be complete with out a wide variety of jars for every possible use:
Tiny 4 oz jars for storing spices
Half pints and pints make the perfect drinking glasses
Quarts make great vases, food storage containers, and utensil holders
Half gallons are perfect for storing dry goods and farm fresh milk
And don't forget their ultimate purpose- to fill your home pantry with home canned food!