In this article: Growing radishes in the garden is great for all gardening levels. Learn how to grow radishes from seed to harvest.
After a long, cold, dark winter there is one vegetable that I am just so happy to see. Radishes.
This site contains affiliate links. If you make a purchase using one of these links, I may earn a commission. Please see my disclosure page for more information about cookies collected and our privacy policy.
They are bright and colorful and one of the earliest vegetables you can grow in your spring garden. It's like a harbinger of what's yet to come!
Radishes are a great vegetable for beginners- you literally can't go wrong with them. They are great for children- radish seeds are big enough for them to plant easily and they are just so much fun to harvest!
So if you've never grown radishes before, let me show you how.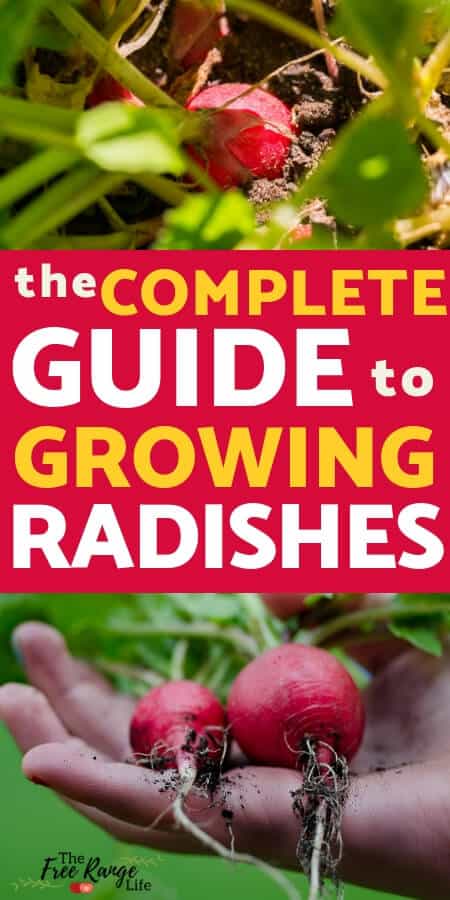 How to Grow Radishes in Your Backyard Vegetable Garden
Radishes are a root vegetable from brassica family. They are an early spring or fall vegetable that is most commonly seed as little globe shaped red or pink roots- though they can be longer and larger as well.
Like I said, radishes are so easy to grow. They are also super quick growing.
When (and How) to Plant Radishes
Radishes are a cool weather crop. Warm weather will cause them to bolt- or go to seed.
Radishes are usually directly sown into the soil 3-4 weeks before your average last frost date.
Plant your radish seeds about ½ inch deep in fertile soil. Seeds should be placed about 2 inches apart, and depending on the size of the radish you are growing you may need to thin a few as they grow.
Radishes need moisture. They won't germinate or grow well if they are allowed to dry out.
Radish Varieties to Grow
Radishes can be grown in the spring and in the fall- basically any time except the height of the summer heat. And while they all grow best in the cooler weather some radishes do grow better in the fall versus the spring.
There are 2 general classifications of radishes:
Winter radishes take longer to grow and are sowed in the fall and can kept longer in storage. Winter radishes can be kept in the ground longer without getting woody. They also tend to be larger in size.
Spring Radishes are smaller and more tender. They grow more quickly and must be harvested on time or they will get woody and pithy.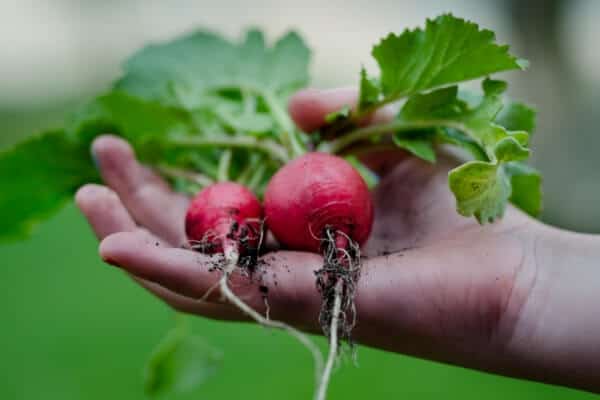 Below are some of my favorite radish varieties to grow- I have indicated which are spring varieties and which are winter varieties.
Early Scarlet Globe: This is a classic; round and red. It has some tolerance to warm weather. 23 days to harvest. This is a spring radish.
Cherry Belle: Round, small, red roots. 22 days to harvest. This is a spring radish.
French Breakfast: Oblong roots. Red tops with white on the bottom. Has more heat tolerance than the smaller radishes. 23 days to harvest. This is a spring radish.
White Icicle: Long, slim and tapered roots. Has more heat tolerance than small globe radishes. 25 days to harvest. White icicles can help keeps pests away when companion planted around other crops. This is a spring radish.
Black Spanish: Tough black skin, white flesh. 55 days to harvest. This is a winter radish.
Watermelon: The roots on these radishes are white-green on the outside and bright pink-red on the inside. Ball shaped roots are about 4-inches wide. 55 days to harvest. This is a winter radish.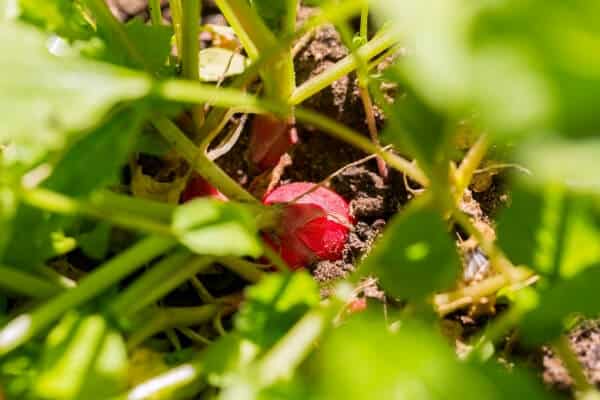 Tips for Growing the Best Radishes
Radishes need sun, so when choosing a place to plant your radish seeds choose a spot that gets at least 6 hours of sun (preferably more) per day.
Radishes grow well in many conditions, but save your super rich soil that has been filled with lots of organic material for the heavy feeders. If your soil is too rich, you will get more leaves than you do roots.
Watering can be the difference between a green thumb and a brown thumb. I personally believe that incorrect watering is the cause of many plant problems and deaths!
As with many crops, radishes do not like to be dry. If you allow the soil to dry out you are likely to end up with pithy and pungent radishes. If the soil is too wet, the roots are likely to split and rot. So it's a balance- not too dry, not too wet, but just right.
Correct spacing is important for proper root formation. If the radishes are crowded the roots are more likely to be misshapen. Small globe varieties can be 2-3 inches apart, larger globe will need more room.
To have a steady supply of radishes all season long you can make successive plantings. Sow a new patch of seeds every week in the spring until the temperatures are nearing 70. Then in the late summer or fall you can begin sowing the seeds again.
Radishes don't have too many pests. Root maggots can infest the roots of your radishes. Mixing wood ash into your soil may help control them. You can also sprinkle diatomaceous earth around the stems to keep the adult flies away.
Flea beetles are another pest that can bother young radishes. Diatomaceous earth is very effective at controlling flea beetles.
And finally, radishes don't like weeds. They are a small crop and if they are competing for sun and soil space with weeds they will not grow as well and their roots will not form correctly.
Radishes can also be planted in containers. Read more here: 21 Crops You Can Grow in Containers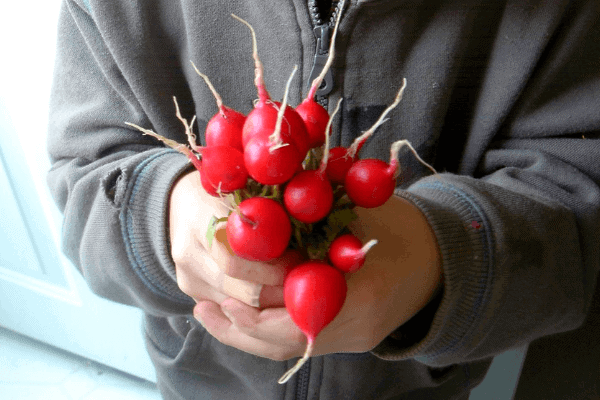 When to Harvest Radishes
One of the best things about growing radishes are how quickly they are ready to harvest. It's almost like instant gratification! Many varieties are ready to harvest in as little as 22 days. 4-5 weeks is a good estimate for when you will be harvesting most types of radishes.
Radishes should be checked often because they mature quickly.
To check if your radishes are ready to harvest, push back the soil a little and look for the root. If it is full grown- usually only a couple of inches in diameter- it's ready to pull. Don't leave radishes in the ground too long or they will get woody.
If they are ready simply pull the radishes straight out of the ground. Shake off the excess soil.
Cut off the leaves and either wash and eat or store in a container in the fridge for up to a couple of weeks.
Different varieties mature at different rates, so check your seed packets for the days-to-maturity length and use that as a guideline for checking your radishes for harvesting.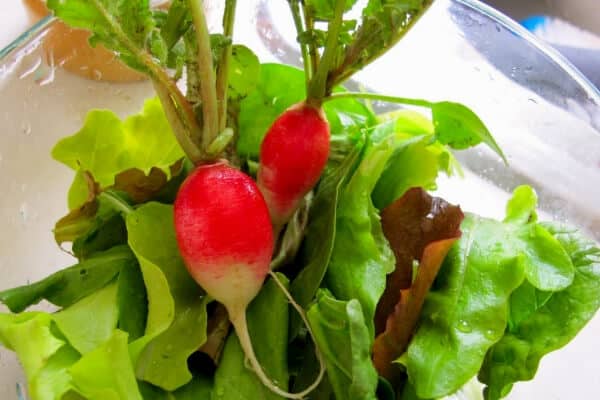 What can you do with your radish harvest?
Eat them fresh from the garden!

Mix them in a salad with your homegrown lettuce
Check Out More Growing Guides: