Interested in learning more about dairy goat breeds? Here are the top 5 dairy goats for small homesteads!
Next to chickens, goats are the most common animal added to a small or urban homestead. They have the ability to provide you with milk, meat and fiber depending on the breed you choose. Today I am going to focus on the 5 best dairy goat breeds for the small farm or homestead.
This site contains affiliate links. If you make a purchase using one of these links, I may earn a commission. Please see my disclosure page for more information about cookies collected and our privacy policy.
When choosing your breed you need to consider a few basic questions:
How much space do you have to devote to your goats?
How much milk would you like to get each day?
What are you planning on doing with the milk?
Once you know the answers to these questions you can begin looking at the different breeds and decide which would fit best with your needs.
Related Reading: The Quickstart Guide to Raising Goats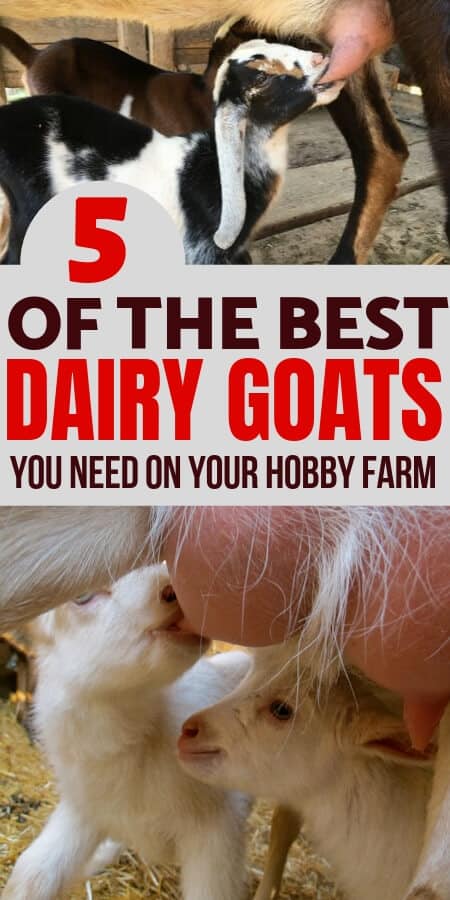 5 Best Dairy Goat Breeds for the Small Farm
Nigerian Dwarf Goat
The Nigerian Dwarf goat is a miniature breed, but also one that produces a lot of milk for it's size. It is one of the top choices for those homesteading on a small piece of land.
They can give from 1-2 quarts a day- which is pretty impressive considering they are only around 18 inches in height!
Their milk is also one of the highest in butterfat which ranges anywhere from 6-10%. That means their milk is very creamy and makes delicious cheese, ice cream and yogurt. Because of their size they make great goats for kids as well as those in a more urban setting.

Nubian
Nubians are a medium to large sized goat with adorable cute floppy ears. They come in a wide variety of colors and patterns and have the ability to produce up to 2 gallons a day, with the average being closer to 1 gallon a day. They have one of the highest butterfat contents of the standard dairy breeds at 4-5%.
If you need a lot of milk and plan on making cheeses or soaps, Nubians can't be beat. They can be a bit loud at times, I call ours crybabies, so they might not be right for those who live in subdivisions and make sure you neighbors won't mind before bringing them home. Nubians are my personal favorites!
Alpine
Alpines originated in France and are a steady, dependable goat. They are medium to large in size and are very consistent milk producers with one of the longest lactation cycles.
They average over 1 gallon of milk per day with a 3.5% butterfat content.
Alpines come in almost any color imaginable and are adaptable to almost any climate. The average size of an Alpine doe is 135 lbs.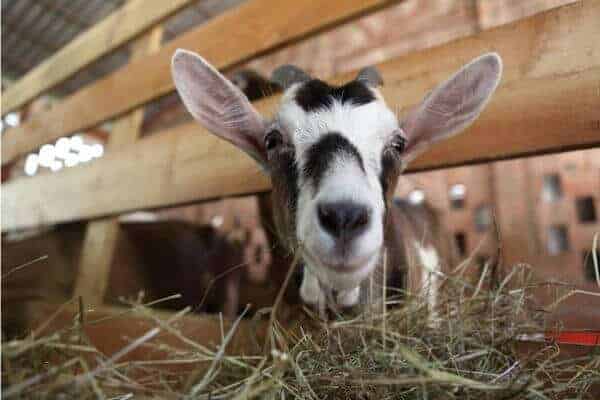 LaMancha
LaManchas are a medium sized goat that are most easily recognized by their lack of ears! They have a friendly, easy going temperament and are very hardy animals. LaManchas are good producers with an average of 1-2 gallons per day, with a butterfat content around 4%.
Personally, I like floppy ears, but I have heard many LaMancha owners say that if you give them a chance you'll fall in love and be hooked on them forever!

Saanen
Saanens are the largest of the dairy breeds and are often considered the Holstein of the dairy goats. Saanens can produce a lot of milk- up to 3 gallons per day- with an average production closer to 1.5 gallons per day. While they do produce a lot of milk the butterfat content is low compared to some of the other breeds.
At 2-3% butterfat the Saanen's milk will not seem as creamy and will not produce as rich of cheese or yogurt. These girls are big, so you will need to make sure you have enough of a pasture for them to stretch their legs in and a fence strong enough to withstand a larger weight.
Saanens are usually all white in color and very mild mannered. This is the breed we started with- on a 1 acre lot in a subdivision!
Related Reading: 5 Overlooked Goat Breeds
Each breed is a little bit different. If you are very short on space or only need enough milk for fresh drinking, Nigerians might be the best way to go. If you need a large quantity of milk to make yogurt, buttermilk, cheese, soap or just to feed a large family you will probably want to go with one of the standard breeds.
If you want to know more about some of the other goat breeds, such as those for fiber and meat, check out my Complete Guide to Goat Breeds.
If you are new to goats, I recommend reading up as much as you can before you purchase. You can find a lot of articles here on The Free Range Life that will teach you about goat care and be sure to check out The Busy Homesteader's Goat Management Binder– it's full of to-do lists, checklists, record keeping sheets, and resource pages that will get your new goat herd off to a great start!