If you have a large garden, starting seeds at home can start to look like an expensive venture. Just think of all those peat pots, peat pellets or seed flats you will have to buy! But it doesn't have to be that way.
Every year I start over 100 tomato seeds, plus pepper, eggplant, herbs, brassicas, etc. All totaled I probably have close to 500 seedlings inside during the later winter and early spring, and I don't buy a single pot for them!
This site contains affiliate links. If you make a purchase using one of these links, I may earn a commission. Please click here for more information about cookies collected and our privacy policy.
Gather your seeds, mix up your soil, and extend your imagination and get planting. Here's a list of 20 items you can repurpose for your seed-starting adventures! Click the links to see how other gardeners used the ideas!
20 Frugal Seed Starting Containers
Recycled Food and Drink Containers
Think of all those containers that come through your house from the grocery store on the way to the recycling. All it takes is a little cleaning out and you are all set to start your seeds. Here are just a few of the food and drink containers you can use for seed starting!
yogurt cups– and anything else in a tub!
wooden boxes from clementine oranges
cut off 2-liter or water bottles
salad containers– if they have lids you have an instant mini-greenhouse!
baby food jars
K-cups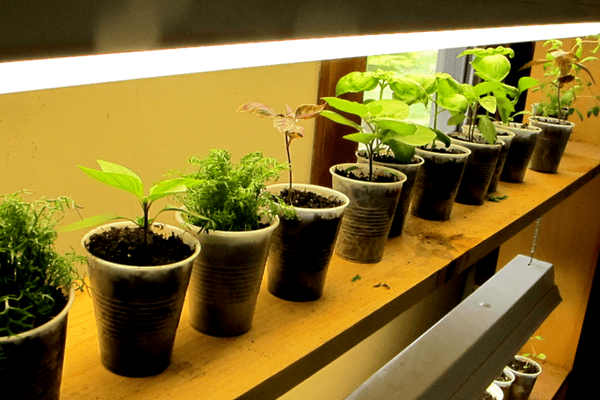 Recycled Household Items
Household items that are past their prime are also an easy way to collect seed starting containers. Here are just a few of the items you can use.
muffin tray– or other old cake pans
canning jars of all sizes
Recycled All the Way
Tired of throwing out the toilet paper rolls? Keep some of your recyclables for your gardening efforts!
reused nursery flats, pots and trays- just ask your local nursery for unused or check freecycle
cardboard boxes- simply fill and plant!
take out containers and cups
Reuse the Food
Food shells and peels make excellent containers for seeds because they are compostable themselves. You can plant them in the ground with the seedling and it will help to give a boost of nutrients!
scooped out avocado shells
So, skip the expensive peat pots and pellets and raid your recycling bin instead! Spend the money you save on more seeds instead!
Check out these other seed starting tips:
5 Tips for Starting Seeds Indoors