Peas are one of the most anticipated of all our garden crops. Maybe because they are one of the first things to be harvested after a long winter or maybe because a pea eaten fresh from the garden is one of the tastiest things you can eat.  But for whatever reason, I think peas are a must in any garden.
There are a few different types to choose from: snow peas are eaten in their pods, snap peas can be eaten in the pod when immature or shelled as the peas grow bigger and garden/shell peas are shelled before eating. We usually grow either garden peas or sugar snap peas and usually shell them before eating.
This site contains affiliate links. If you make a purchase using one of these links, I may earn a commission. Please click here for more information about cookies collected and our privacy policy.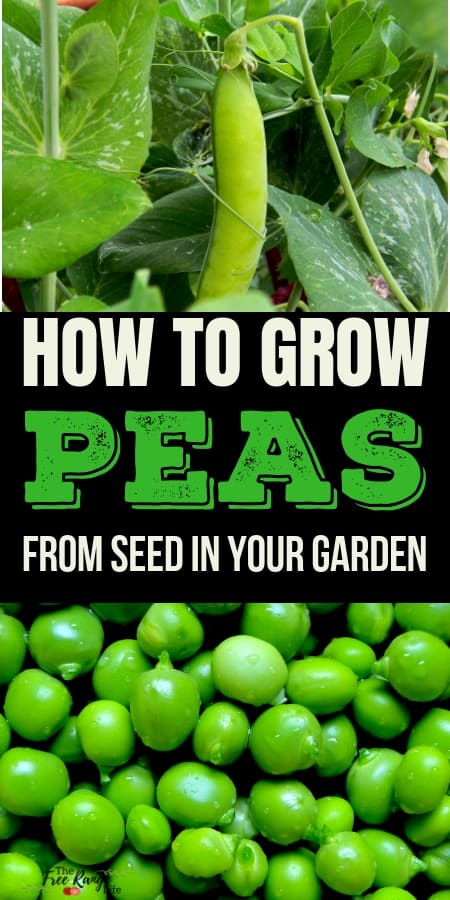 Peas are a cool weather crop and are planted fairly early in the spring. When we lived in East TN, I shot for a February 15th planting date. Here in WNC, I have moved it up to early March. The plants themselves can handle frost and even some snow cover.
Plan your best garden ever with my Yearly Garden Planner. It has planning pages, records sheets and more to help you start seeds, keep track of  pests and disease, and keep track of everything garden related.
How to Grow Peas in Your Own Garden:
I like to sprout the pea seeds before I plant them. I do this because depending on the current conditions of the soil- too dry, cool, hot, etc- the seeds can be a little temperamental when it comes to germinating and I don't like holes in my pea rows. I want as many plants as I can get in there!
What I do is simply put a couple of inches of soil in a container- usually left over Clementine Orange boxes- water it well and press the peas into the soil about an inch apart. You can keep them inside in a sunny spot or outside, if you don't have chickens that will gobble them up. Just be sure to keep them moist.
They should sprout fairly quickly and be ready to go in the ground in a couple weeks. (I have also left them like this way too long and they still transplanted fine, it was just more of a tangled mess to take apart before planting).
Related Reading: 5 Tips for Starting Seeds Indoors
Peas need something to grow up as most will grow pretty tall. Some varieties will tell you they don't require staking, but even those will do better with some support both for the health of the plant and ease of picking.
I have used many, many things over the years as support. I have made bamboo teepees wrapped with twine, wire fencing on t-posts, purchased pea fence, left over deer/bird netting hung over posts and one year the boys collected a bunch of long sticks to stab into the ground in various places.
My favorite would be the wire fencing. It is the easiest to pick from and the pea plants could grow much taller, which means you can fit more plants in a smaller space.
Related Reading: How to Grow Vertically in Your Garden
Make your homestead dreams come true! The Homestead Goal Planner will help you prioritize your life and your homestead goals and keep you on track with good planning practices. After all, goal with out a plan is just a dream!
Around the last frost date you should start to see blossoms popping up on your plants. They start off slow but then come in fast. We usually go from picking one or 2 a night to picking basket fulls in a matter of a week. You will know they are ready to pick when you can start to feel the individual peas inside the pods.
Don't wait too long to pick them, as the smaller ones also tend to be the sweetest. All of us tend to snack on peas straight from the garden and we hardly ever cook them. In fact, almost every meal in the month of May and early June will feature a handful of pea pods on the plate.
Shelling isn't a big deal and is something the kids actually like to help out with. We usually just sit on the floor with a basket of peas, a compost bucket and a bowl for the shelled peas and get to work! If you find you have too many to eat fresh, they do freeze well and you will be able to enjoy your homegrow peas in the winter as well.
Once the temperatures hit the 70s the blooms will start to dwindle. And around here, by mid June the pea season is over, just in time for tomatoes and squash to start rolling in. If you haven't grow garden peas before, I highly recommend it.
And even if you, or your children, don't like peas, I bet the taste of a fresh from the garden pea, with it's crunchy sweetness might change your mind!
Save