Selenium is an essential trace nutrient that is present in the soil. In goats, this mineral is responsible for brain and thyroid health, muscle development and reproductive health.
Because this nutrient is available in the soil, goats kept in smaller pastures and fed mostly hay are at a higher risk for selenium deficiency.
This site contains affiliate links. If you make a purchase using one of these links, I may earn a commission. Please see my disclosure page for more information about cookies collected and our privacy policy.

How to Identify Selenium Deficiency in Goats
The first step to identifying a deficiency is to see if your soil is deficient in selenium. You can find a map to see your general soil amounts here: Selenium Map.
You can also contact your local extension agent and ask about selenium levels. Soil levels under .5 ppm are considered deficient.
Selenium Deficiency in Goat Kids
Selenium deficiency in kids is most commonly seen as white muscle disease. The muscles in their legs are too weak to support their weight and they end up unable to walk or walking on their ankles. Other symptoms of selenium deficient kids are:
Being too weak to suckle
Coughing/aspirating milk
weak immune system and development of pneumonia due to weak lungs
The main thing to remember is, that if you have a kid born who is weak and unable to stand- especially if their ankles are bending back- then you are dealing with selenium/vitamin E deficiency and they need treatment immediately and help eating until they are strong enough to stand on their own.
Selenium Deficiency in Adult Goats
Selenium deficiency in adult goats is most commonly seen in reproductive problems. This means that they:
Have poor conception rates
Experience abortions, stillbirths, and miscarriages
Retained placentas
Deliver weak, selenium deficient kids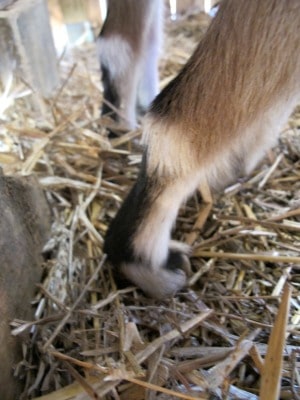 How to Treat Selenium Deficiency in Goats
As part of your normal feeding schedule, you should always have loose minerals available to your goats. This will help in prevention of a lot of deficiency. If you live in a selenium deficient area you will need to supplement selenium throughout the year to keep your goats at a good level of this nutrient.
If you live in a selenium deficient area, you should keep a bottle of BoSe on hand to treat deficient goats. We give ours a shot of BoSe at the beginning of every breeding season, to help with conception, pregnancy and delivery of healthy kids. We also use this product to treat any kids born deficient and they are usually back on their feet within a day. BoSe is available by prescription only, so talk to your vet.
Our area is severely deficient, so we also dose our herd orally with a Selenium/Vitamin E gel every 3-4 months as well. I keep track of this in my goat management binder so that I don't forget to give them their supplements.
The tricky part comes with dosing correctly. Goats need selenium in the amount of .2 ppm. The toxic level of selenium is 3 ppm. Unfortunately, selenium toxicity often has many of the same symptoms of deficiency. States with high selenium levels in their soil need to be careful dosing their goats with selenium-containing products.
Use the following doses on Selenium deficient goats:
Bose:
2.5 cc per 100 lbs for adults
.5 cc for standard sized kids
.25 cc for miniature kids
BoSe is injected subcutaneously
Selenium/ Vitamin E Gel:
4 mL for adults
2 mL for kids
Follow the directions on the tube of the product you have, as some differences may exist.
Treatment of kids quickly is important- don't assume that their legs just need straightening after being in utero. Waiting to treat them can cause their mother to reject them, poor growth, and not being able to nurse when they need to. Check out my Busy Homesteader's Goat Management Binder for information on how to efficiently care for your goats- so that things like selenium deficiency won't creep up on you!