I love to recycle and reuse on our homestead. It not only saves us money but also reduces waste in the world.
A few years back, when my husband was working at our local farm store, he brought home dozen or so big plastic barrels. I had been collecting ideas for projects and was intrigued with the idea of reusing these big barrels for our needs.
This site contains affiliate links. If you make a purchase using one of these links, I may earn a commission. Please see my disclosure page for more information about cookies collected and our privacy policy.
Many recycled barrels are used for chemicals and such, so you want to wash them very, very thoroughly with soapy water until the water runs clean. And if you are using the barrels for any thing that might come in contact with food or water, be sure to only choose food safe barrels since it's hard to get rid of all the chemical residues even after washing.
Below are 11 different ways you can use recycled plastic barrels on the homestead. Many of these are currently in use on our property- and some, I just think look pretty cool!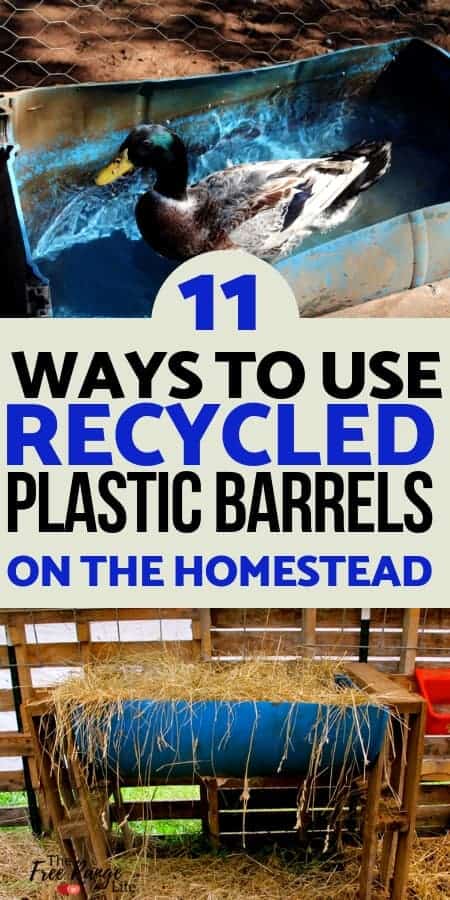 11 Ways to Use Recycled Plastic Barrels for Your Homestead Needs
Recycled Barrel Kid Warmers
Do you have goats? Recycled plastic barrels are perfect for making little huts to keep kids warm in cool weather.
I have seen these made with the top cut out and a heat lamp hung above to keep the kids even warmer in frigid climates, but if you do this, be sure to be very very careful since this could be a very dangerous fire hazard.
Simply cut a small "door" out at the bottom (depending on terrain, you may want to cut the whole bottom off too). Fill with straw bedding and set it in a corner of your barn. This gives kids a small, safe place to get away from the rest of the herd and the small enclosure keeps them warm and draft free.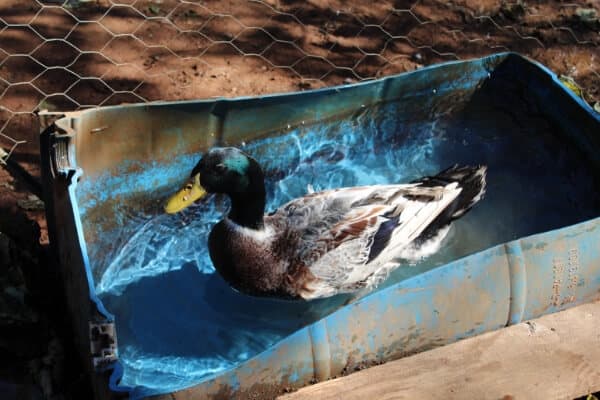 Recycled Barrel "Ponds" for Ducks
We love our backyard ducks, and while ducks don't NEED to swim, they sure to enjoy it.
We don't have a pond our property, so we created a small swimming pool for our ducks simply by cutting a plastic barrel in half!
Set it in a flat area and give them a step up (we use a recycled wooden pallet) so that they can climb up and in. They love it!
Recycled Barrel Rain Barrel
Rain barrels were one of the first recycled barrel projects I ever saw on Pinterest.
Just a lovely row of garden beds, each with their own barrel at the end.
You can cut an area in the top for water to flow in through- set up a gutter to drain into the barrel. Then add a spigot fitting to the bottom so you can attach a hose and use the water as needed.
Again, be sure to use a food safe barrel if you will be using this water for the garden or livestock.
Recycled Barrel Composter
Have you ever seen one of those barrel compost turners? Stick the compost in the barrel and give it a spin every day? Why not make your own?
Just create a stand so that you barrel is free standing and has the ability to spin around- either vertically or horizontally. Cut a little door, so you have a place to insert your compost, drill some air and drainage holes….
And that's about it! You have an easy way to mix your own organic compost from your garden!
Here's a step by step article on how to do it: How to Build a Tumbling Composter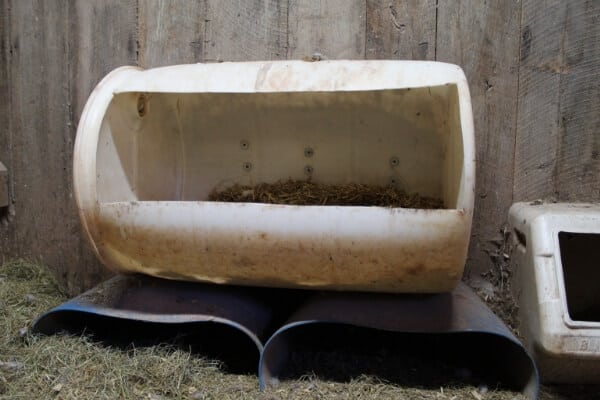 Recycled Barrel Nest Box
We have a lot of chickens, which means we need lots of nesting space!
Nest boxes are a great way to give your chickens some extra room and nest boxes. We just cut a large opening in our barrel and screwed the barrel to the wall of our chicken coop.
Layer some straw or bedding on the bottom and let the chickens do their job!
Recycled Barrel Garden Planter
Recycled plastic barrels can also make a great container for planting. And the possibilities are almost endless here!
You can cut off just the top and create a large container to grow a LOT of potatoes.
You can cut lots of smaller holes on the sides and create a strawberry tower.
You can cut the barrels on their sides and create your own "raised" beds by just filling with soil and planting.
Remember to use a food safe barrels.
Small Dog House from a Recycled Barrel
Got a small dog? Make a cute and warm, outside dog house for them using a recycled plastic barrel!
Cut the end off of one side, and build a frame around it to keep it from rolling away with your dog in it ;)
Fill it with a straw, cedar shavings, a blanket or pillow and they have a cozy shelter to hang out in outside.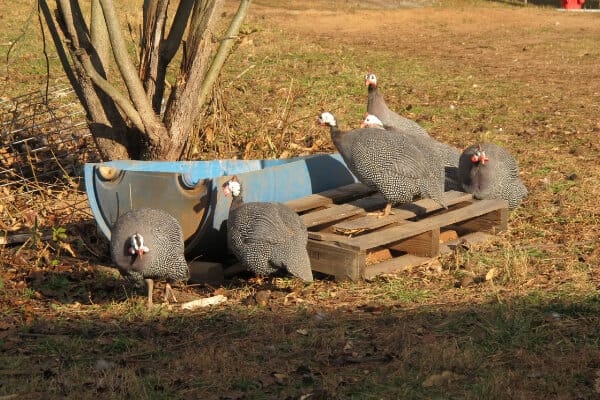 Recycled Barrel Livestock Waterer
When you have livestock, you have water troughs. We have all sorts of waterers dotting out yard, from big 50-100 gallon tubs, small automatic waterers, 3 gallon buckets– and a barrel water trough.
Just like the pond, we simply cut a barrel in half and set it in a level location and filled with water.
Again, we used a wooden pallet to give the smaller birds a step up to reach it better.
Recycled Barrel Aquaponics Set Up
Just doing a simple search on Pinterest for recycled barrel aquaponics will give you a whole host of ideas on how to set up a aquaponics growing system of your own.
Usually there is a combination of half barrels for growing and fuller barrels for fish tanks and filtering.
You can see a nice set up in this picture here: Barrel Aquaponics
Recycled Barrel Food storage
Do you have a root cellar or a storage area for your winter storage for things like potatoes, apples, carrots, or onions.
You can create a frame to stack 2-3 with a large window cut out of the front. (Similar to the look of the large nest box up above). Then place it in your cellar and fill with your produce to eat throughout the winter.
Remember to use a food safe barrel!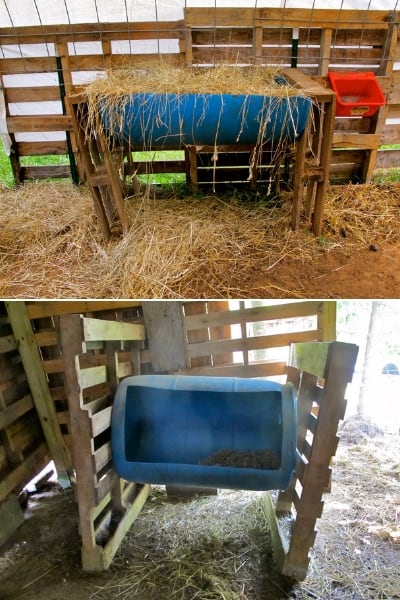 Recycled Barrel Hay Feeder
The final recycled barrel project is to make a hay feeder. We we first brought out goats home, we also purchased a hay feeder to hang on the barn wall- and it was expensive!
As our livestock has grown, we have added many more feeders to keep the hay off the ground- all made using pallets and recycled plastic barrels.
They are super quick and easy to put together and work really well for feeding goats, alpacas, donkeys, and a cow!
Do you love to reuse on your homestead? Check out the following:
How to Make a Pallet Barn
6 Super Easy Pallet Projects for the Homestead
How to Make a Quick and Inexpensive Pallet Shelter
6 Easy Pallet Projects for Your Goat Yard