The kitchen is one of the busiest paces in my home. And I don't know about you but the pantry is often in disarray as we cook 3 meals per day from scratch at home.
When looking at pantry storage ideas I see a theme- they are not geared toward a real food kitchen. These ideas make an organized pantry full of cereal boxes, snack packs, and kool aid packets.
This site contains affiliate links. If you make a purchase using one of these links, I may earn a commission. Please see my disclosure page for more information about cookies collected and our privacy policy.
Where are the glass jars? The bulk dry goods? The fresh produce??
Whether your pantry is large or small these pantry storage ideas will help you get organized and make your pantry as beautiful as the ingredients it contains!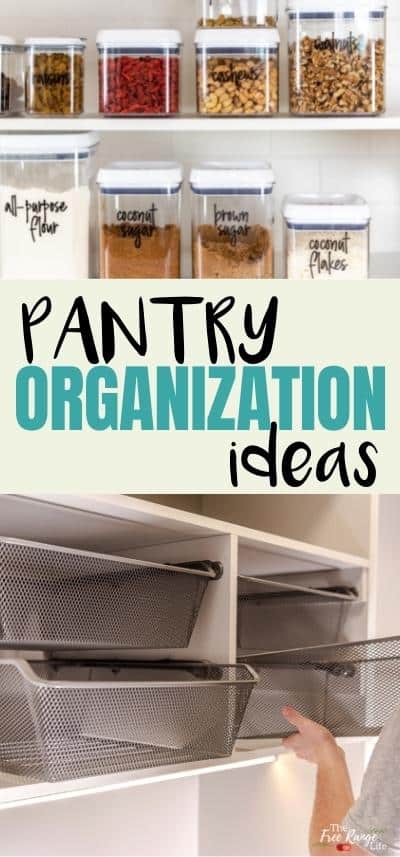 Pantry Storage Ideas to Organize the Real Food Kitchen
Shelves are a must in any pantry, but the real food pantry requires room for lots of bulk dry good and home canned produce. Which means the shelf dimensions need to be able to accommodate 1 gallon, half gallon and other sized glass jars and containers.
I absolutely love this shelving for mason jars. It is so much better than my currently home-canned pantry in which the shelves are buckling under the weight of all the jars!
Imagine all the space saved by storing your jars using this system instead of on the shelves? Here's how you can find this mason jar pantry storage system.
Of course if you already have a pantry and existing shelf it might make more sense to store jars in another way.
Like these bins made for mason jars:
These bins are perfect for storing all sizes of jars and can fit right on your pantry shelves. No more loose jars getting knocked off! I think these would be great for keeping better inventory of what canned items I had left in the pantry.
Get more information on these Mason Jar Storage Bins to organize your pantry!
Pantry Storage Ideas for Fresh Produce
When the growing season is in full swing by counters, pantry, table- well basically my whole kitchen gets taken over by produce. Our old farmhouse doesn't have a great pantry- but when we finally get around to building one I know that produce storage will be a top priority.
I love the wire baskets and containers that let the produce breathe and the stackable baskets that allow me to store more food in less space. Like these:
First is the Wall Mounted Hanging Fruit Basket. Perfect for fruit (or abundant tomatoes!) There are even little chalk board labels on the front! These would look great in any farmhouse pantry!
Then there's the 3 Tier Wall Mounted Produce Bin which gives you tons of space for produce and wall mounting lets you save precious space on your pantry shelves.
And finally the Stackable Home Pantry Bin– you can stack however many can fit on your shelves and the wire baskets let the produce breathe so it's great for freshly dug potatoes or onions.
Related Reading: Farm House Kitchen Decor Featuring Mason Jars!
Pantry Storage Ideas for Small Items
Now even though the real food kitchen might not have tons of little packets or packaged goods- you still need some pantry organization for small things like spices, tea, yeast, oils, vinegars and more.
This mounted spice rack can be hung on a wall or on the back of a door to store small pantry items easily and accessibly.
Perfect for small jars that might otherwise get lost in the bigger shelves of your pantry.
Baskets are another way to organize items together in your pantry. They can be used for small items or for produce.
And finally- jars. I love the look of shelves lined with large jars filled with dry goods! It's one of the most beautiful things to look at!
Gallon sized jars are great for storing all sorts of things. You can get them with air tight screw on lids or with gaskets and clamps to keep foods fresher longer.
These are 2 of my favorite:
#1 Italian glass with rubber gasket and clamps- 1 gallon. Get the details.
#2 1 Gallon widemouth jar with airtight lid. Get the details.
Pantry Storage Ideas for Inspiration
Now check out these amazing pantries for inspiration on how to set up your own!
I absolutely LOVE the open shelf and huge jars featured in this post. Read how she made DIY Kitchen Jar Shelves
And the labeled wooden crates in this pantry makeover are just beautiful!
This handmade open shelf pantry is lovely all around- like I said filled jars are just so beautiful!
How do you organize your pantry? I would love to see some of your pantry organization ideas!