In this Post: Making a living from your homestead can be challenging! Learn how we make money online from our homestead- enough for a full time income!
We have lived this homesteading life for quite awhile.
This site contains affiliate links. If you make a purchase using one of these links, I may earn a commission. Please see my disclosure page for more information about cookies collected and our privacy policy.
From the containers of herbs and veggies on the back deck of a rented townhouse.
To the backyard garden, chickens, and goats on just over an acre in a subdivision.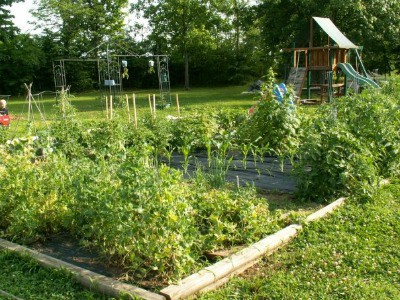 To our current nearly 10 acre farm- with a lot more gardens and livestock.
Through all that we've always had a dream of being self-sufficient. We dreamed of making enough money from our homestead to not only cover expenses but also allow my husband to quit his current job and be at home with us and running the farm together.
Over the years we've dabbled in quite a few areas and earned money in a variety of different ways.
We've sold eggs from chickens, ducks, and quail- both for eating and for hatching. We've sold goat kids. We've sold produce. I've sold lip balms and salves and feather earrings. We had a space at a local tailgate market. And many, many more.
Through the years of farm sales a front runner emerged that was surprising.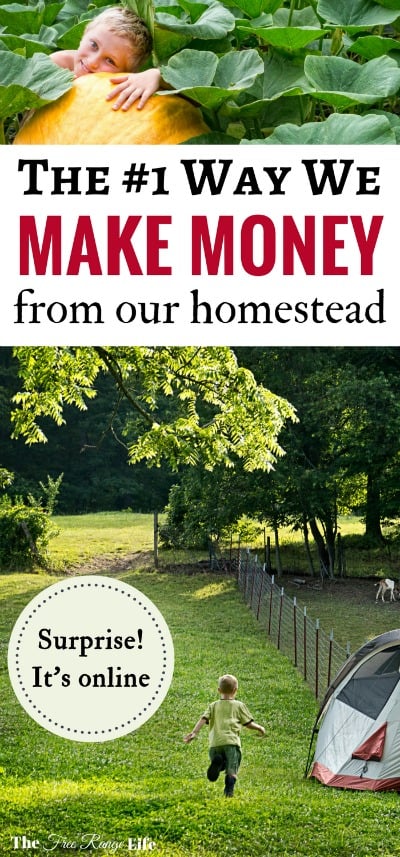 What was it? You are reading it.
This site, The Free Range Life, which is my section of the world wide web where I try and teach people about the life we live and how they can do it too, makes more money for our farm than the actual farming does! And with less expenses too! And I am not talking change- I am talking a nearly full time income- almost enough to allow my husband to quit his job kind of income.
That's the beauty of the internet. If I were to teach on-site classes about homesteading. I would have a lot of expenses. I could only reach local people and only teach a limited number of people at one time. But online, expenses are low and I can teach the whole world about raising goats or gardening and make a difference for that many more people!
I see a ton of posts asking how to make money from your homestead. Hey, I even have one myself on 100+ Ways to Make Money as a Homesteader from Home. But to make that money you need to diversify. You can't put all of your eggs in one basket- you have to have multiple income streams and online income streams are often overlooked.
How to Make Money Online from your Homestead (or any other topic!)
If you love to write and teach others- blogging might be just the thing for you. And you don't only have to write about homesteading! You can teach about whatever it is that you are passionate about- parenting, gardening, fashion, art, photography, sewing, ANYTHING!
I have been a blogger for years and years because I love to write and share with others. But blogging professionally is a bit different. You have to see it as a business and treat it as such. And while all you really NEED to get started is a passion, a domain name, and a hosting service. I do have a couple of guides to recommend that can help you get off to a great start:
First book is written by fellow a homestead blogger. So if homesteading is your passion and you want to write about farming, preserving, raising livestock, etc. You can be sure that these tips will work in the homesteading niche. Of course they will work in just about every niche….but it's always helpful to see how those in your area have grown!
Make Money Blogging- at Any Level which was written by a fellow homestead blogger, Victoria, from A Modern Homestead. This book will show you that you don't have to have huge traffic to make money blogging and she'll share how to leverage the pageviews you DO have to start earning as soon as possible.
And finally, if you are somewhat confused on how to actually get started blogging Blog By Number– which is a step by step course on staring a blog. It will help you get started-even if you have NO clue where to begin. (Suzi also has a number of free courses on blogging- so be sure to check those out too!)
Each of these resources will make sure you are off to a great start and are on your way to making a profit that much sooner! Blogging is one of the cheapest ways to start a business and work from home! There's hardly any risk and so much to gain!
If you decide to start a blog, or maybe you already have one that you'd like to grow into a profitable business, leave a comment- I'd love to check it out! If you have specific questions or want some help feel free to drop me an email at thefreerangelife @ gmail. com