The sight of flowers blooming after a long, cold, brown winter just makes me happy. From my window right now I can see pink azaleas, red quince blossoms, the white of the Bradford pear and a wall of yellow from the forsythia hedge.
All that color! How can you not be happy! But before those blossoms fall and give way to the green leaves that follow behind, why not use them? If you have forsythia at home you can make this simple forsythia jelly- which is sweet and lightly floral- and a beautiful yellow color!
This site contains affiliate links. If you make a purchase using one of these links, I may earn a commission. Please click here for more information about cookies collected and our privacy policy.
How to Make Forsythia Jelly
Step 1: Forsythia Tea
To make the forsythia tea you will need:
8-10 cups of forsythia blossoms
4-5 cups boiling water
Place the blossoms in a large jar. I use our half gallon mason jars. You can also split the blossoms into 2 quart sized jars. Pour the boiling water over the blossoms and allow to cool. Steep the flowers overnight in the refrigerator.
Then using a coffee filter or cheese cloth, strain out the petals.
Want to preserve MORE food this year? Get my Food Preservation Planner to help you plan your family's food needs and save time by helping you preserve more efficiently!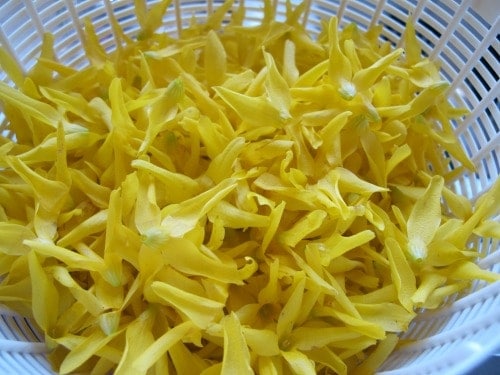 Step 2: Forsythia Jelly
To make forsythia jelly you will need:
4 cups of forsythia tea (if you don't have enough, just add water to make this amount)
3-5 T Lemon juice
4 1/2 cups sugar
1 packet pectin (I find that liquid pectin gels better, but powdered works too)
Place the forsythia tea, lemon juice and pectin in a large pot and bring to a rolling boil, stirring often.
Add in the sugar and bring back to a rolling boil. Boil for 1-2 minutes stirring constantly.
Remove from the heat and fill your jars to a 1/4 inch head space. Wipe the rims with a damp cloth and cap with canning lids.
This jelly can be canned in a boiling water canner for 10 minutes to seal. You should get 6-7 half-pints from this recipe.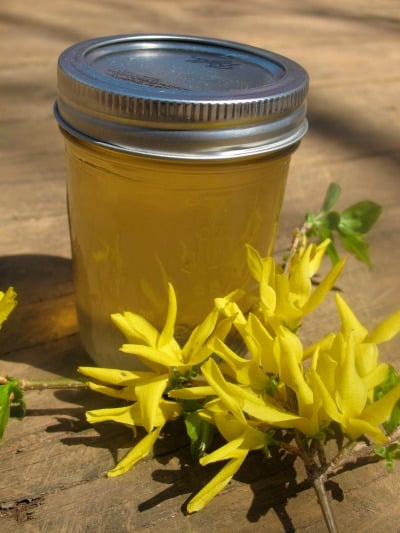 And that's all there is to it! This is incredibly fun for kids to help you with too. We have made all sorts of floral jellies- honeysuckle, red bud, violet- my kids loving collecting the blossoms and helping to stir the pot.
Plus they get to enter their jars in the fair each year- and what is more unique than Forsythia Jelly!
Save