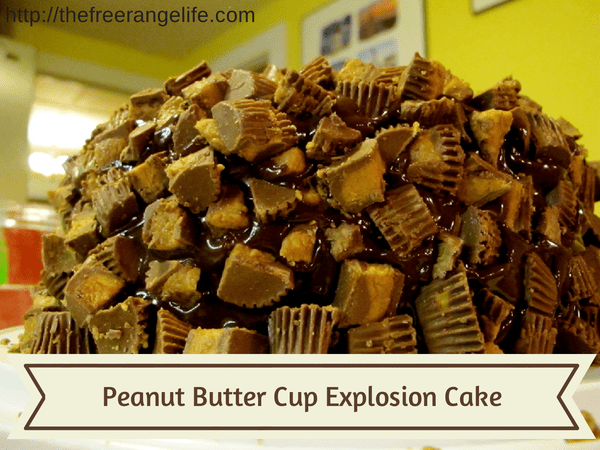 Today I am interrupting my regularly scheduled posts on gardening, homesteading and healthy recipes to bring you a recipe for a ridiculously rich, full of sugar and junk cake! My first 3 kids- all boys- have birthdays within 5 days of each other in August. My 2nd born son is a chocoholic. He loves anything chocolate and he inherited my love for the peanut butter and chocolate combo. He is known for requesting cakes that put your senses into overload and send you straight into a sugar coma. And this year was no different. So without further ado I give you the Peanut Butter Cup Explosion Cake!
This site contains affiliate links. If you make a purchase using one of these links, I may earn a commission. Please see my disclosure page for more information about cookies collected and our privacy policy.
Peanut Butter Explosion Cake
Here is what you will need:
For the Cake:
1 3/4 cup flour
3/4 cup cocoa
1 3/4 cup sugar
1 1/2 tsp baking powder
1 tsp baking soda
1/2 tsp salt
2 large eggs
1 cup buttermilk
1/4 cup melted butter
3/4 cup hot water
~1 cup chopped peanut butter cups
For the Icing:
1 cup butter (2 sticks)- softened
1 cup peanut butter
~3-4 cups powdered sugar
1/2 cup heavy cream
dash salt
More chopped peanut butter cups
For the Topping:
1 cup heavy cream
1 cup semisweet chocolate chips
1/2 cup peanut butter
Chopped peanut butter cups- TONS of them!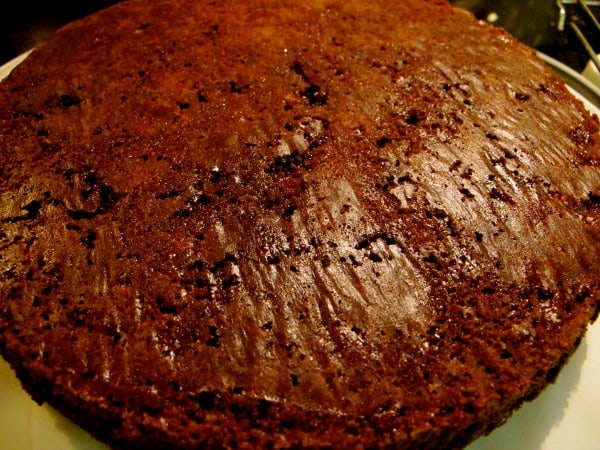 To make the cake layers you will want to mix all the dry ingredients- flour, cocoa, sugar, baking powder, baking soda, and salt. Whisk until well mixed. Add in all of the wet ingredients except for the hot water- eggs, buttermilk, and melted butter. Whisk until everything is well mixed together. Stir in the hot water. Pour your batter into 2 greased 9-in round pans and sprinkle the tops with about 1/2 cup of chopped peanut butter cups each. Place the pans in an oven preheated to 350. Bake for about 30 minutes or until a knife inserted in the center comes out clean.
Allow the layers to cool in the pans for about 15 minutes before turning them out onto a rack or tray to cool completely.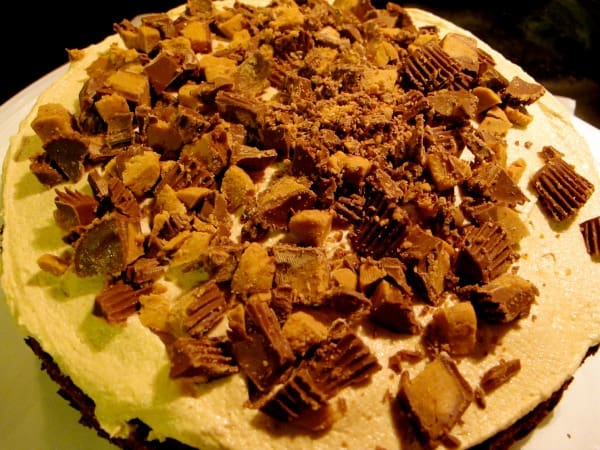 When the layers are completely cool you are ready to start icing the cake. In a large mixing bowl, place the softened butter and the peanut butter. Beat for about 1 minute on medium speed. Add in your sugar (3-4 cups total, depending on how sweet and thick you want your frosting), salt, and the heavy cream. Turn your mixer on to high and allow to beat for about 2 minutes. Spread the frosting on the top of one of the cake layers and top with a good amount of chopped peanut butter cups!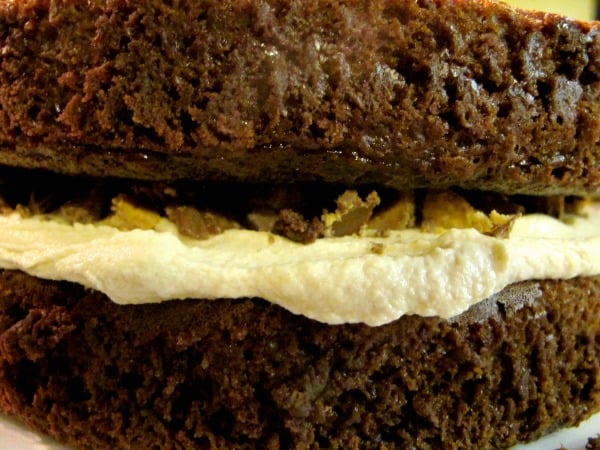 Top with the second layer and frost the entire cake with your peanut butter icing. Don't worry about making it really smooth or getting crumbs on the outside- it will be completely covered in ganache and peanut butter cups so any imperfections will be covered!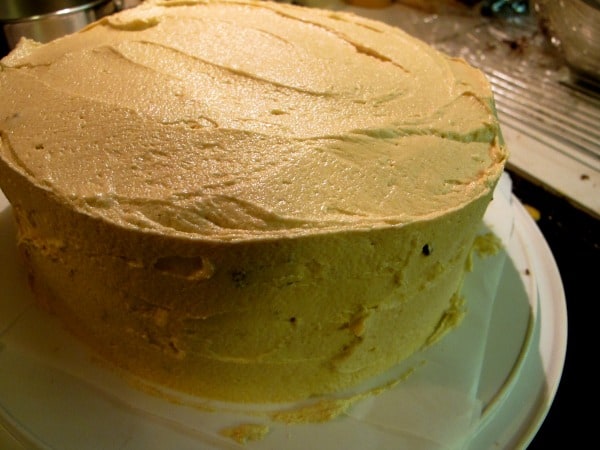 Once your cake is completely frosted, stick it in the refrigerator to chill before adding the ganache on top. We have a very warm and humid house (no A/C) so I allowed it to chill for about an hour before starting the ganache. To make the ganache, place 1 cup of heavy cream in a small saucepan and heat it on high until it is scalded- just before boiling.
Remove the pan from the heat and pour in 1 cup of chocolate chips. Allow the chocolate to sit in the cream for about 2 minutes to allow them to melt. Whisk the melting chocolate and cream until it is very smooth. Add in 1/2 cup of peanut butter and whisk again until smooth.
Allow the ganache to sit for a few minutes. If you allow it to cool a bit, it will be easier to pour over the cake and help it set up to hold the weight of the peanut butter cups.
Pour the ganache over the entire cake.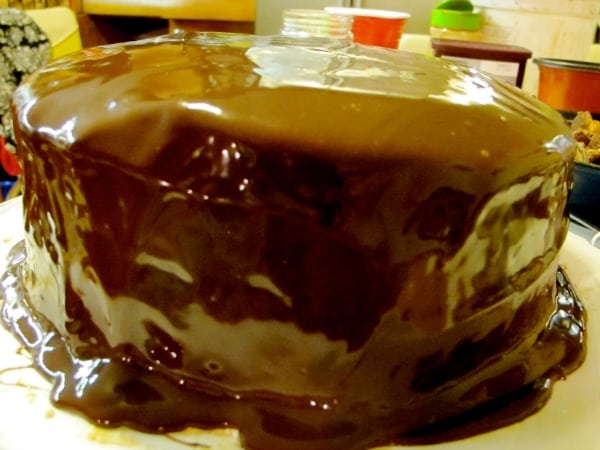 This step is easiest done by pouring into the center of the cake and gently pushing it over the sides. Using a knife or icing spatula to gently spread it over the sides slowly to cover the entire surface. I like to place strips of parchment paper or foil around the edges to keep my serving platter clean. Just pull them off after the cake is fully decorated and the ganache is set.
Now it's time for the candy. I used 2 large bags for the entire cake. I was really wishing mini peanut butter cups came already unwrapped!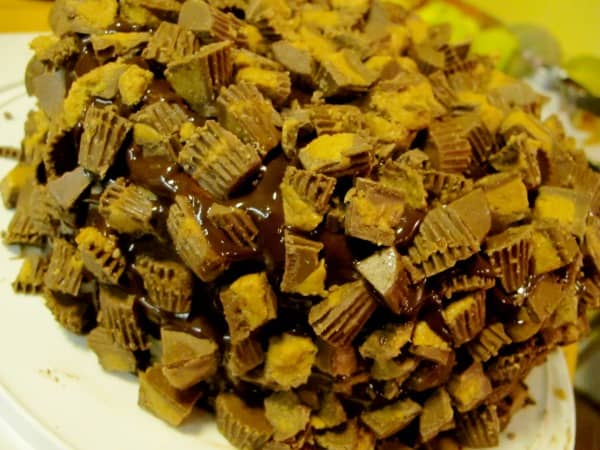 With 2 bowls of chopped peanut butter cups, this step takes longer than you might expect. The top is easy, but the sides take some time to get all those peanut butter cups on and in place.
You might have to press some in so that the peanut butter icing underneath helps to hold them on. Once it's all covered in candy, stick it back in the fridge to completely solidify the ganache and prevent the candy from sliding off.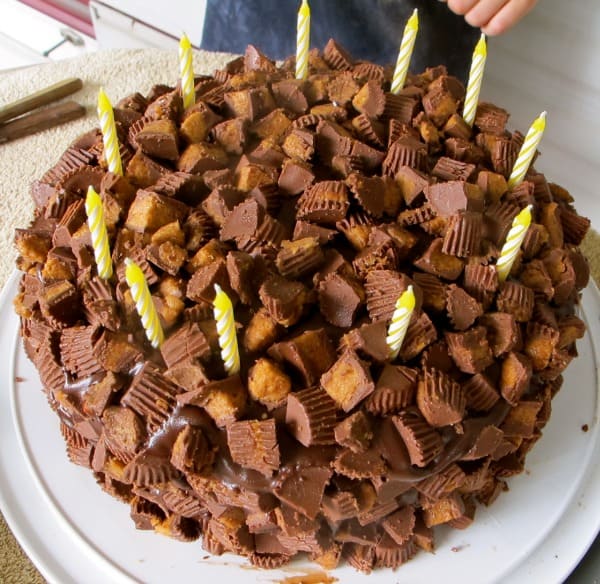 And it's done! I will warn you that this cake is not for the weak! And when it comes time to serve- cut the pieces SMALL! But if you love the peanut butter and chocolate combo it is so, so good.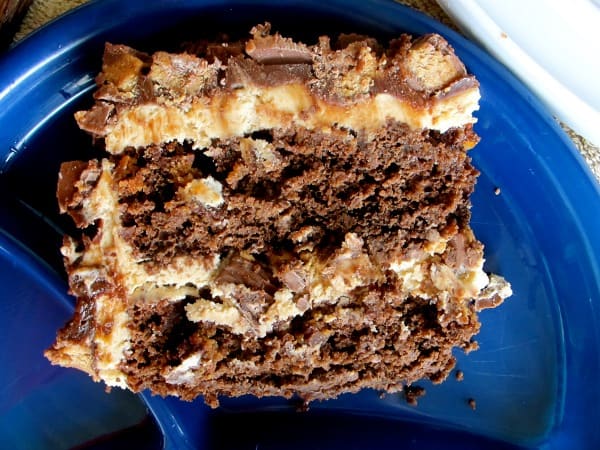 Cut, serve, and share! Then go and take a nap while you digest all that sugar!
Save
Save