When it comes to gifts for our kids, we follow the old rhyme of:
This site contains affiliate links. If you make a purchase using one of these links, I may earn a commission. Please see my disclosure page for more information about cookies collected and our privacy policy.
Something You Want
Something You Need
Something to Wear
Something to Read
Following that right there has greatly reduced the amount of clutter coming into our home during the holidays. We also only stuff stockings with foodstuff- including lots of fresh fruit.
The holiday clutter problem comes mostly from external gifts. And when you have 6 kids, it can add up fast!
So what can you do? When your kids' lists are full of the latest and greatest new things and you know in the aftermath you will be stressed with the amount of new clutter in your home? Here's a list of consumable or clutter-free gift ideas for your kids.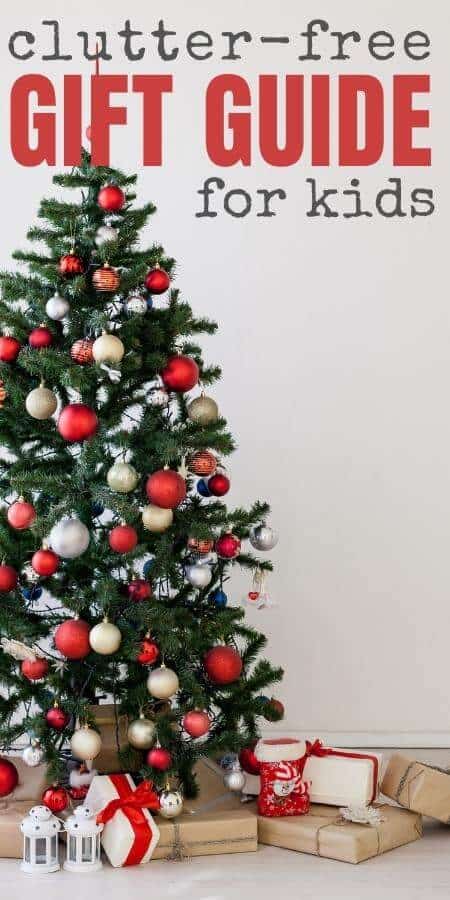 The Clutter Free Gift Guide for Kids
Gifts that Keep on Giving:
Memberships to zoos, aquariums, or museums make great gifts for the kids- and for the whole family.
The gift of a family membership will allow you to visit these places all year long AND they often comes with perks such as reciprocal agreements with other zoos or science centers throughout the country that you can get into either for free or greatly discounted.
Gifts that Get them Outside and Moving:
Outside toys are some of my favorite gifts. They get the kids out in the fresh air and get them moving. Things like bikes, scooters, swings, trampolines. All these will last for years, provide hours and hours of entertainment, and they won't clutter up your home.
Some of our favorites have been:
The Web Riderz swing. It's a huge, 3ft, round swing that you can hang via a strap on any tree. It can hold up to like 600 lbs so multiple kids- and even you- can enjoy it at the same time.
The Flying Turtle is a fun throwback toy that reminds me of my childhood and is fun for all ages.
Razor Scooters have always been popular with my kids
The Huffy Green Machine is a fun alternative to the old Big Wheel bikes that I used to love.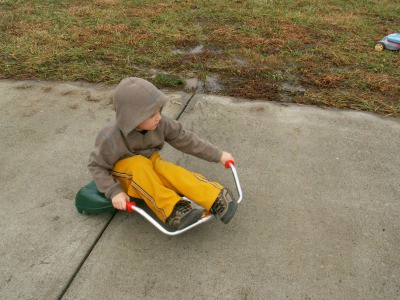 E-Gifts
Books, Movies, Music. Those were all things on my list when I was a teen. And while all those things are great gift ideas- they do add a bit in terms of clutter around the house.
In this electronic world we live in- things like E-books, digital movies, and digital music make much better sense. Plus, if your kids are like mine- we can't keep CDs or DVDs without them getting all scratched up!
You can also give the gift of an e-reader such as a Kindle Fire very affordably. We have multiple in our house and I prefer them to all other tablets. They are more durable, have much better parental controls, and are much less expensive.
You can also give subscriptions to things like…
Amazon Prime– which is known for it's free shipping but also comes with streaming movies and a TON of free streaming music.
Amazon Kindle Unlimited– which offers unlimited reading of over a million e-books and audiobooks
Audible– to get access to free audiobooks. My kids love listening to audiobooks, especially at night as they go to sleep.
Gifts of Food
Are your kids as obsessed with food as mine?
Food is a great gift- especially if you are giving treats and favorites that are seldom bought. Food is consumable and will be gone from your house almost immediately.
We also like to give things like boxed baking mixes that not only give them a treat, but give them some kitchen skills and quality time in the kitchen with mom or dad. One of my son's eve requested that I fill a Prime Pantry box for him this year as a gift!
Give the Gift of Plastic
No, not plastic toys, but plastic cards. Gift cards are good especially for older kids who often just want money as a gift. The problem with money is that then they have free reign to buy all sorts of things that will clutter up their rooms and floors. But if you give a gift card, they can go on a shopping spree but only for specific items.
Give gift cards to places like:
Restaurants: My kids love to go out to eat but it's not something we often do. So a gift card to a favorite restaurant like The Olive Garden, Papa John's or even Starbucks would make their day.
Bookstores: If you have a bookworm in your home consider a gift card to a store like Barnes and Noble
iTunes: Apple users will love an iTunes gift cards- they can get music, movies, books. And it's all electronic- so no clutter!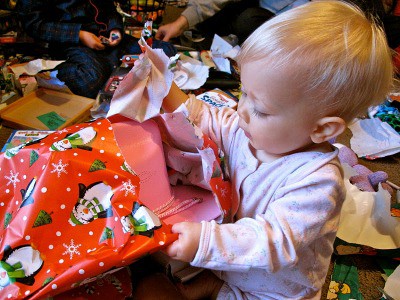 Gifts from a Hobby
Hobby based gifts are some of my favorite things to give because I know that they will be appreciated and well used.
Do you have an athlete in the family? Give the gift of new equipment. My kids are all into TaeKwonDo…so the past few years presents have been full of kicking pads, new doboks, and rebreakable boards. What does your budding athlete need?
Budding artist? Get their pens, paints, paper, and other art supplies so that they can create whatever their mind desires.
Outdoor Enthusiast? Get hiking, camping or exploration supplies.
Gifts of Time
Finally give the gift of time.
My 3 oldest boys all have birthdays within 5 days of each other. We have always celebrated with an outing of sorts. Since their birthdays' fall in August we have also gifted them a family vacation.
I have a friend who surprises her kids every year with a trip. They open clues on Christmas Day to figure out where they will be going. The kids' faces are priceless when they open up a Disney World planning guide as a gift!
These gifts of time don't have to be extravagant. A day trip to an amusement park. A mother daughter "spa" day gift pack. Use your imagination and come up with something that would mean the world to your kids and create memories they will never forget.
How do you keep clutter from taking over your house around the holidays? If you have any other clutter-free gift ideas share them in the comments!