I have picky kids when it comes to potatoes. For the first 10 years of being a parent, I couldn't get them to even try mashed potatoes! With 5 kids their tastes are all over the place- one wants mashed, one wants oven fries, one wants baked, one wants them sauteed, etc….
But I finally found a way that all 5 kids (plus mom and dad) will eat potatoes! Even my pickiest I-don't-like-potatoes-at-all child will eat these butter roasted potatoes!
This site contains affiliate links. If you make a purchase using one of these links, I may earn a commission. Please see my disclosure page for more information about cookies collected and our privacy policy.
It's a simple, quick and filling meal that uses potatoes and herbs straight from the garden! (or farmer's market if you prefer)!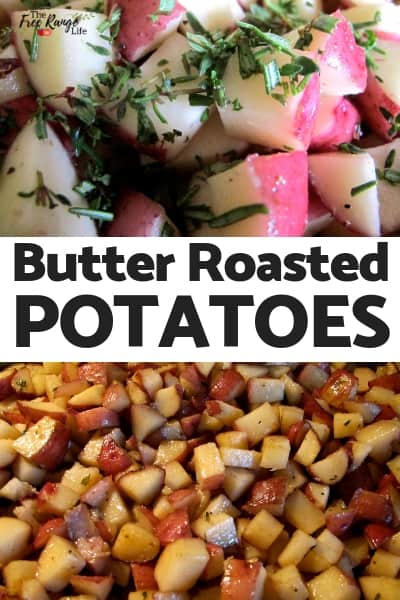 How to Make Butter Roasted Potatoes with Thyme
Preheat your oven to 375. Get out a 9 x 13 baking dish.
Wash your potatoes and cutting them into about 1-in cubes. For our family of 7, I used about 3 lbs of potatoes. Place them in a large mixing bowl
Chop up a handful of fresh thyme, I also like to add in some chopped rosemary as well. Toss the herbs in the bowl with the potatoes and season with salt and pepper to your taste.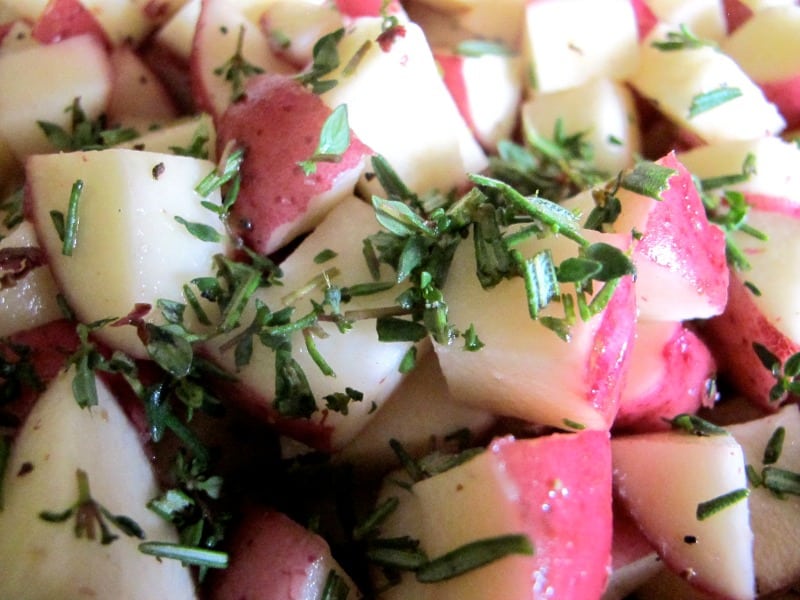 Melt 1/2 cup of butter. I like to just stick my baking pan in the oven with the butter so that it melts as the oven preheats and I am chopping. That way the pan is nice and greased and the butter is nice and melted when I am ready for it.
Pour the melted butter over the potatoes and herbs and toss/stir well- until the potatoes are all nice and buttery.
Pour your potatoes into your baking dish and place in the oven. Bake for about 50 minutes or until the potatoes are soft. Make sure to give them a stir every 15 minutes or so!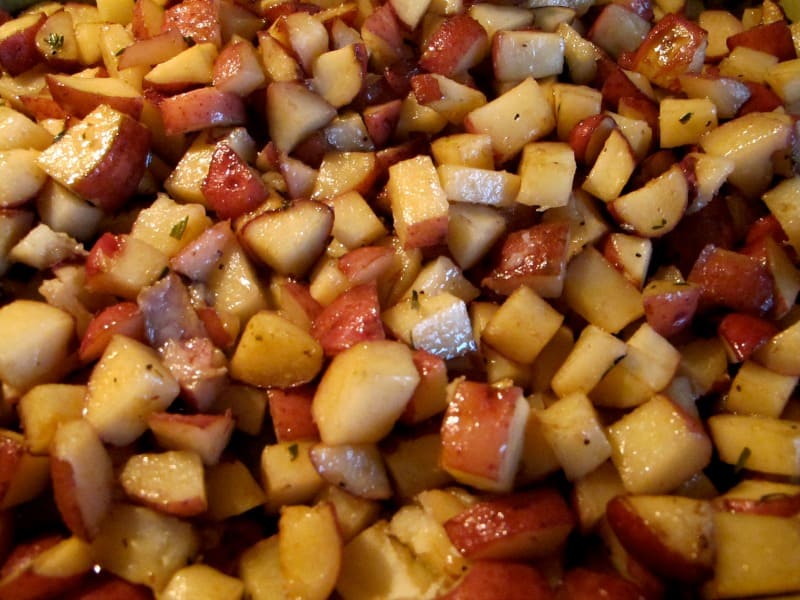 Serve as is or try topping with Parmesan cheese.