Are you looking for a chili recipe that doesn't require soaking beans? This instant pot chili with dried beans is a frugal meal that feeds a crowd (or makes lots of leftovers!)
Chili is a family favorite around here. It's hearty and filling- and easy. It's the perfect meal for our large family. This instant pot chili fills up almost the entire pot which makes it great for a crowd.
This site contains affiliate links. If you make a purchase using one of these links, I may earn a commission. Please see my disclosure page for more information about cookies collected and our privacy policy.
It is perfect for a large dinner party, a large family, or made as freezer meals to reheat for quick on-the-go lunches or dinners. And best of all it uses DRY beans with no need to precook or soak the beans!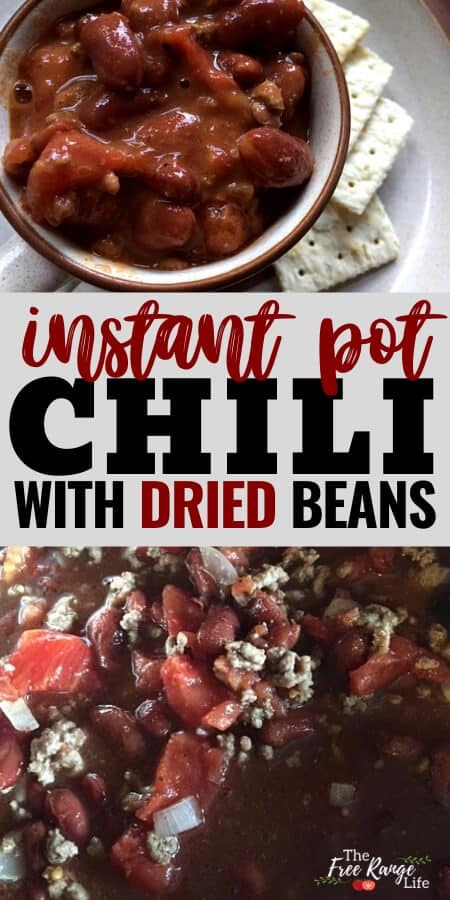 Instant Pot Chili with Dried Beans- No Soaking Needed!
Instant Pot Chili Ingredients:
1-2 lbs ground beef
1 onion
3-4 cloves garlic
1 16-oz bag dry red kidney beans
4 cups broth
3 T chili powder
1-2 tsp dried oregano
1 tsp cumin- optional
6 cups diced tomatoes (2 large cans or grow your own)
2-3 cups water
salt and pepper to taste
☑ You need an
Instant Pot
to make this recipe. This is the exact
Instant Pot
I own- and I love it!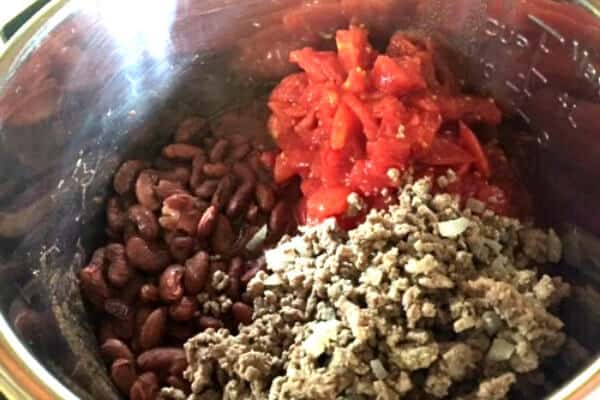 How to Make Instant Pot Chili
Place the 4 cups of broth and the dry kidney beans into the pot of your Instant Pot ( I have the 7-in-1 6 quart pot).
Add 2 T of chili powder and salt and pepper
Place the lid on your Instant Pot and press the bean/chili setting. The timer should read 30 minutes. Allow it to come to pressure and cook.
*If your Instant Pot doesn't have a Chili/Bean stetting, or you're using a different pressure cooker, simply set the pot to high pressure for 30 minutes.
While the beans are cooking, saute beef with onion and garlic
When the timer beeps, do a quick release and open up the pot
Add the meat, tomatoes, water, oregano, cumin, and the additional 1T of chili powder and stir well.
At this point your pot should be quite full. Close up the Instant Pot again and hit the chili/beans button once more. Allow it to come to pressure and cook.
Do a quick release when the chili has finished cooking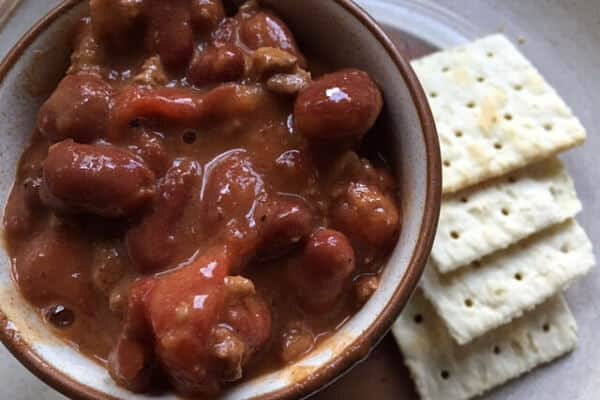 ☑ RECAP: How Long to Cook Chili in the Instant Pot
This instant pot chili will take TWO 30 minute cycles. One with beans only and one with all the ingredients together.
If you are not using dried beans, you can skip the first cycle and simply add all of the ingredients to the pot and cook for 30 minutes at high pressure.
Serve with cheese, chips, crackers or plain- what ever you like to put on your chili!
I like to make this big pot and it serves us dinner and then lunch for a few days. It also freezes well for easy reheated lunches or dinners.
Quit printing out the same recipe over and over or searching online for that favorite you made last week. Check out my new Blank Recipe Journal! The perfect place to write down all those favorite recipes you find online!
If you liked this Instant Pot Chili recipe, check out my other Instant Pot recipes: Instant Pot Shredded Chicken Tacos and Instant Pot Mac N Cheese!
You May Also Like: