In this article: Learn how to make your own homemade ketchup using fresh tomatoes from your garden.
Ketchup. It's a favorite among lots of people. We joke that kids think of ketchup as its own food group. But there's just something about this condiment that makes it a must have.
This site contains affiliate links. If you make a purchase using one of these links, I may earn a commission. Please see my disclosure page for more information about cookies collected and our privacy policy.
When I first started growing tomatoes with the intent to preserve, I focused on tomato sauce. Afterall we eat pizza and pasta every week. Sauce goes in chili. It goes in soups. It made sense that I focused my preservation in that area.
But now, after a few years (or decade….) under my belt, I have branched out. I have my store of sauce, salsa, and tomatoes for the year. Now it's ketchup time!
This homemade ketchup is amazing. This ketchup tastes just like ketchup should- and I know exactly what goes into it. Even the pickiest eater gobbles it up just like the stuff from the store.
So if you are ready to make your own homemade ketchup, from your homegrown or local tomatoes, let's get started!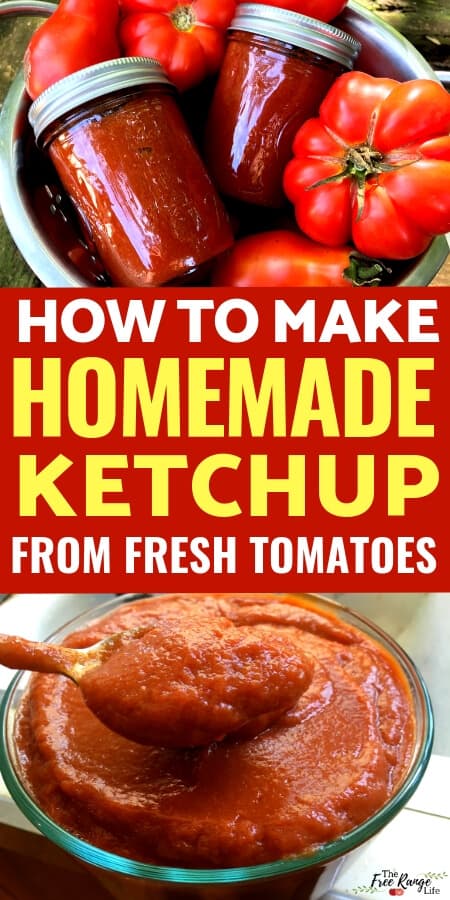 How to Make Homemade Ketchup
This ketchup recipe can be canned using a water bath canner. I have included directions on how to can as well. Here's what you need to make this homemade ketchup:
Homemade Ketchup Ingredients
5 lbs tomatoes- cored and seeded
1 onion
3-4 cloves garlic
⅓- ½ cup raw sugar
¾ cup white vinegar
¾ tablespoon salt
½ tsp cinnamon
½ tsp paprika
¼ tsp celery seed
¼ tsp cloves
Dash black pepper
You will also need the following supplies:
Large stock pot
Large bowls
A high speed blender ( or food mill/fine strainer/immersion blender)
A slotted spoon
Jars (with lids and rings)
Now that you've got your supplies ready, let's make ketchup!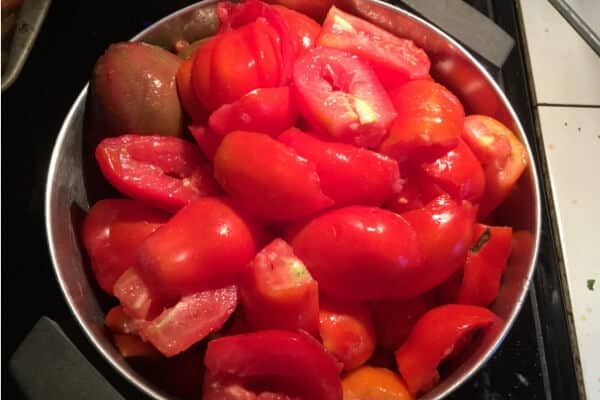 Start by prepping your tomatoes. I used mostly Romas, but added in a few other sauce and paste varieties for an added flavor balance. Weight is the most important thing here, but sauce tomatoes have less water content, meaning you won't have to cook your ketchup as long.
Remove the stems, cores, and as many seeds as you can. You need 5 lbs of tomatoes after removing the cores and seeds.
I placed my large pot on my scale, zeroed it out and started filling the pot with tomatoes.
Once you have all 5 lbs of tomatoes, add the onion and garlic to the pot and place the pot on the stove.
Cook the tomatoes over medium heat. Cook and simmer the tomatoes for about an hour, stirring occasionally.
You may need to squish down the tomatoes and stir a bit to prevent burning on the bottom of the pan. If you find that the bottom of the pan is scorching, reduce the heat.
Once the tomatoes have cooked, it's time to strain and puree the ketchup for the first time.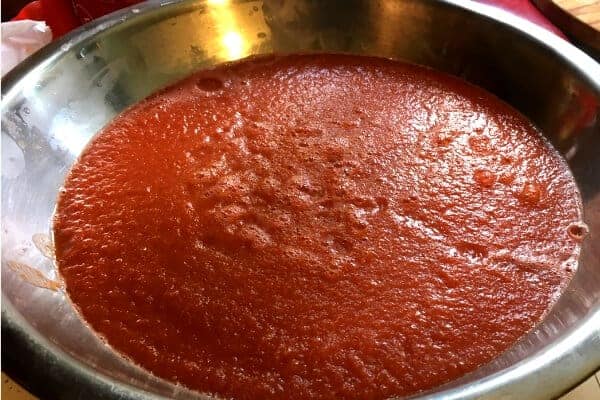 I use my Vitamix blender for this step. You can use a food mill or a fine sieve, but the Vitamix does a really good job of making the homemade ketchup really smooth.
Working in batches, use a slotted spoon to transfer tomatoes to your blender. The more juices you remove in this step, the more quickly your ketchup will cook down.
Blend on high speed for a few minutes until very smooth.
Transfer the ketchup to a bowl while you finish the rest of the tomatoes.
Throw out the juices in the pot and set back on the stove.
Add the pureed tomatoes back into the pot.
Add in the rest of the ingredients (sugar, vinegar, spices) and bring to a boil over medium heat.
Reduce the heat to medium-low and simmer for about 3 hours, stirring occasionally.
How long it takes to cook down will depend on how much of the juices you removed in the previous step and how thick you like your ketchup.
It will take a minimum of 3 hours, most likely. As it cooks the ketchup will reduce down by about ½-¾ the amount you started with.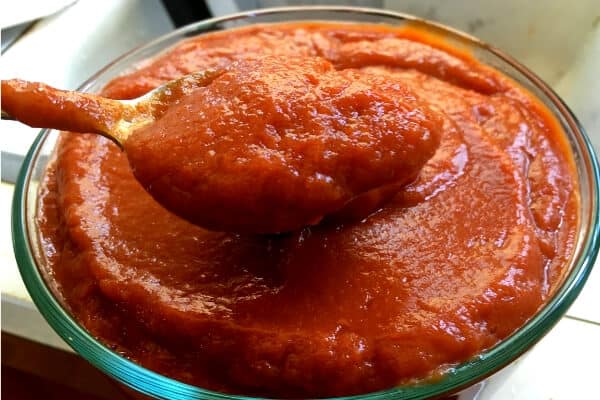 When the ketchup has reached the thickness you want, you need to puree it one last time. This step is optional, but if you want the mouthfeel of traditional store bought ketchup, it's a step you don't want to skip.
Again, I use my Vitamix but you can press it through a fine mesh strainer or food mill if you wish. You can use an immersion blender, but in my experience they don't have a high enough speed to get the homemade ketchup really smooth.
Once the homemade ketchup is done, it's time to prepare your canning supplies.
How to Can Homemade Ketchup
Wash pint or half-pint jars, lids, and rings in hot soapy water and set them to dry.
Fill your canning pot with water and set it on the stove to heat.
Fill jars with hot ketchup, leaving a ¼ inch headspace and run a knife down the sides to remove air bubbles.
Wipe the rims of the jars with a clean damp cloth and place on clean lids.
Tighten the rings finger tight.
Process in boiling water for 15 minutes (for both pints and half-pints). Start your timer when the water starts to boil.
After 15 minutes, remove the lid from the canning pot and turn off the heat. Allow the jars to sit for 5 minutes in the water before removing.
Set the jars on a towel in an undisturbed spot overnight. Check for correct seals before storing.
Related Reading: 21 Foods You Can Preserve in a Water Bath Canner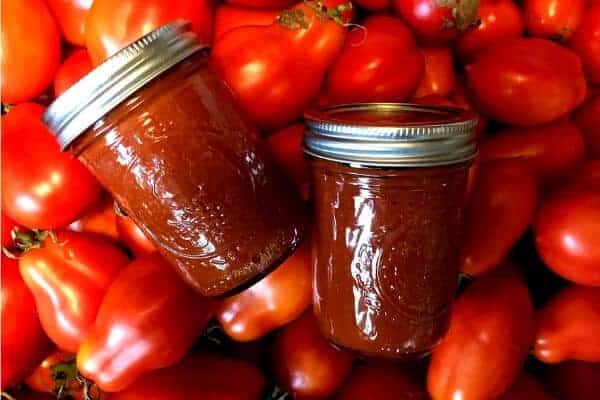 How Much Ketchup Does This Recipe Make?
As written, this recipe will make about 4 cups of ketchup. So 4 half-pints or 2 pints.
Tastes for ketchup can be subjective, so if this is your first time making this recipe, try a small batch like this first to make sure you like the flavor. Trust me- my very first homemade ketchup recipe year ago, used apple cider vinegar. And NO one liked it. It was quite a waste!
This recipe doubles and triples well.
10 lbs of tomatoes will yield 4 pints/ 8 half pints.
15 lbs of tomatoes will yield 6-7 pints/ 12 half pints.
Not canned, this ketchup recipe should keep in the fridge for 2-3 weeks. Same goes for after you open a new jar.
Other Tomato Recipes You Might Like:
Or check out 11 Ways to Preserve Tomatoes for ALL the ways you can use your fresh tomatoes!