In this article: Learn how to make homemade, fluffy biscuits that are better than the ones from a can!
Growing up, I ate biscuits from a can. Then I got older, became a parent, and learned more about real food and I realized just how fake those canned biscuits tasted. Real, homemade, buttermilk biscuits are the way to go.
This site contains affiliate links. If you make a purchase using one of these links, I may earn a commission. Please see my disclosure page for more information about cookies collected and our privacy policy.
They may not come apart in unnatural sections, but they are tall, fluffy and amazing in a way that no processed bread product could ever be.
These buttermilk biscuits are super quick and easy to make. They can be whipped up for any meal of the day- we particularly like them for a "breakfast-for-dinner" sort of meal with sausage patties, farm fresh eggs or even as a base for a BLT.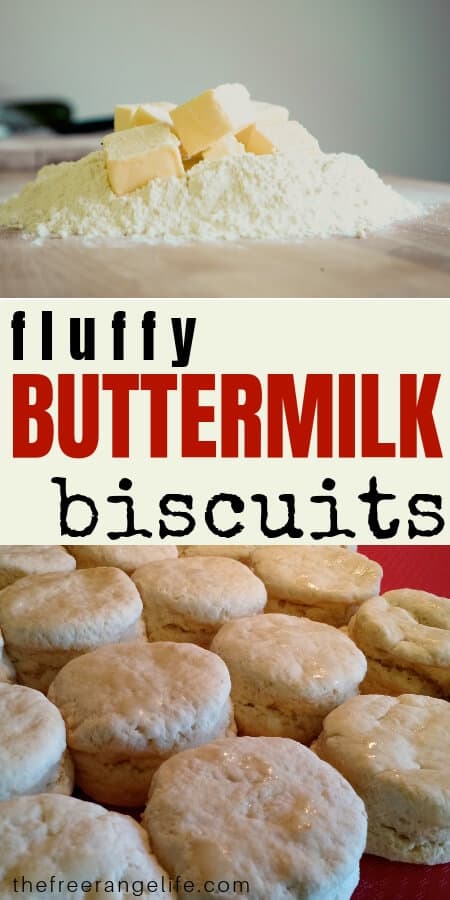 How to Make Buttermilk Biscuits
You will need:
4 cups all purpose flour
2T baking powder
2T sugar
1 tsp salt (reduce if you use salted butter)
2/3 cup butter cut in small pieces
2 cups buttermilk
Preheat your oven to 425 F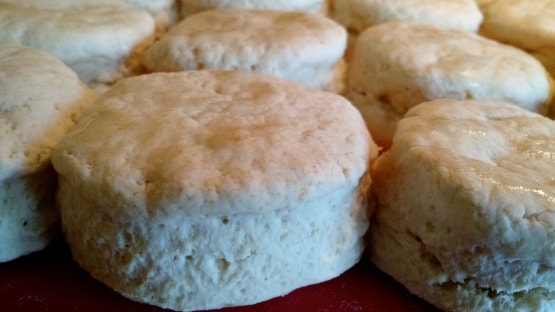 I have made these many, many times using my food processor, because it's easier. But the biscuits tend to come out fluffier and higher if I use my hands. I am sure a pastry blender would produce similar results, but I don't have one!
Start by combining the flour, baking powder, salt, and sugar in a large bowl.
Dump in your chucks of butter and dig in. Press the butter between your fingers in the flour and keep breaking the chunks apart until you have no pieces left that are bigger than a pea.
Using a fork, gradually stir in the milk- a little at a time- until the dough comes together and thoroughly moistened but not wet.
Turn the dough out on a large, well-floured cutting board. Using floured hands, pat the dough down to about 1/2 inch to 1 inch thickness. I am feeding a large family, so I sacrifice some height in order to get more biscuits cut from my dough.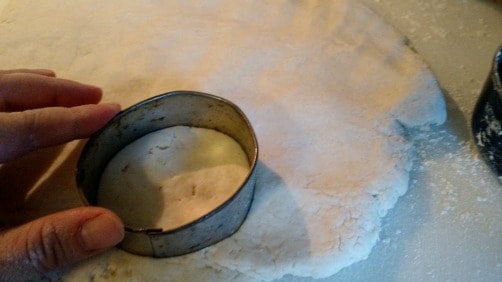 Using a metal cutter start cutting your biscuits. You want to avoid how much you handle the dough, so start close to the edge and make your cuts close together. Keep cutting, and repatting out the dough until all the biscuits are formed.
Place the biscuits on a lightly greased baking sheet- or try greasing it with butter! And bake for 12-14 minutes or until the top edges are slightly brown. Brush with butter if you like. Serve with butter or try them topped with my honey peach preserves or spiced pumpkin butter!
You can also make this dough up to a day in advance- just seal it up in foil and stick it in the fridge. It makes a great frugal meal for breakfast!
If you want an fun alternative give my sweet potato biscuits a try!