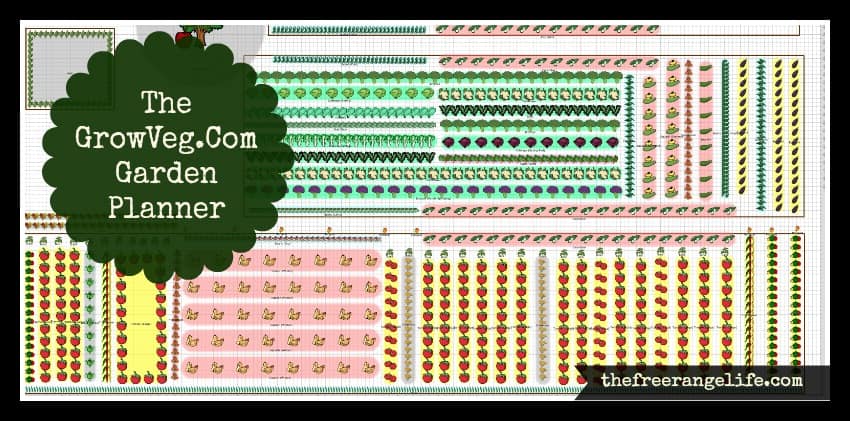 This site contains affiliate links. If you make a purchase using one of these links, I may earn a commission. Please see my disclosure page for more information about cookies collected and our privacy policy.
The last frost date will be here before you know it. Here in Western NC, we are about 8 weeks before last frost, meaning it is time to get things like tomatoes, peppers and eggplant started inside.
But where will all those plants go in the garden? Do you sketch it all out on paper or do you just wing it and plant things where you want?
In a previous post I shared a list Garden Planning Resources including some garden planning books, websites and blog posts, one of which was GrowVeg.com. But I thought that this particular resource could use a little more explanation!
How to Use the GrowVeg.Com Garden Planner
The GrowVeg.com Garden Planner is simple to use- and it pretty much as one stop garden planning resource. To get started you enter in your garden dimensions and you are taken to a page- with grid lines and this toolbar along the top:

Using this toolbar you can draw bed shapes based on your own garden. They have listed most of the common- and some of the uncommon- produce varieties and have everything from large fruit trees to cover crops. If your particular item happens not to be listed you can choose from a couple generic titles such as herb, other-perennial, other-large, etc.
After choosing your produce type you can click it into place on your grid. By dragging the cursor down you can create a row and create a block by dragging your rows to the side. The garden planner takes into account your spacing and puts the correct number of plants in your rows and blocks.
You will also notice that the toolbar has different view options. By clicking on each of your produce items you can specify when they will be in the garden, allowing you to create layers of your garden and create a successive planting schedule. You can also edit the specific variety of the item as well as change the label on the garden planning page.
Included with each item is also an information block. Click on the little "i" next to the plant to bring up this information block, which will tell you the crop rotation group, soil needs, sun needs, companions, spacing and more.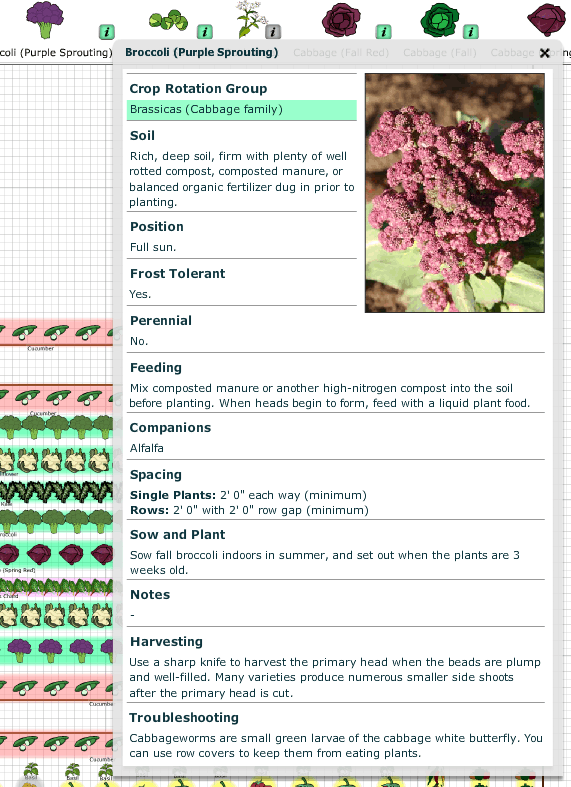 Once you have filled in you garden beds with your desired produce, click on the "Plant List" tab on the toolbar and a new page will pop up with a list of plants. This list will include the number of each item, spacing requirements, and start/plant/harvest calendar for each item.
You can print this list for easy reference when you are buying or starting your seeds.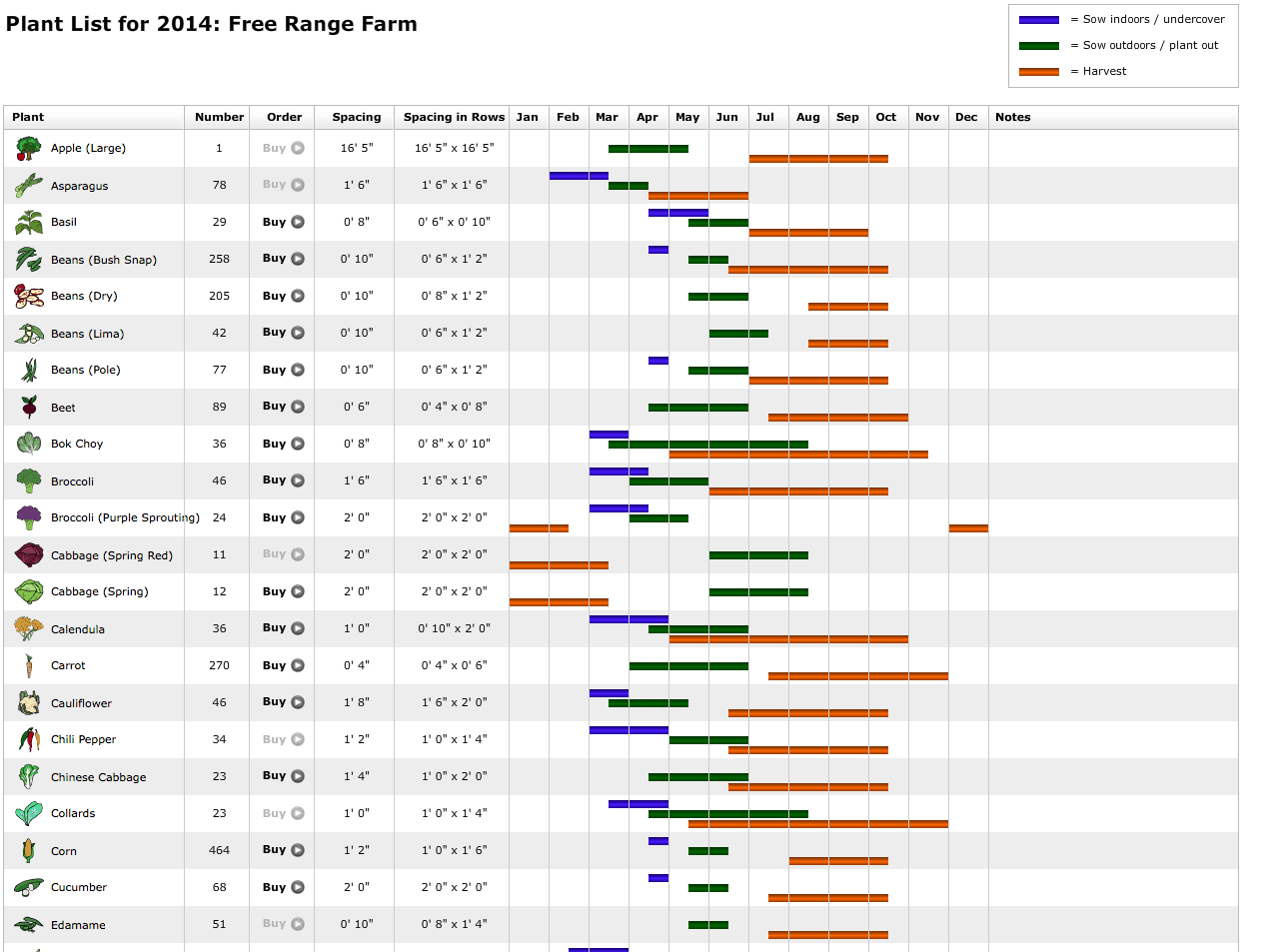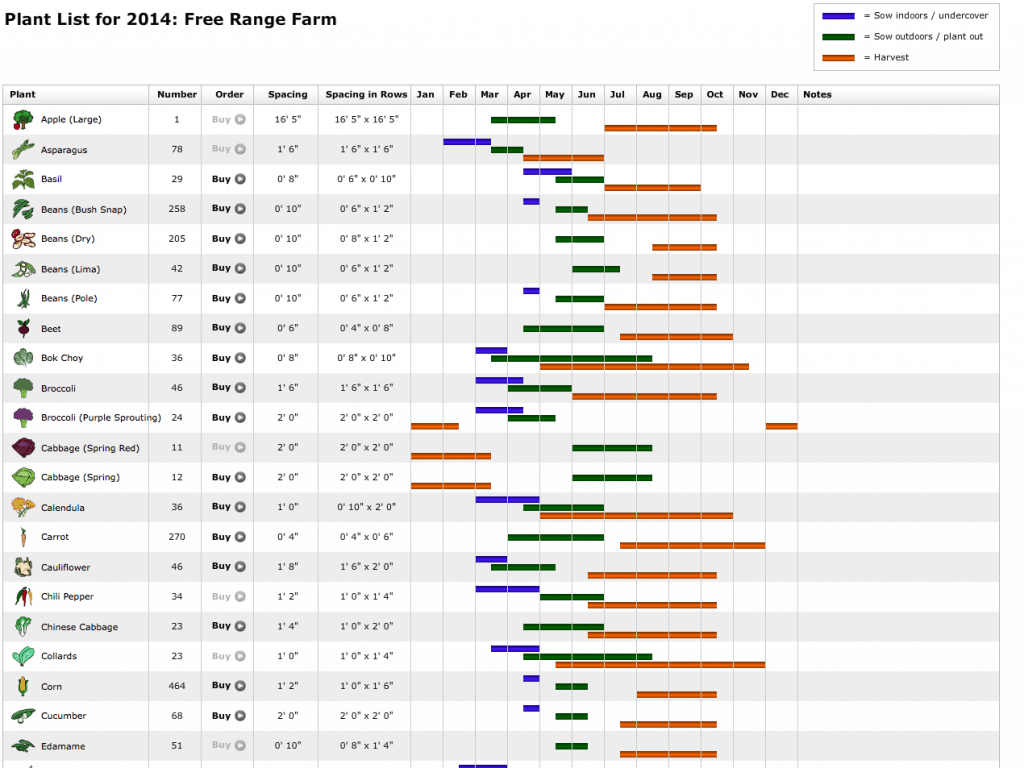 And you are done! You have a beautiful garden planned- which you can print out and have a hard copy out in the garden with you as you plant.
GrowVeg.com offers a free 30-day trial– no credit card required- to try their planner and see if it is something you want to continue to use.
If you do, an annual subscription is $25 or 2 years for $40. Here's my most recent garden plan- for our 100′ x 125′ garden. It is not a finished plan- but from the looks of it I'd better get started soon- since I have a lot of seeds to start!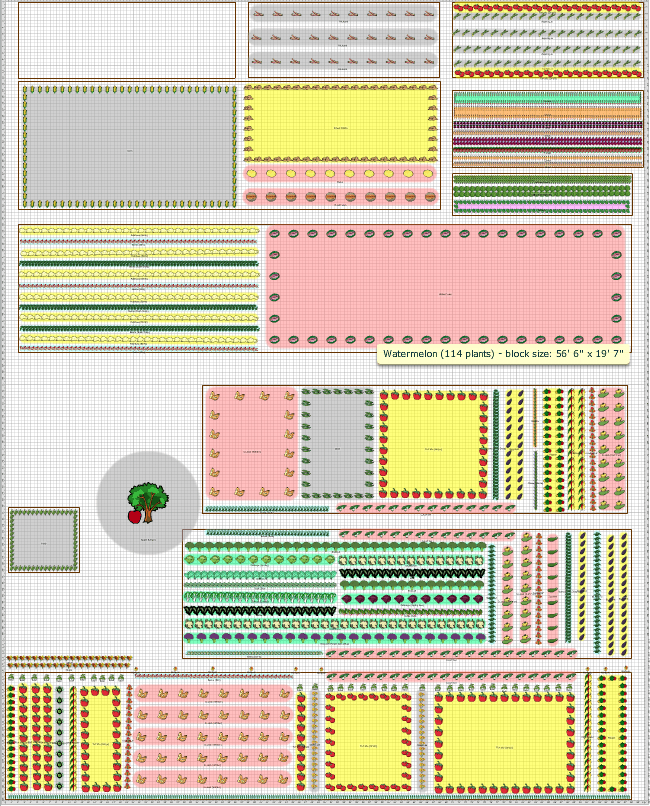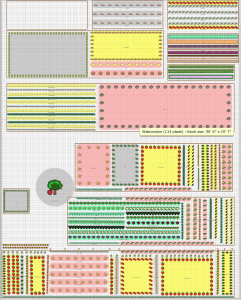 Have you used a garden planning software before?